This Carrot Lox recipe will seriously knock your socks off. It's the perfect addition to Sunday brunch and a recipe that's always a hit with vegans and non vegans. Add this vegan smoked salmon on top of your favorite toasted bagel smeared with cream cheese and dig in!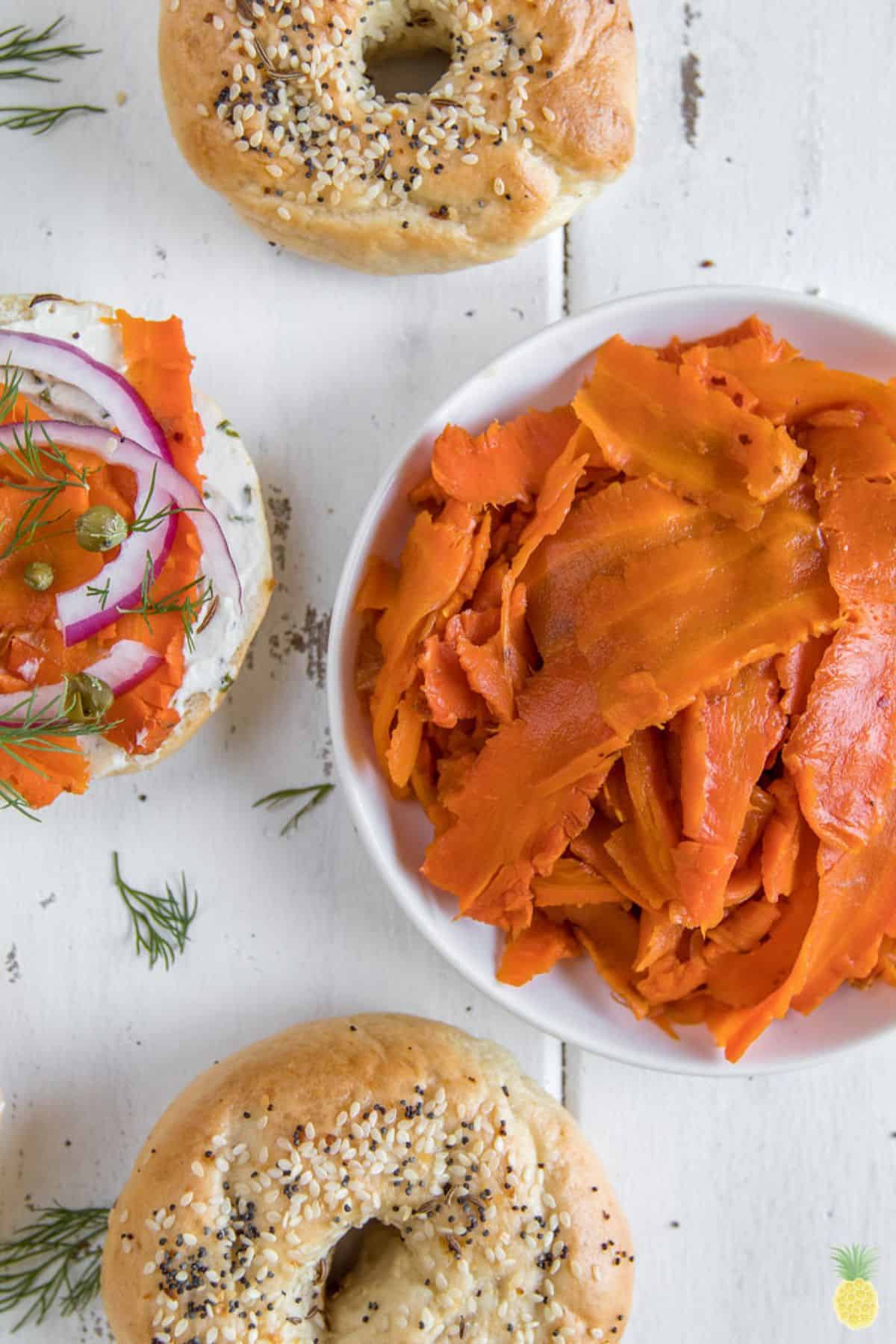 I was first introduced to homemade carrot salmon lox by my friend, Ted Lai @wokwildside. He had us for brunch and made a ton of delicious vegan recipes, including this carrot lox that's meant to mimic traditional lox. And the first bite of his carrot lox actually blew my mind. It was so realistic and I had no idea such a thing could be done.
Since then, I've developed my own version of the recipe and it's easily the best faux lox I've ever had. And it's made from all natural ingredients! If you've been missing traditional lox, you have to try this delicious alternative to smoked salmon. Your taste buds won't believe it.
Ingredients You'll Need
Carrots: For this recipe you'll need 5 large carrots. From our experience, the larger the carrots, the easier it is to slice into perfect ribbons of carrots.
Coarse sea salt: ​The very unique cooking method requires 3+ cups of coarse sea salt. Just trust us!
Broth: We typically use our homemade vegetable broth, but any homemade or store-bought broth will work. You can even use vegan chicken broth if it's what you have on hand. 
Liquid smoke: This ingredient is key to the smoky flavor that makes this carrot lox reminiscent of smoked salmon. It's made by trapping the smoke flavor from a smoker or burning wood. Then, as it's processed, this smoke turns into a liquid. This ingredient can be found online or in most grocery stores!
Vinegar: Either coconut vinegar or apple cider vinegar will work.
Cream cheese: If you're making carrot lox bagels, you'll need a delicious vegan cream cheese. Try our homemade cashew cream cheese or use a store-bought version. We highly recommend the Chive Kite Hill Almond Cream Cheese. It's our absolute favorite and very convenient when you don't have time to make one from scratch.
Bagels: We love our New York style homemade bagels, but these Pretzel Bagels would be delicious too! Or, use gluten-free bagels as needed!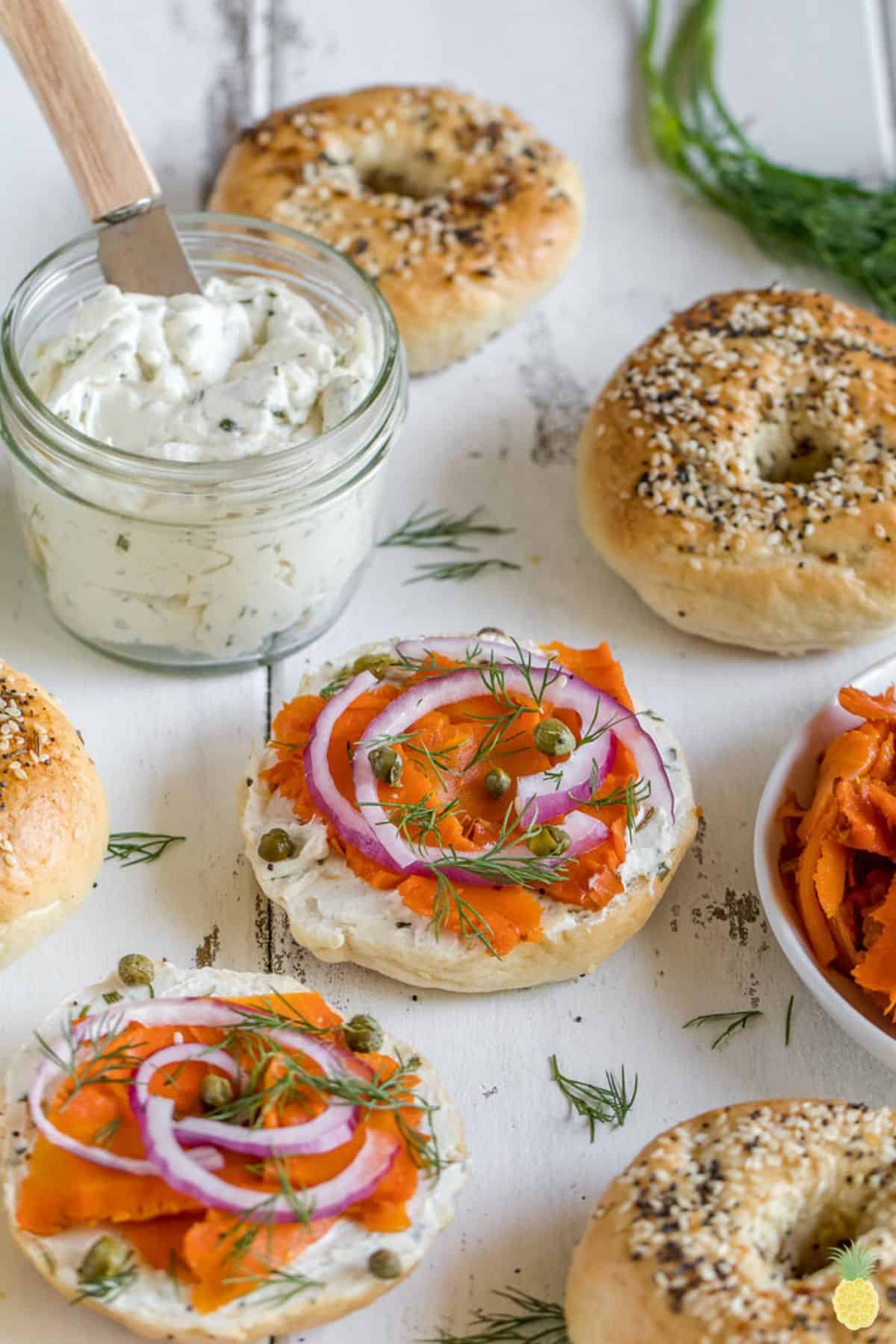 Equipment Needed
How to Make Carrot Lox
Watch us make this recipe on our Youtube channel: Homemade Bagels + 3 Vegan Meal Ideas.
Prep the baking dish. Cover the bottom of a glass baking dish with coarse sea salt.
Add the carrots. Place the wet, whole, unpeeled carrots on top of the layer of coarse sea salt. Be careful to keep the carrots from touching the glass, including the sides.
Cover with salt. Pour about another cup of salt over the carrots, or enough to fully cover.
Bake. Place the salt covered carrots into the oven and bake for 90 minutes.
Prep the marinade. While the carrots bake, make the marinade. In a small bowl, whisk together the vegetable broth, liquid smoke and coconut vinegar.
Peel the outer skin off the carrots. Remove the carrots from the oven, then allow them to cool slightly until they're easy to handle. Once cool, tap the salt with the back of a spoon to break it up and remove the carrots. Peel the outer layer of the carrots, removing as much as you can. You can do this using a vegetable peeler or a sharp knife.
Slice the carrot lox into long, thin carrot ribbons. Using a mandolin or sharp knife, slice the carrots into long thin ribbons or strips.
Marinate the carrots for 2 days. Place the carrots into a large ziplock bag or reusable bag and pour the marinade over top. Seal tightly, removing the excess air, then squishing the carrot lox around a few times to ensure all carrot strips are covered in the marinating liquid.
Serve. After about 48 hours, enjoy the carrot lox at room temperature, or as desired.
Serving Suggestions
Our favorite way to serve this delicious carrot lox is on a Homemade Vegan Bagel smeared with Vegan Cream Cheese and topped with capers, red onion, and fresh dill. It's also makes a delicious appetizer to serve on baguette slices, add it to these Vegan Crab Cakes or bake it inside of Asparagus & Cream Cheese Puff Pastry.
You can also add serve it on a fresh salad or add it to any savory "egg" dish like this Vegan Strata, a Basic Tofu Scramble, or this Easy Chickpea Scramble. Don't be afraid to get creative!
Recipe FAQs
My salt got really hard after baking. Is that normal?
Yes! After baking for the full 90 minutes, it is normal for the salt to be hard and even browned. Use a spoon to tap the salt until it cracks open, revealing the carrots. 
Does this vegan lox taste like real lox?
The texture of the lox is spot on, but it doesn't have the same fishy taste as real fish. If you want to add a bit of fishy flavor to your carrot lox, feel free to add things like a nori sheet or a pinch of dulse flakes to the lox marinade. 
Can I marinate the carrots for less time?
For the best flavor and texture, marinate for the full 2 days. It's hard to wait, but it's well worth it! 
Can I make this plant-based lox using baby carrots?
Usually, we'd say yes, but when making carrot lox, the size of your carrots matters. For best results, use large, whole carrots. 
Storage Instructions
After the vegan lox recipe has marinated for 2 days, you can either keep it in a large bag or transfer it to an airtight container for up to 5 days. If storing in a large container, press a piece of plastic wrap over the top of the carrot lox to prevent it from being exposed to oxygen. This will help it retain its moisture.
We haven't tested it, but we wouldn't recommend freezing this carrot lox. Doing so would likely change it's texture and it would no longer have a texture similar to real salmon.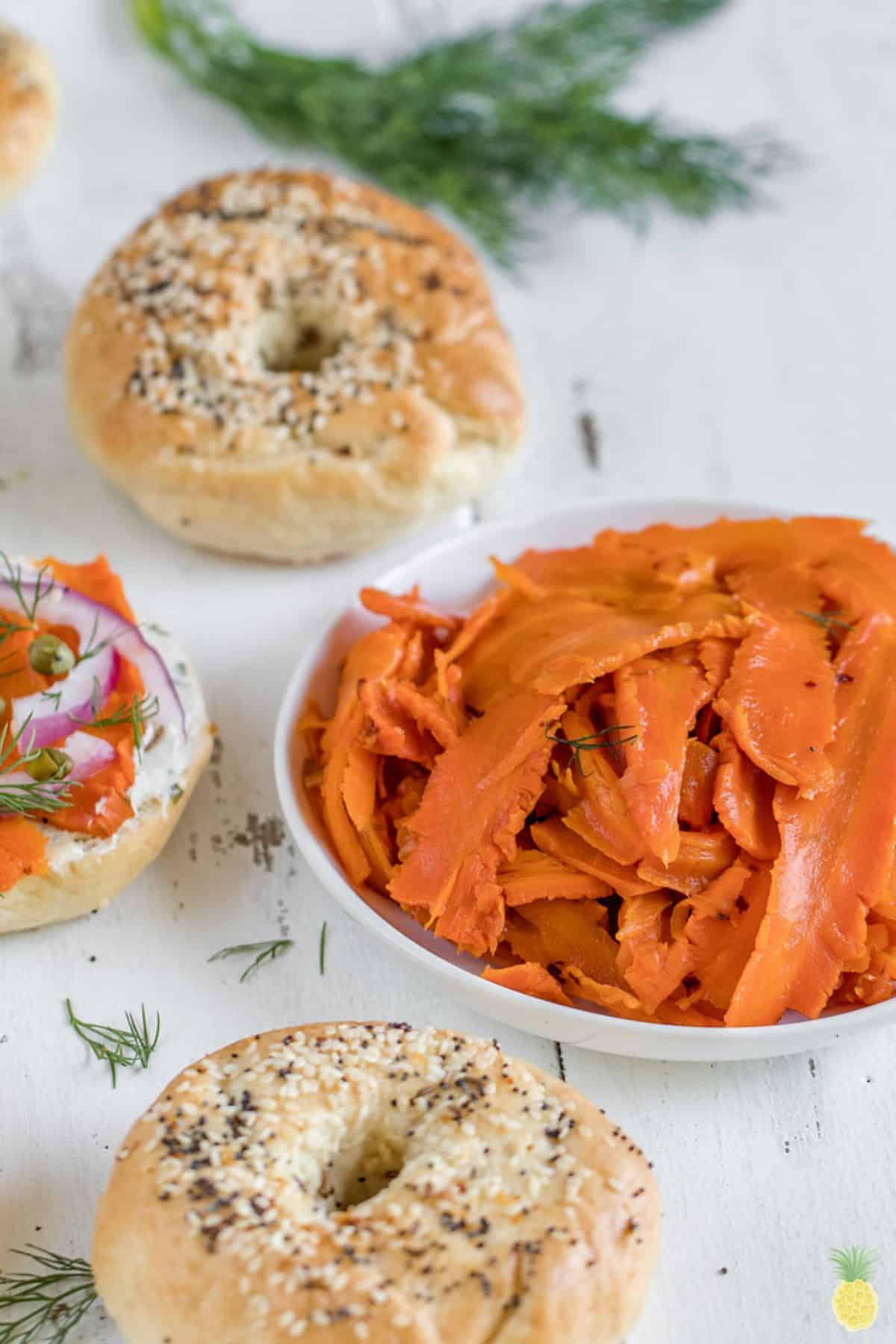 More Vegan Fish Recipes You May Enjoy:
Print
Carrot Lox Recipe
---
Author:

Total Time:

49 hours 30 minutes

Yield:

1 1/2 cups
Description
This Carrot Lox recipe will seriously knock your socks off. It's the perfect addition to Sunday brunch and a recipe that's always a hit with vegans and non vegans. Add it on top of your favorite toasted bagel smeared with cream cheese and dig in!
---
Carrot Lox
3 cups

coarse sea salt, plus more if needed

9

x13 glass baking dish (or any size suitable for the length and width of the carrots)

5

large carrots (do not peel!)

2

TB vegetable broth

3 teaspoons

liquid smoke

3/4 teaspoon

coconut vinegar
Then pair with:
Vegan cream cheese (Kite Hill Chive is our favorite!)
Capers
Thinly sliced red onion
Fresh dill
---
Instructions
Preheat oven to 375F.
In a glass baking dish, cover the bottom with a layer of coarse sea salt. Rinse the carrots and place them wet into the salt, making sure they do not touch the glass. Pour about a cup or so of salt over the carrots, or enough to fully cover.
Place into the oven for 1 hour and 30 minutes.
In the meantime, make the marinade with the remaining ingredients. Set aside.
Remove from oven, and cool. Tap the salt with the back of a spoon to break it up, then remove the carrots. Peel off the skin, removing as much as you can!
With a mandolin or sharp knife, slice into long thin strips.
Place the carrots into a large ziplock bag, then pour the marinade over them. Seal, remove air, then around a few times to ensure they are all in the liquid.
Place the carrots in the refrigerator for at least two days to marinate.
Serve at room temperature. We enjoy ours on a bagel with capers, chive vegan cream cheese, red onions and fresh dill.
Prep Time:

48 hours

Cook Time:

1 hour 30 mins
Disclaimer: This page may contain affiliate links, which simply means that I earn a commission if you purchase through those links, but your price remains the same. Thank you for supporting Sweet Simple Vegan!