This Vegan Chicken Salad is the BEST vegan version. It has the same flavors and texture you know and love, yet requires minimal plant-based ingredients, is easy to make, and is packed with protein to keep you feeling satisfied. Get ready to enjoy a satisfying, easy vegan meal!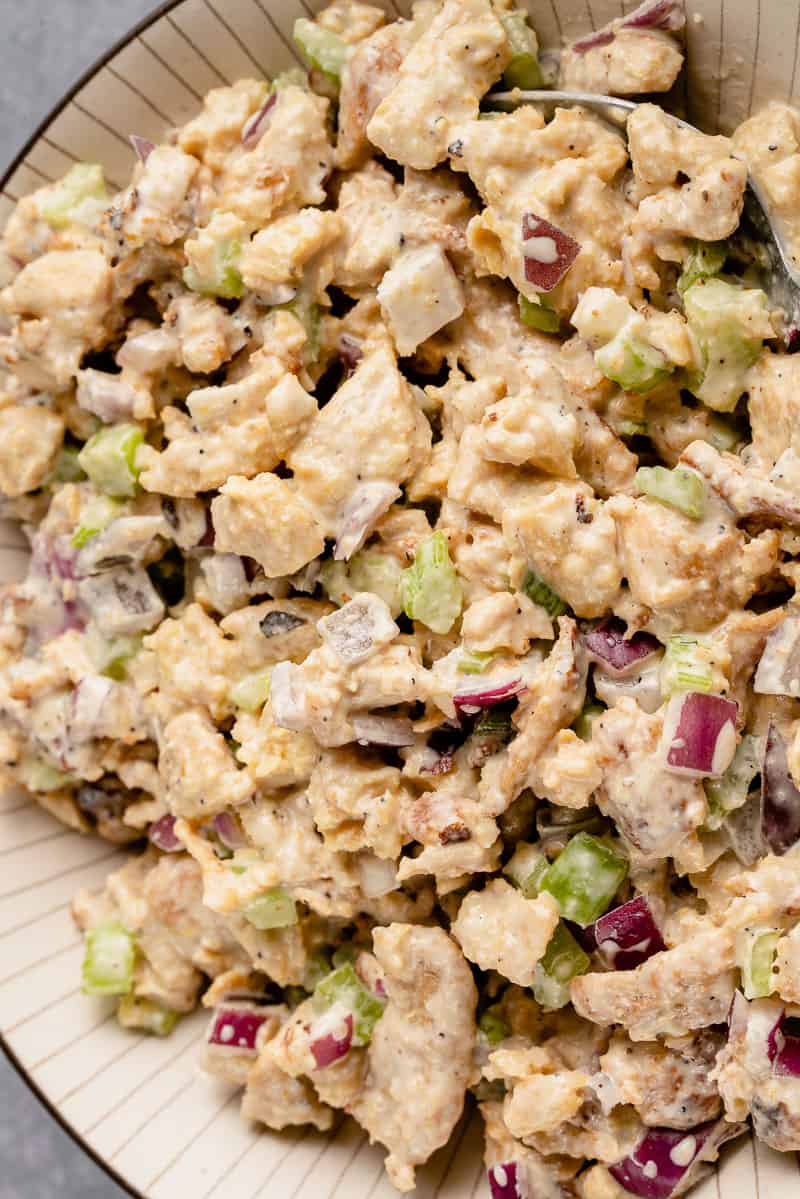 Growing up, chicken salad was always a go-to comfort food. My mom made the BEST chicken salad and it was something we ate during picnics, for school lunches, or beach days with the family.
I've set out to create a vegan version that's just as delicious as Sweet Simple Mom's and I have to say we absolutely nailed it! Many vegan chicken salads online are made using canned chickpeas or garbanzo beans.
While chickpeas are one of our favorite plant-based proteins, the texture wasn't exactly right here. Instead, we've used one of the best whole food vegan chicken substitutes. We're so confident you're going to love this one!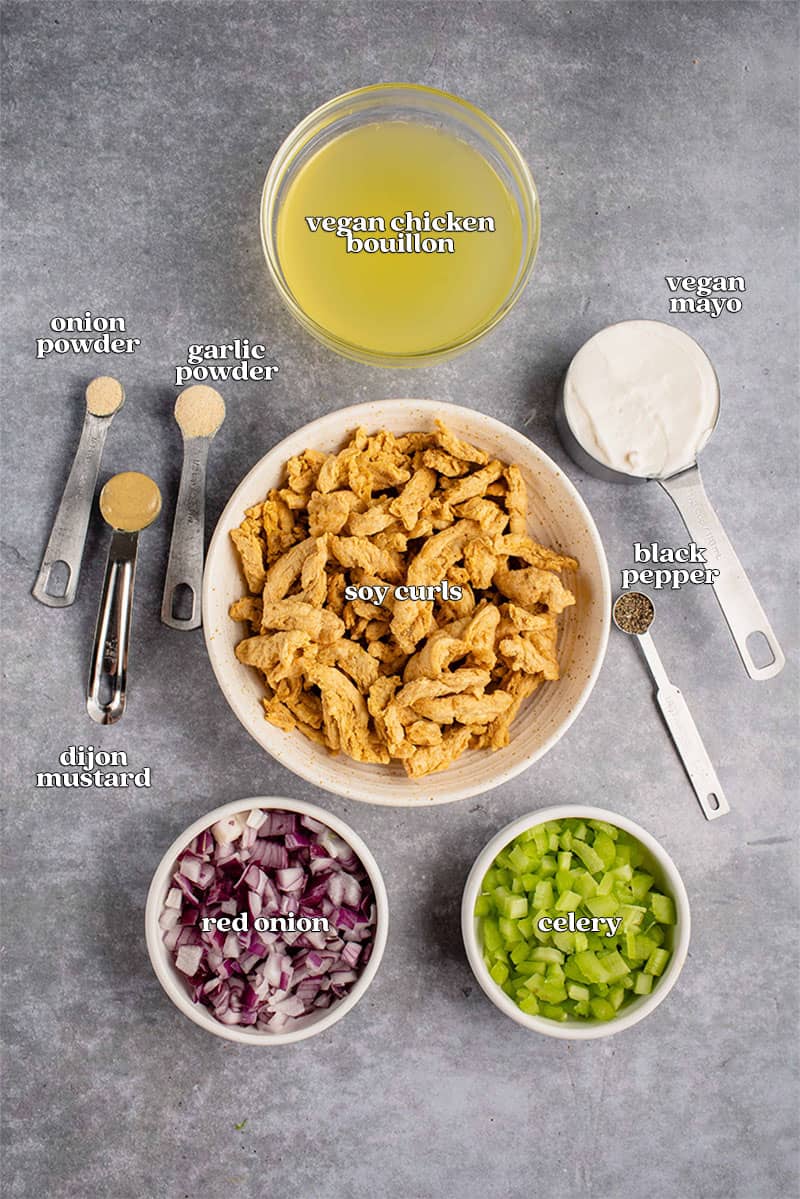 Ingredients You'll Need
Soy Curls: In our opinion, this mock meat is one of the most underrated plant-based substitutes. They're easy to cook with and the texture is very reminiscent of real chicken. We're able to find them at our local health food store, but you can also order them online at Butler Foods (the only brand of soy curls available). If soy curls aren't an option, diced vegan chicken strips are the next best option in this classic salad.
Vegan Mayonnaise: In order to keep this vegan chicken salad as close to traditional chicken salad as possible, we opted to use a 1/2 cup of vegan mayo instead of things like cashew cream or silken tofu. Most store-bought vegan mayo tastes and acts just like regular mayo, so it's the perfect one-to-one swap. Our favorite brands are Follow Your Heart vegenaise or Best Foods / Hellman's Vegan Mayo.
Onions: We highly recommend diced red onion in this recipe. It adds a nice, pungent crunch. If you prefer a more mild onion flavor, opt for chopped green onions.
Celery: Crunchy celery is a vital component of a classic chicken salad. It adds a crunch, freshness, and enhances the overall flavor of the salad without overpowering the other flavors.
Vegan Chicken Broth: To infuse as much flavor into the soy curls as possible, we recommend soaking them in broth, ideally vegan chicken broth. If you don't have access to vegan chicken broth, opt for Vegetable Broth.
Mustard: Mustard adds a pop of flavor to the salad with a burst of tanginess and acidity that adds a zesty kick. Dijon mustard, spicy mustard, and stone-ground mustard are our favorite go-to choices.
*Jump down to the recipe for complete measurements and instructions.
Equipment Needed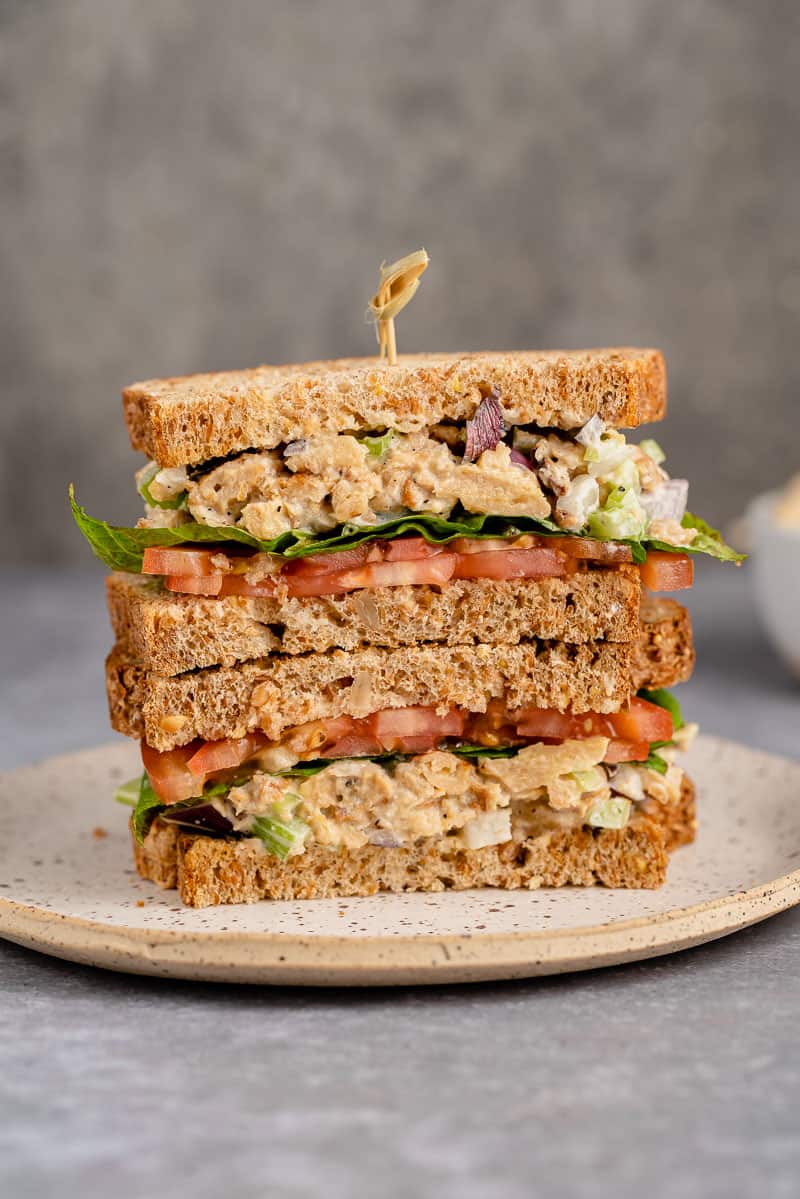 How to Make Vegan Chicken Salad
Rehydrate the soy curls. Place the broth in a medium pot and bring to a boil. In the meantime, add the soy curls to a large heat-proof bowl. ​Pour the broth over the soy curls and set the soy curls aside for about 10 minutes to soften and rehydrate.
Brown the soy curls. Heat a large cast-iron skillet with oil over medium heat. Scoop a batch of the soy curls into the skillet, squeezing/shaking off any excess liquid as you go. Be careful not to crowd the skillet and work in batches as needed. Cook the soy curls for about 2 minutes, or until they begin to brown.
Add in the excess broth. ​Add in 1/3 cup of the broth and continue to cook the soy curls until the broth has cooked off. Repeat this process until all soy curls are cooked.
Chop the soy curls. ​Remove the soy curls from the skillet and transfer them to a cutting board. Roughly chop the soy curls into bite-sized pieces, similar to cubed chicken.
Mix the chicken salad ingredients. ​Add the soy curls back into the large bowl along with the vegan mayonnaise, celery, red onion, dijon mustard, garlic powder, onion powder, and black pepper. Mix until uniform.
Season with salt to taste. Taste the vegan chicken salad recipe and season with addition salt to taste.
Serve. Serve this chicken salad immediately or chilled, as desired.
Serving Suggestions
This vegan chicken salad can be enjoyed a number of ways depending on your taste buds. It makes the perfect meal prep, hearty lunch main, side dish, or an ideal choice for summer picnics. Here are a few of our favorite ways to enjoy this delicious vegan chicken salad:
Sandwiches: This is probably our favorite way to enjoy this chicken salad. We recommend using toasted slices of bread like this Homemade 100% Whole Wheat Bread or Fluffy Vegan Egg Bread. Add your favorite sandwich toppings such as lettuce, sliced tomatoes, dill pickles and your favorite vegan mayo and mustard.
Salads: For a lighter option, serve this mock chicken salad over a bed of lettuce, extra veggies, and a creamy dressing like this Vegan Ranch Dressing. Or for a handheld option, try lettuce wraps!
Dip: Try this vegan chicken salad with various crackers like Oven-Baked Chia Veggie Crackers, veggie sticks like carrots, bell pepper, or celery, or Fluffy Homemade Pita Bread.
Wraps: If you prefer tortillas over sliced bread, making a wrap with this vegan chicken salad is a great option. Throw in some lettuce, tomato, and a slice of dairy-free cheese, and you'll have a delicious meal on your hands. Give our Homemade Whole Wheat Spinach Tortillas a try!
Eat it with a spoon: This vegan chicken salad is so delicious eating it straight out of the bowl is always an option!
Storage Instructions
Leftover chicken salad will keep best when stored in airtight container for up to 5 days in the refrigerator. Freezing leftovers is not recommended.
If you are making this salad for meal prep, we recommend storing the chicken salad recipe separately from any crackers, veggie sticks or bread. Or, if you're making yourself a sandwich for lunch and want to prep it the night before, we recommend toasting the bread and placing a piece of lettuce between the bread and the chicken salad to prevent the bread from becoming soggy overnight.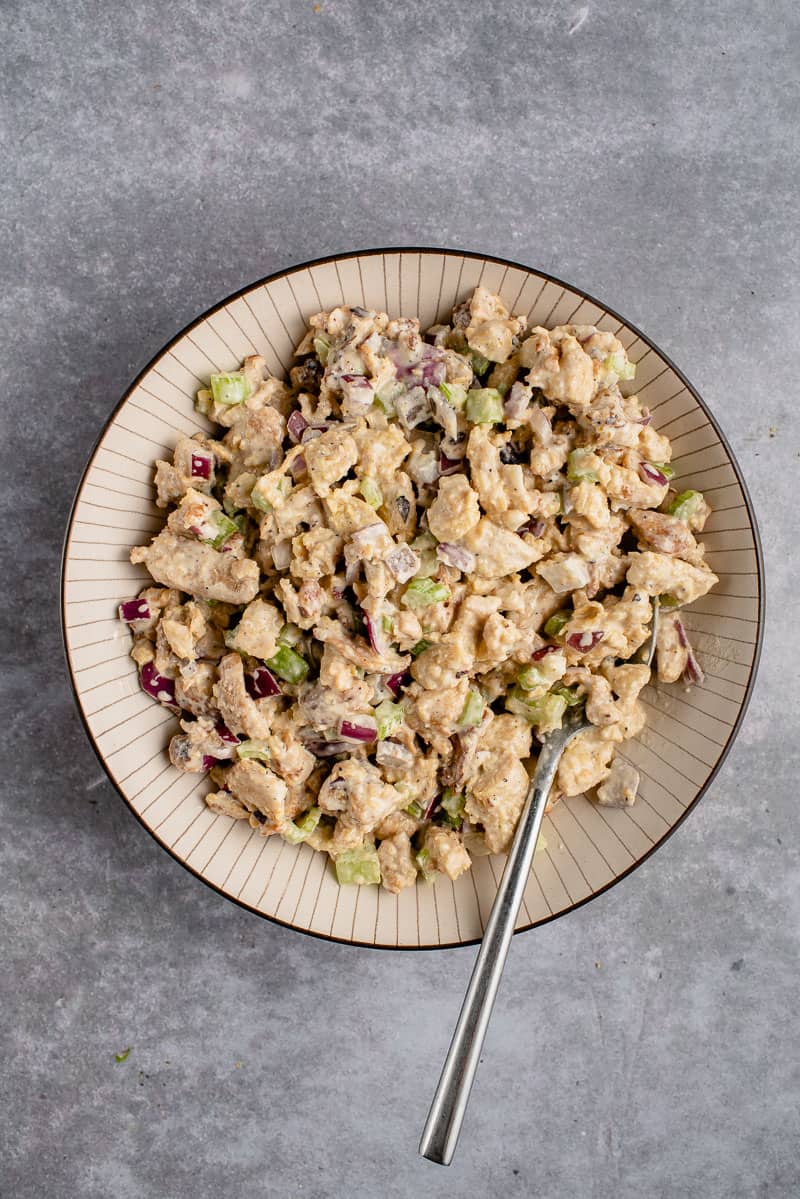 Recipe FAQs
Can I make this vegan chicken salad oil-free?
Yes, if you are gluten-free, there are a few simple swamps to make to keep it gluten-free. First, swap the store-bought vegan mayonnaise with an oil-free vegan mayonnaise. Our friend Caitlin from From My Bowl has a great Healthy Vegan Mayo on her blog. Second, use an oil-free broth to soak the soy curls in. Lastly, use gluten-free bread or crackers for enjoying! 
What are soy curls made of?
Great question! Soy curls are made from one ingredient: whole soy beans that have been cooked and dehydrated. 
Are soy curls gluten-free? 
Yes, soy curls are naturally gluten-free. Butler Foods soy curls are certified gluten-free. 
More Vegan Salad Recipes You May Enjoy:
All of these vegan salad recipe ideas are suitable for school and work lunch boxes, potlucks, picnics, and hosting summer pool parties.
Make sure you tag us on Instagram @sweetsimplevegan and @consciouschris and hashtag #sweetsimplevegan if you recreate any of our recipes, we love to see your photos!
Print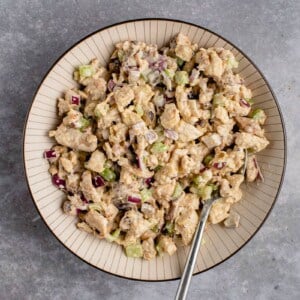 The Best Vegan Chicken Salad Recipe
---
Author:

Total Time:

35 minutes

Diet:

Vegan
Description
This Vegan Chicken Salad is the BEST vegan version. It has the same flavors and texture you know and love, yet requires minimal plant-based ingredients, is easy to make, and is packed with protein to keep you feeling satisfied. Get ready to enjoy a satisfying, easy vegan meal! 
---
---
Instructions
Bring vegan chicken broth (or vegetable broth) to a boil.
Add soy curls to a large bowl and pour over the broth, allowing them to rehydrate for about 10 minutes.
Once hydrated, heat a large cast-iron skillet with oil over medium heat.
Begin scooping in the soy curls, squeezing/shaking off any excess liquid (but do not discard!). Cook for 2 minutes, or until they begin to brown.
Add in ⅓ cup of the broth and cook. Once the first batch of broth cooks off, add in the next and continue this process until you have cooked off all of the liquid. Make sure you cook off the full ⅓ cup before adding in the next batch!
If needed, add a little more oil to the pan and continue to cook the soy curls until they start to get golden and char a little.
Remove the soy curls from the skillet and roughly chop them.
In a large bowl add the soy curls and the remainder of the ingredients and mix until uniform.
Serve on bread, as a dip, in a wrap, or over greens. Enjoy!
Prep Time:

15 minutes

Cook Time:

20 minutes

Category:

Lunch, Entree

Method:

Stovetop
Keywords: Lunch, Entree, Vegan, gluten-free, easy, kid friendly, soy curls
Disclaimer: This page may contain affiliate links, which means that we earn a commission if you purchase through those links, but your price remains the same. Thank you for supporting Sweet Simple Vegan!