One-Pot recipes are a total game changer. They're perfect for making delicious meals in a pinch and won't leave you with a mountain of dishes to clean. Today we are rounding up some must-try one-pot meals that will make your life a whole lot easier.
The first recipe we are sharing today is this delicious one-pot pasta recipe from Michelle of World of Vegan. If you love one-pot dishes (seriously who doesn't?), you'll LOVE this vegan one-pot pasta! It's a creamy, garlicky, fresh, and delicious bowl of comfort food goodness.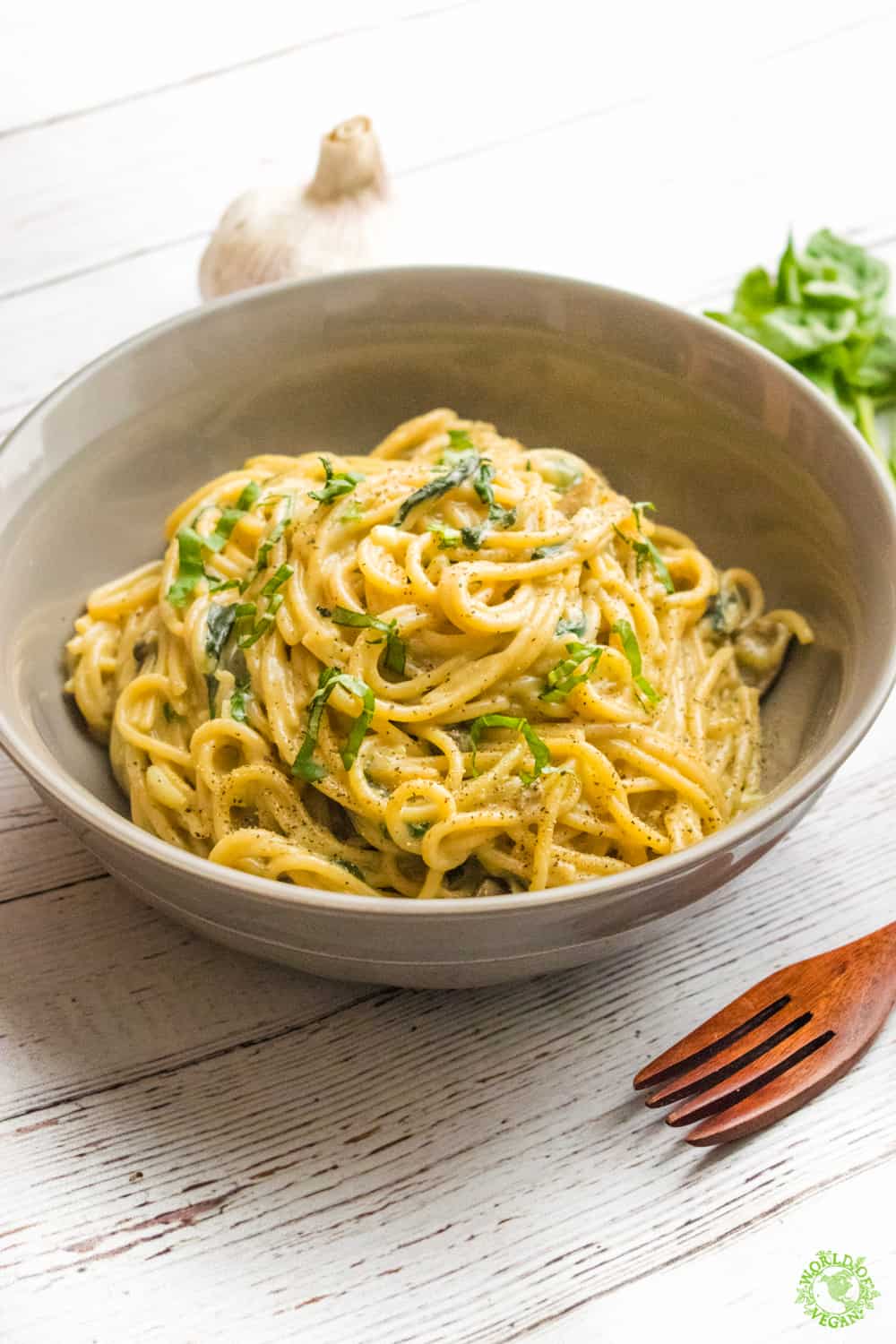 Learn how to make the easiest creamy vegan mac and cheese with just one-pot and less than 30 minutes of your time! All of the flavors and feelings of childhood wrapped up into one easy-to-prepare dish that will make everyone in the family happy. It doesn't get much better than that.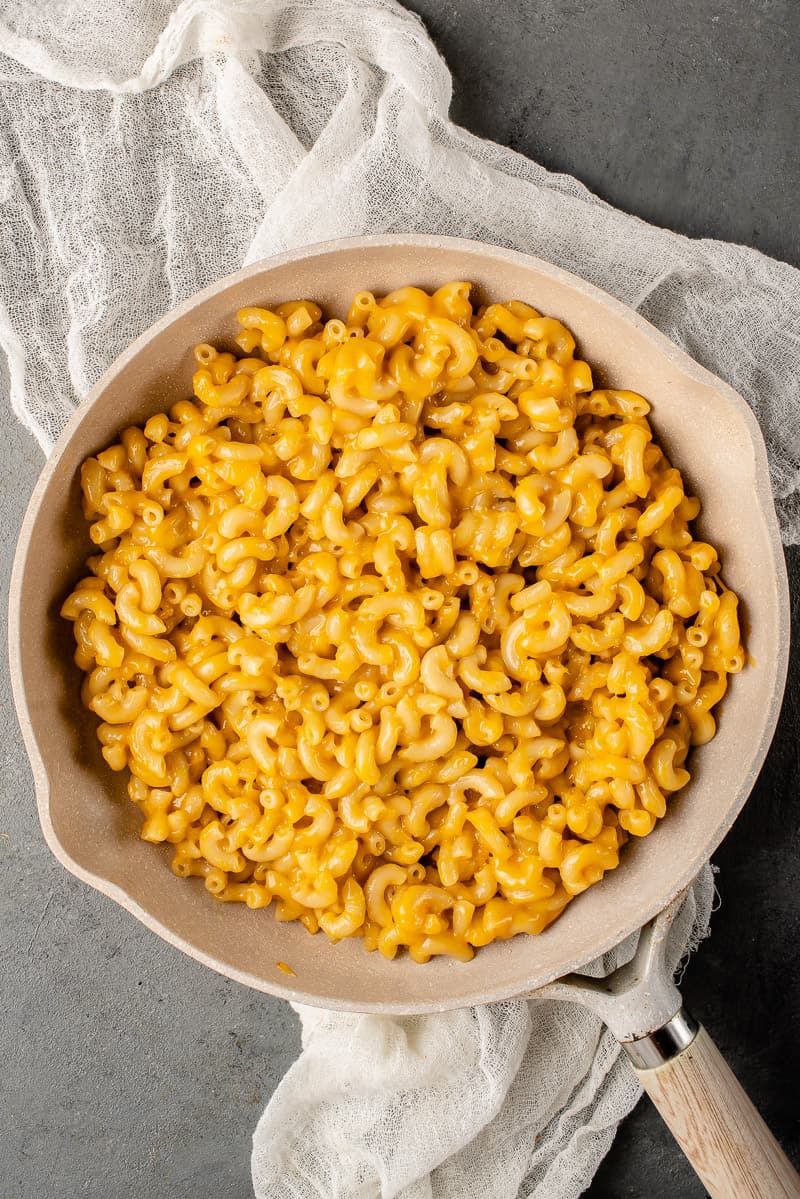 This smoky and flavorful BBQ Jackfruit recipe is from Rachel Steenland. The best thing about this recipe is that you can use pulled bbq jackfruit for any recipe where you're looking for a 100% plant-based 'meaty' filling or side.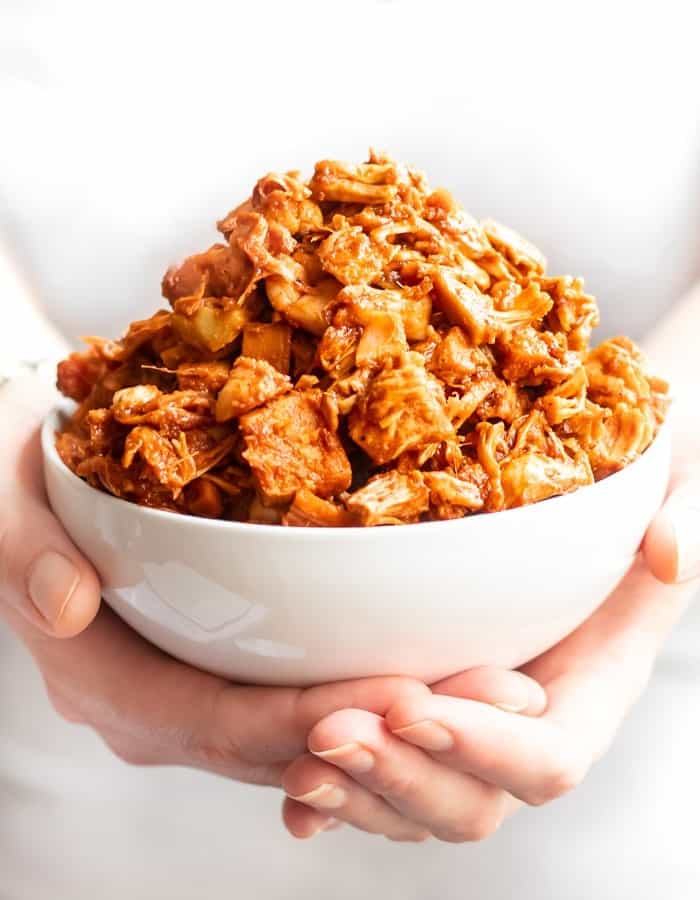 Learn how to make this hearty and delicious one-pot minestrone soup with ease in just 30 minutes!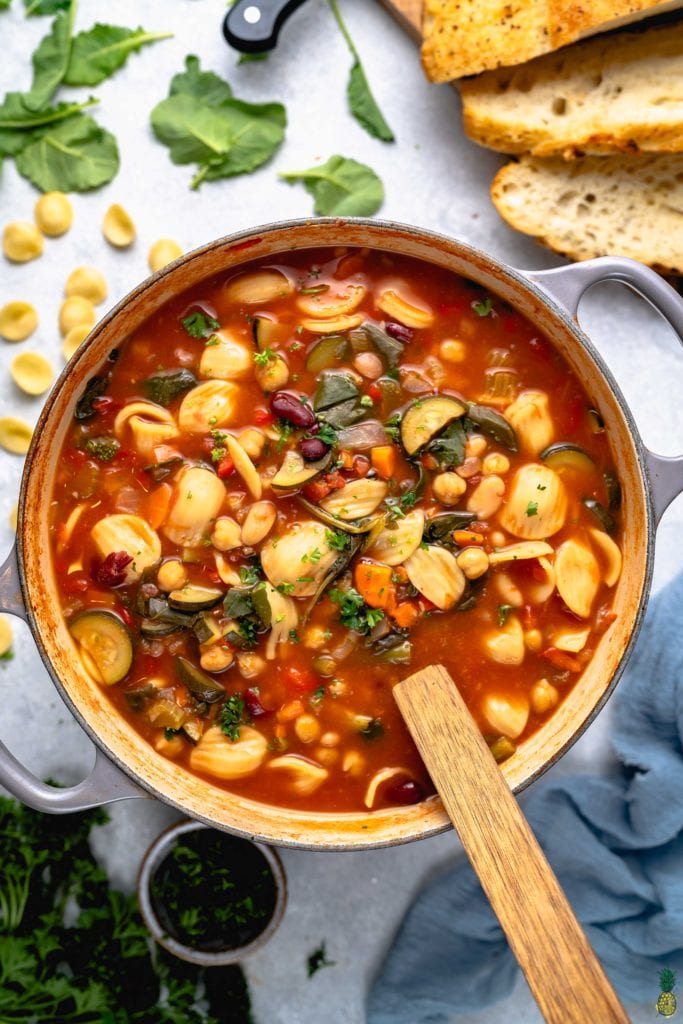 This Fettuccine Alfredo recipe is special. It was created by Michelle Cehn, founder of World of Vegan, and is highlighted in The Friendly Vegan Cookbook and well as on the Plant Based on a Budget blog. It makes for the perfect family dinner and only uses plant-based ingredients.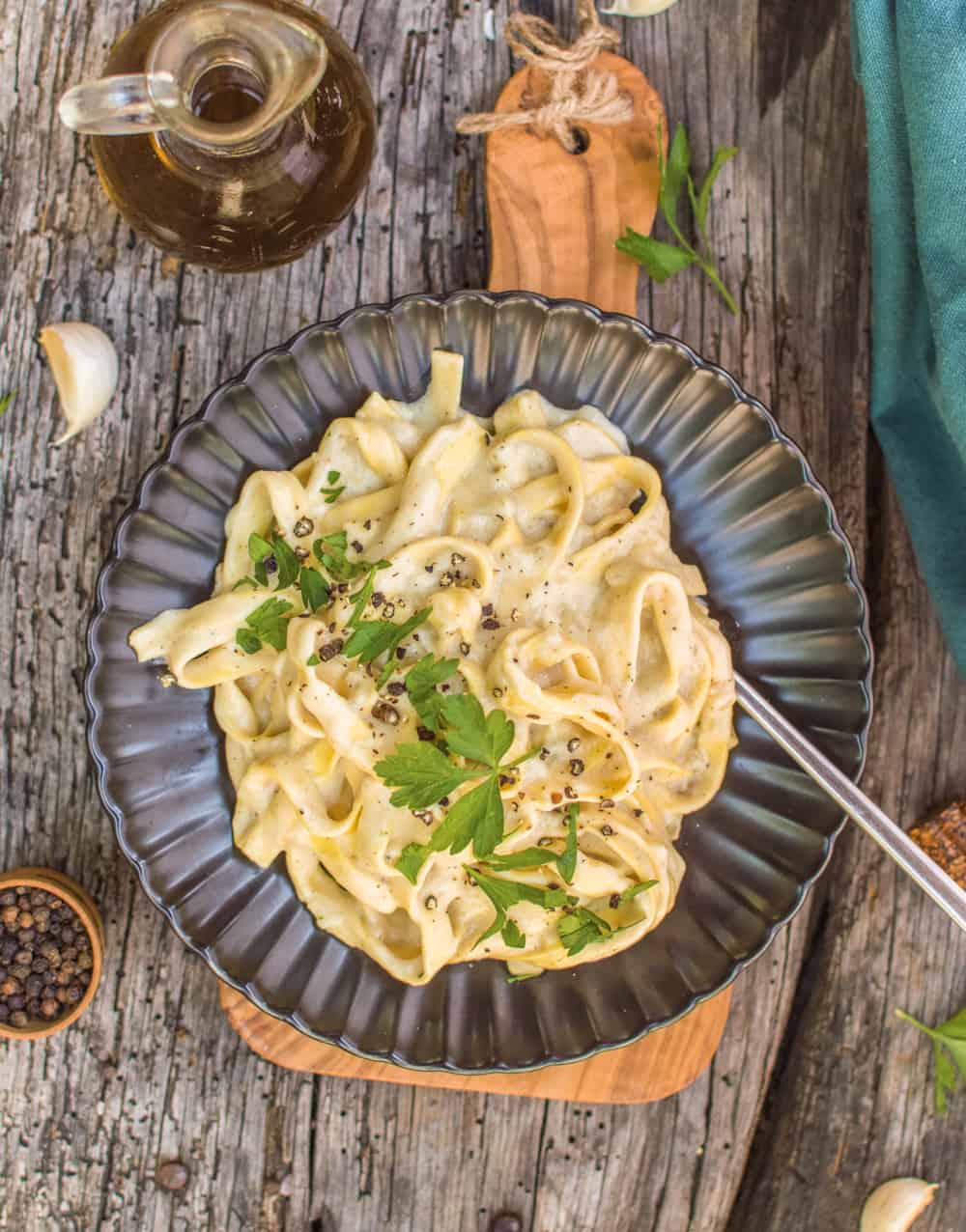 Learn how to make this red curry peanut ramen with just 1 pot and about 30 minutes of your time. It's easy to make, packed with flavor and SO dang good. This will be your new favorite ramen recipe, we guarantee!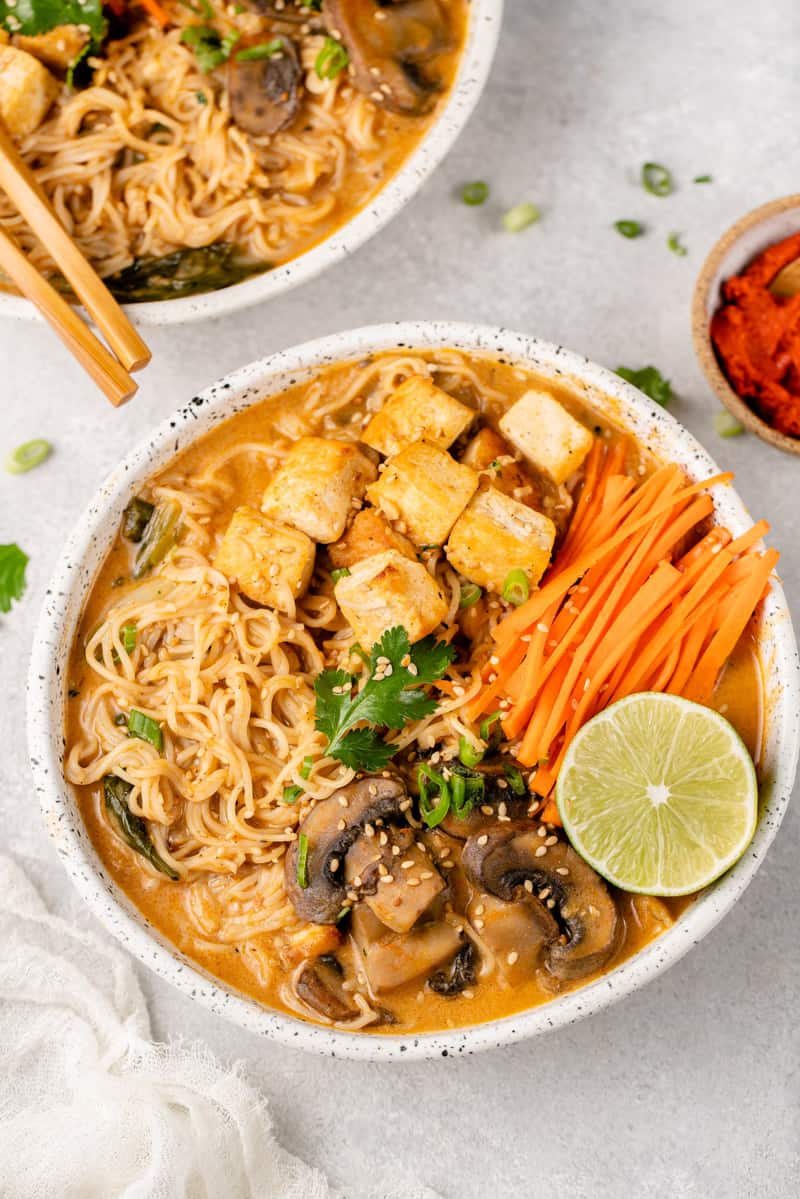 Next up we have this Vegan Japanese Hot Pot aka Nabemono made by Remy of the Veggiekins Blog. It is a simple and easy dish to make! It's very customizable, nourishing and perfect for chilly evenings. It can be enjoyed solo, or with friends and family as sort of a social meal.
If you're looking for a fuss-free recipe, this vegan one-pot pasta is for you! It requires simple ingredients and is ready in just about 15 minutes. Don't you worry though, it's still packed with flavor, hearty and satisfying.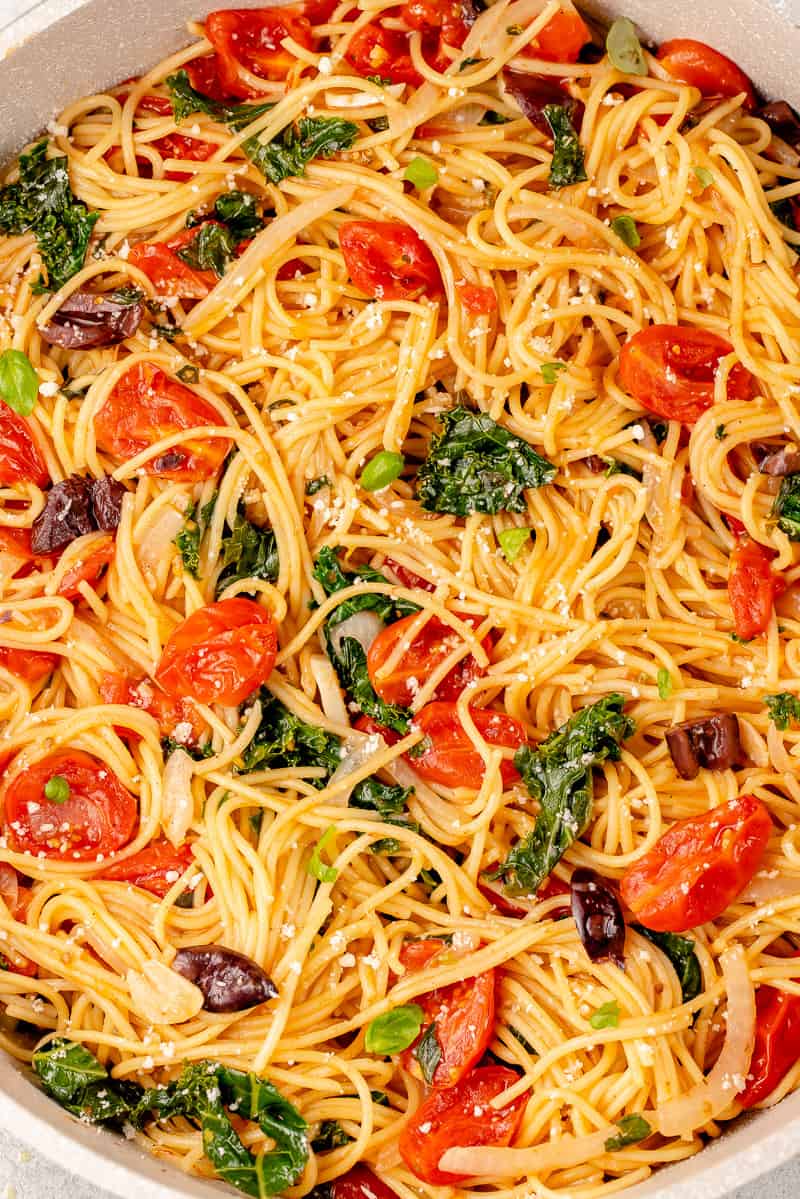 If you're looking for the best vegan chili recipe, this one by Hannah of Two Spoons is a winner. This vegan chili is easy to make, healthy and wholesome. It's packed with protein using 3-beans: white beans, kidney and black beans. Needless to say it's a hearty dish that you can enjoy for a quick dinner.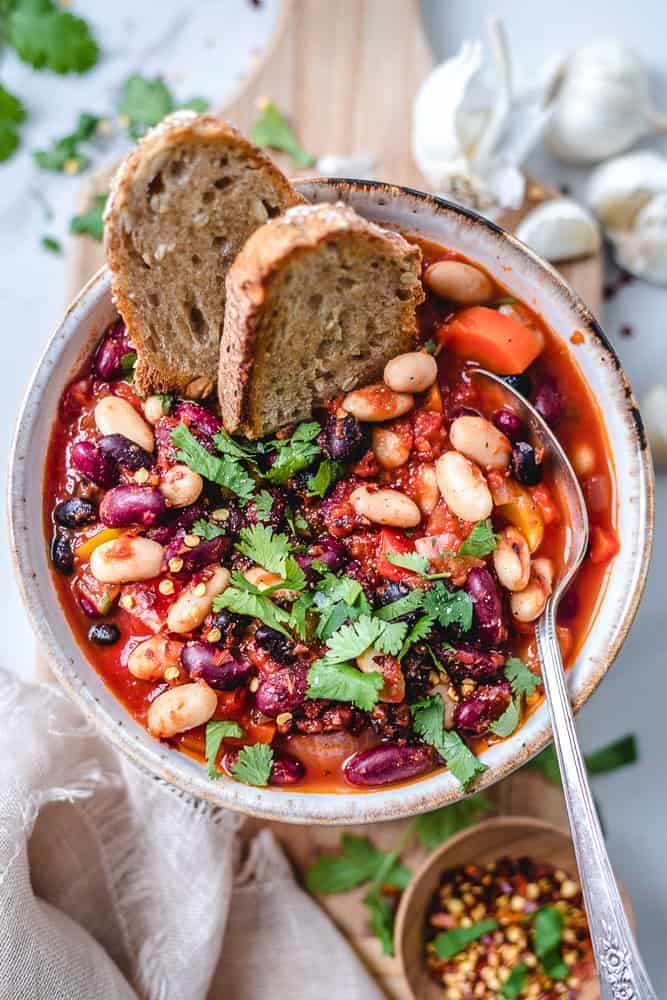 Hamburger Helper has never tasted so good! This homemade, vegan version is full-of-flavor, hearty, and down-right delicious. It's simple to make and requires just one pot and about 30 minutes!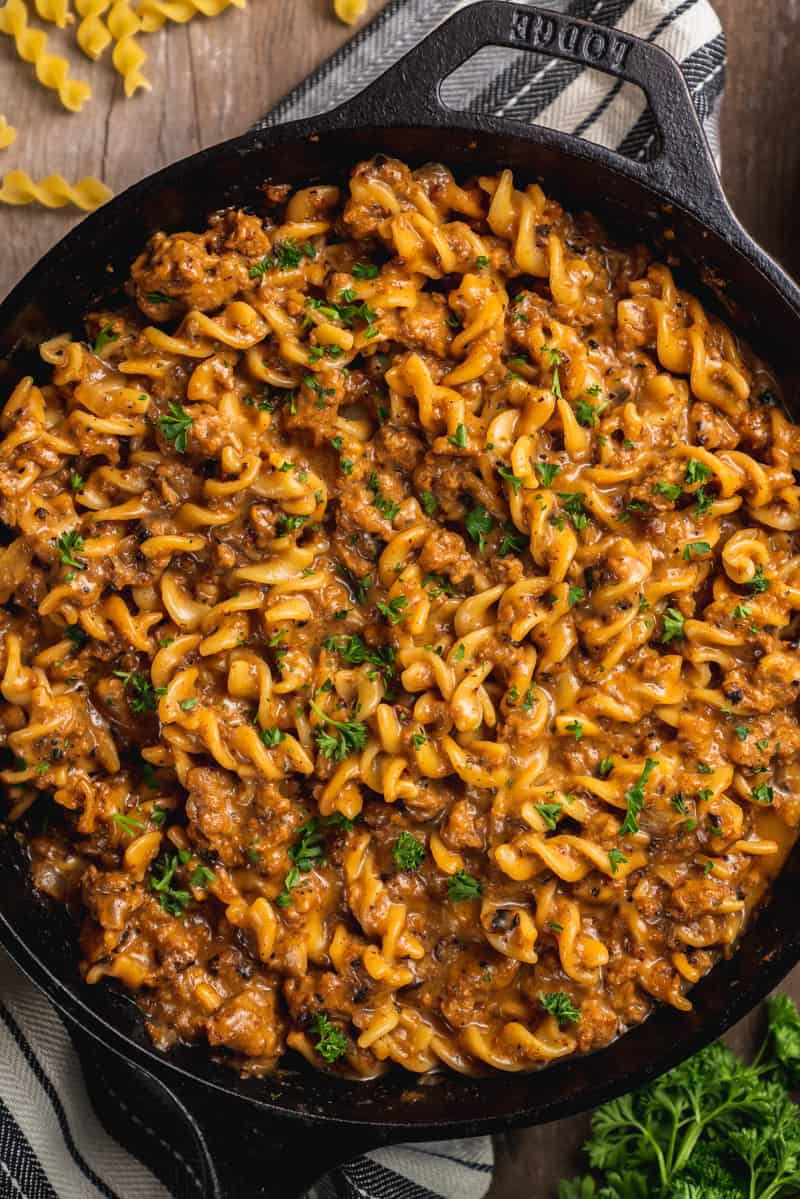 This super fun and delicious recipe is from Francesca of Plantifully Based. These chickpeas are creamy, savory, a little spicy and a little sweet. They pair perfectly with any vegetable and grain.
A thick and hearty potato and cheese soup that is perfect for the cold winter months. This locro de papa is easy to make, requires just one pot and will be ready in about 1 hour.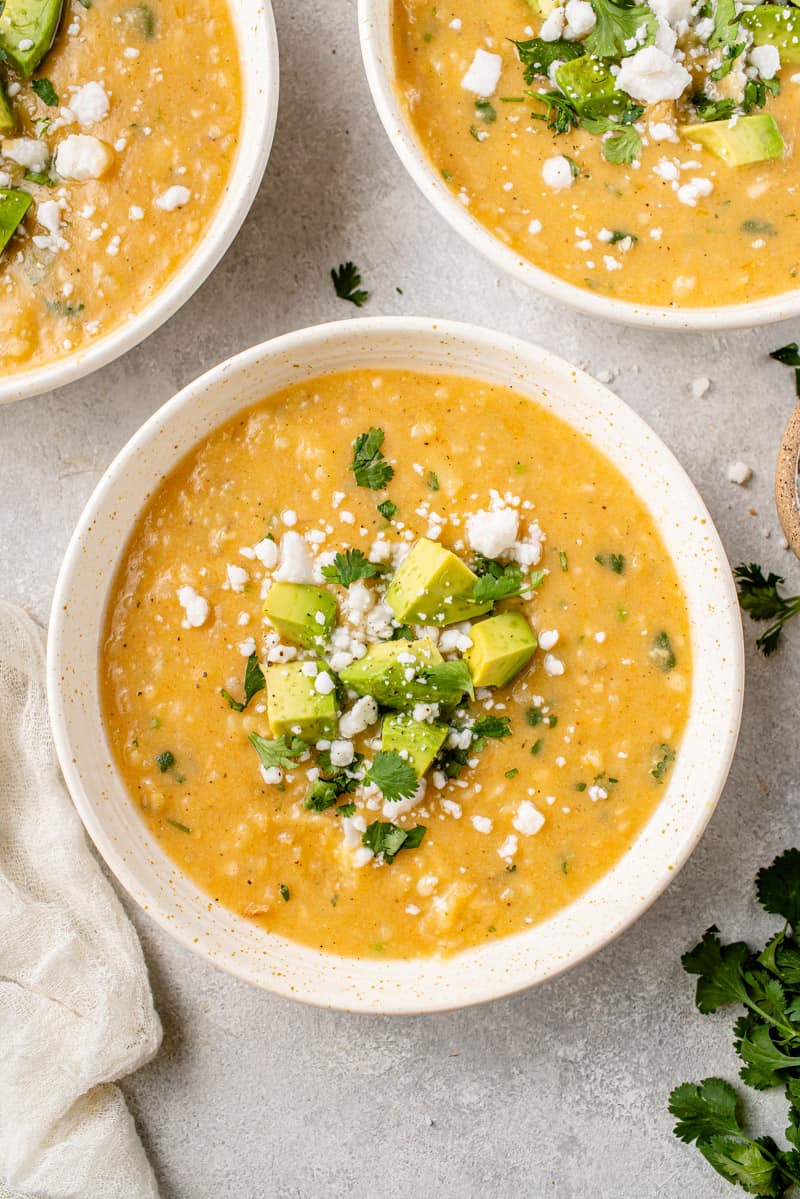 Here's a fun one-pot / pan breakfast idea from Megan of MegUnprocessed. This easy, oil-free tofu scramble is packed with veggies, plant-based protein and lots of essential vitamins for a healthy and nourishing meal.
Learn how to make this easy and cozy soup recipe with just a handful of simple ingredients and less than an hour of your time. It perfect for the winter months so dang good! Plus, it's vegan!
Here's a unique soup recipe from Carleigh of PlantYou.This soup packs all the delicious and comforting flavors of a regular vegan lasagna, but without all the mess in the kitchen. Instead of a few hours of preparation, this soup only takes about 30 minutes.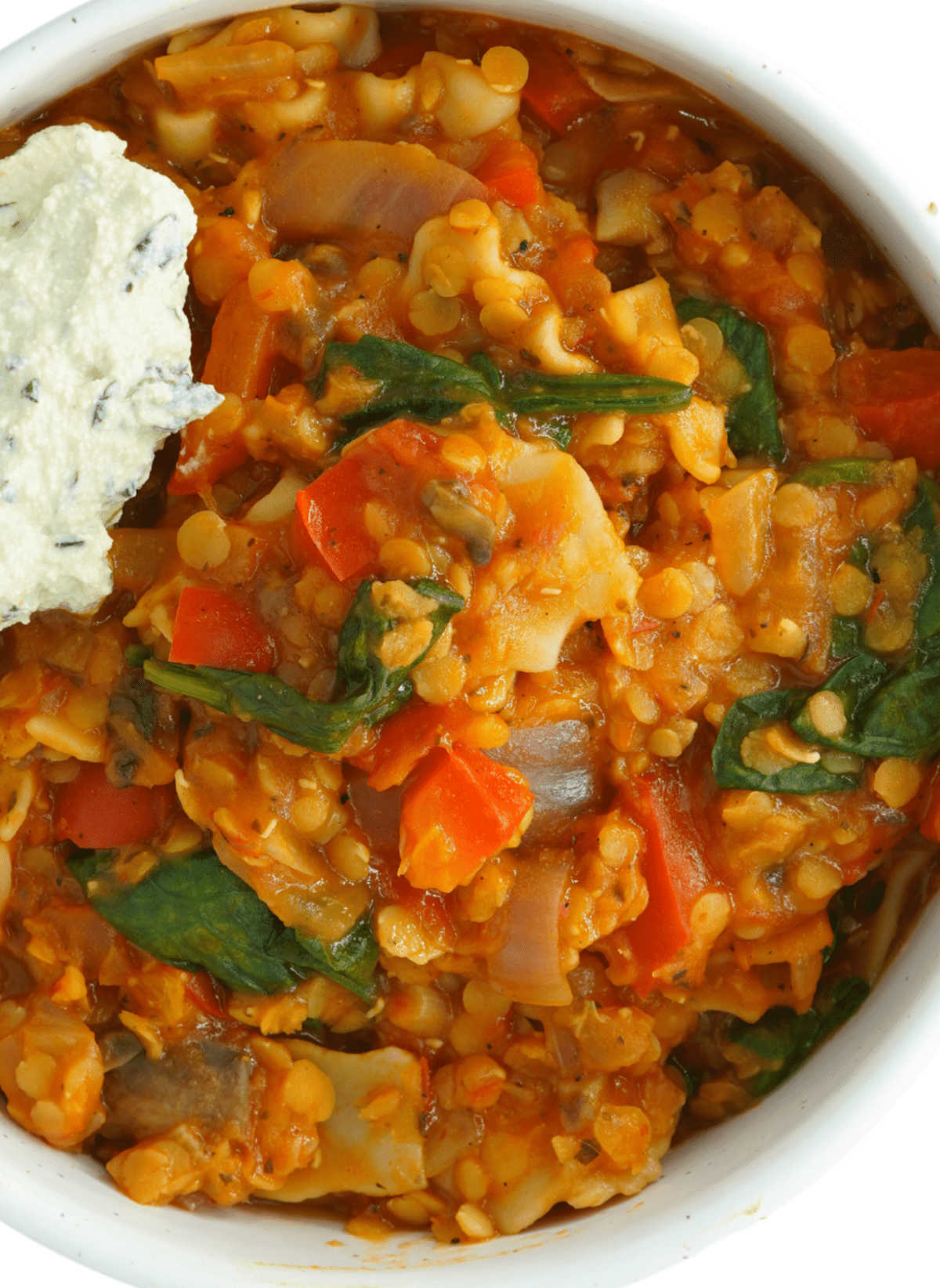 This Vegan Mushroom Stroganoff is not only delicious, but can be made in one-pot and is ready in 30 minutes or less. This is one of our favorite one-pot recipes. Are we talking about the perfect meal, or what? Let's get cookin'!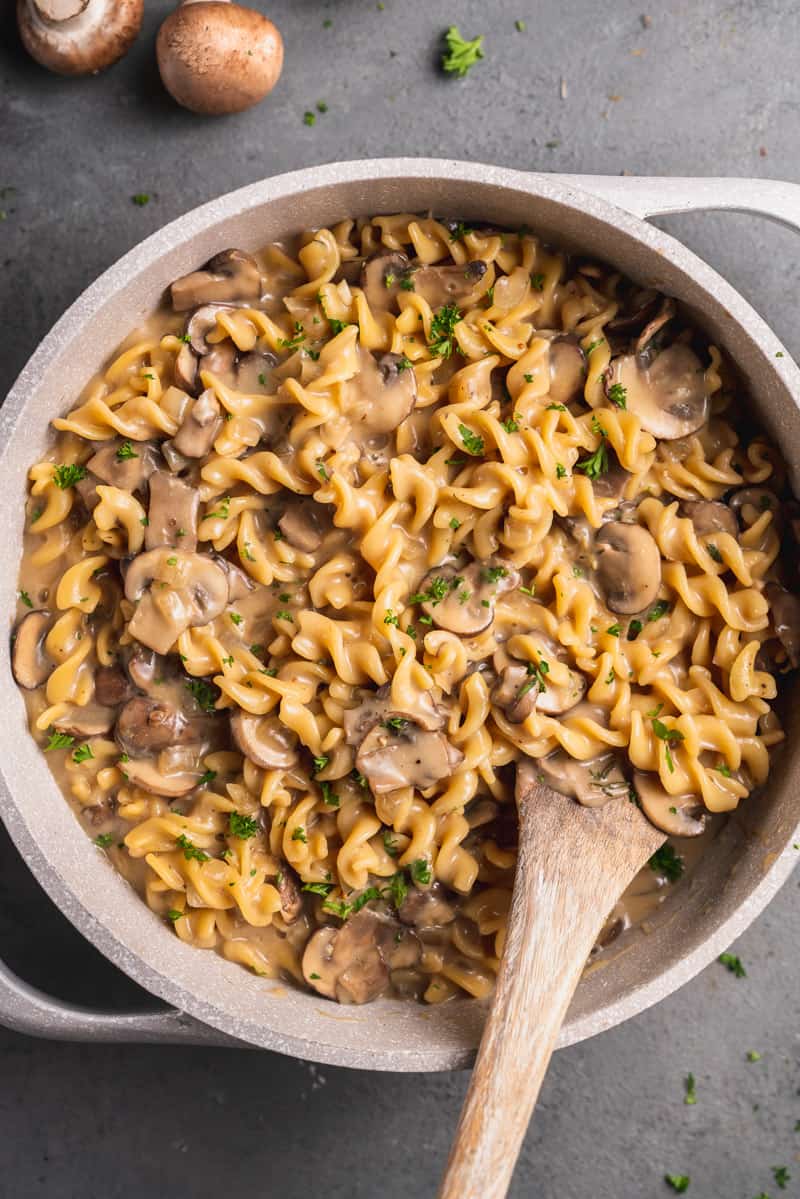 This hearty vegetable noodle soup is loaded with veggies, packed with flavor, and requires just one pot to make! It's perfect for cold winter days and can be made in a large batch to enjoy throughout the week.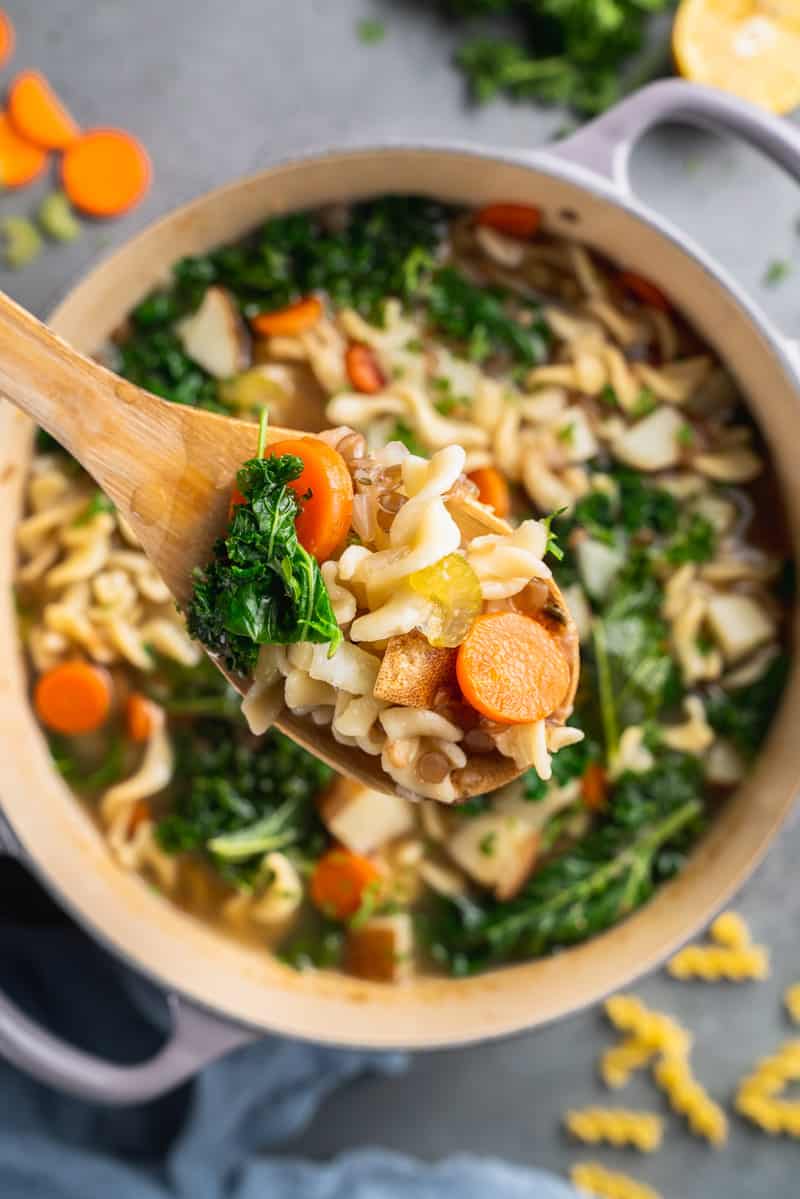 Another one of our favorite one-pot recipes. Did someone say Creamy One-Pot Taco Pasta? This is one of our favorite one-pot recipes. Learn how to make this simple and hearty dish using just one-pot and 30 minutes of your time.
This Filipino Pancit Bihon is a staple at all of my family get togethers. It is a rice noodle dish that is loaded with vegetables and served with a sprinkle of green onions and spritz of fresh citrus juice. It is packed with flavor and filling enough to serve as a main dish.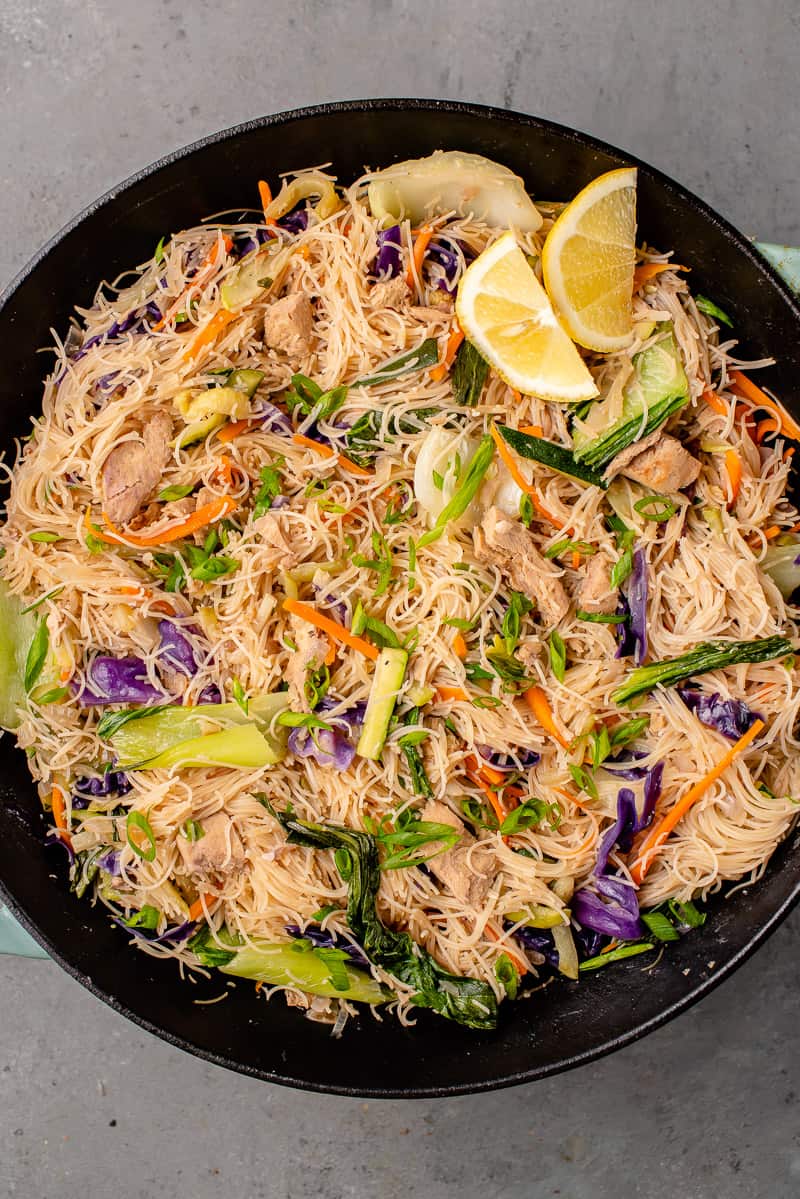 We hope these recipes help inspire your next meal. Make sure you tag us on Instagram @sweetsimplevegan and @consciouschris and hashtag #sweetsimplevegan if you recreate any of our recipes, we love to see your photos!
Disclaimer: The nutritional information shown is an estimate provided by an online calculator. It should not be considered a substitute for a professional's advice. This page may contain affiliate links, which simply means that we earn a commission if you purchase through those links, but your price remains the same. Thank you for supporting Sweet Simple Vegan!