We have been living in the Portland area for a little under a year now and let me tell you, the vegan scene here is POPPINNN– the options are abundant and seemingly neverending. We decided that we would create a blog post documenting all of our finds and we will update this as we try more. If there are any other places that you want us to try out, comment them below 🙂
PS: We are going to put a * by our favorite places, in case you need help narrowing it down.
Dining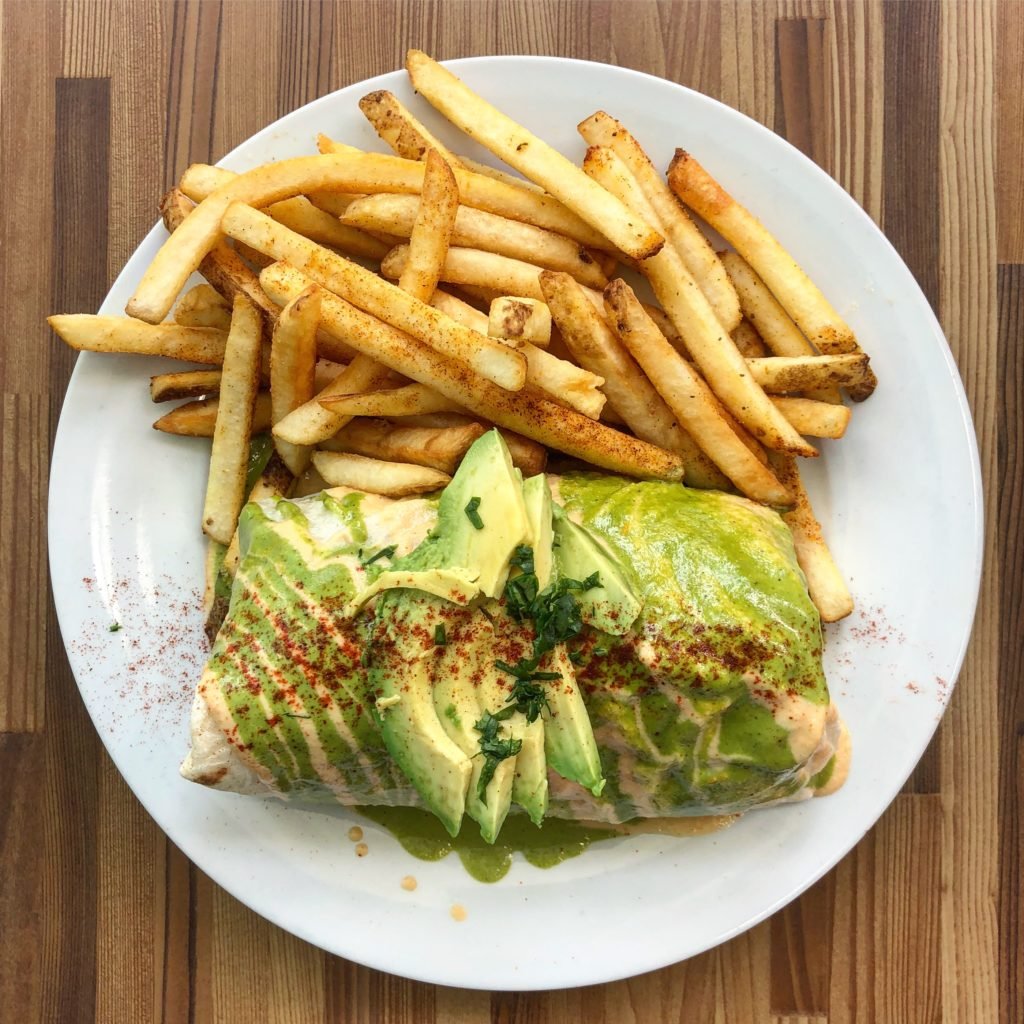 Off The Griddle: If you're looking for some good vegan brunch, this is a spot to consider. Sweet and savory waffles, biscuits and gravy, a handful of unique bloody mary's, and more. They have a ton of gluten-free options, too!
*No Bones Beach Club: If you're in the mood for a unique dining experience, this vegan tiki bar is one of a kind. With a funky and fun vibe,
*Kati Thai: An all-vegan Thai place that has killer curries, pad thai, soups and more! We are always satisfied after leaving this spot, and we keep going back for more. We have yet to try their desserts, but the next time we go we are going to make it happen!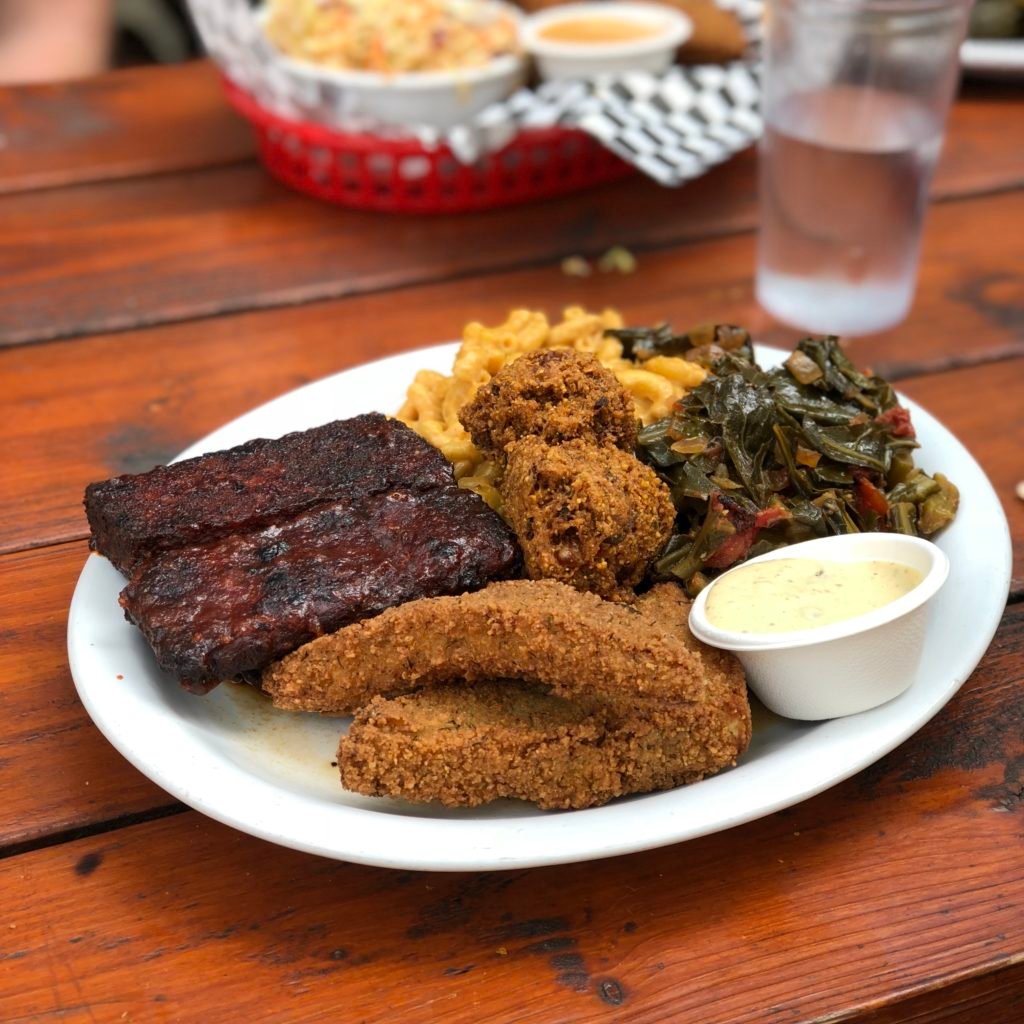 Homegrown Smoker: Vegan comfort food and BBQ to the max! Homegrown Smoker is a staple in the Portland area, and after going once, you'll understand why. If you're in the mood for wings, bbq ribs, burritos loaded with mac and cheese, burgers, sandwiches, and beyond, this place is for you. Located in the beautiful St. John's neighborhood, Homegrown Smoker offers something for everyone! Warning: come hungry and prepared for a food coma!
Carioca Bowls: Not only does this place serve up some killer acai bowls, but they also offer savory bowls, toasts and more on their menu, with lots of vegan options. Carioca Bowls is also right next door to Full Lotus PDX which is a donation based yoga studio, so it's great to check out after you get a workout in.
*Rudy's Pizza: This is a must visit spot in Portland. They have some of the best vegan pizza we've ever had, and it never disappoints. They have a whole vegan menu with a wide variety of vegan pizzas, cheesy bread, and calzones, with DIY options as well. They also have customizable Italian sodas with vegan whipped cream.
*Blossoming Lotus: This is one of the pricier options on our list, but we think the food is worth the price. One of our favorite items on the menu is their housemade burger, and we highly recommend it if you can't figure out what to order. Their food is local, organic and all freshly made, plus they have a wide variety of dishes s0 there is something to offer for everyone's taste. It is also great for brunch on the weekends!
View this post on Instagram
Virtuous Pie: Gourmet individual-sized vegan pizzas! All of the toppings are housemade using top quality ingredients. Not only do they offer a wide selection of delicious pizzas, but they also have an excellent choice of alcohol, coffee, and housemade ice cream. Also, if you're looking for a good brunch spot, they have an extensive brunch menu on the weekends loaded with everything from breakfast pizzas to sandwiches.
Uchu Sushi & Fried Chicken: The name may be confusing but fear not! They've got about a dozen vegan sushi options + a ton of other awesome vegan things on their menu. There is something here for everyone!
View this post on Instagram
*Dinger's Deli: An all-vegan deli, can we get an amen?! This place is THE spot to go for a delicious vegan sandwich. Vegan meatball, Cuban and Italian subs, + some other awesome daily special and bowls, too!
*Farm Spirit: This is our favorite spot for our anniversary's and special occasions. It is a bit pricey but SO worth it. Farm Spirit offers a local and seasonal farm-to-table tasting menu. They only offer about 10-12 seats per night and the dining experience allows you to get a peek of what is going on in the kitchen.
Bernstein's Bagels: East coast style bagels on the west coast. Honestly, these are some of the best bagels I've had in a long time. I usually opt for an everything bagel, but I also recommend the sesame and poppy seed. As far as cream cheese goes, Bernstein's offers Tofutti brand. You can even get a sandwich loaded with cucumbers, avocado, and all the fresh veggies. If you find yourself in the St. John neighborhood of Portland, do yourself a favor and check these bagels out!
*Ichiza Kitchen: Don't let the size of this restaurant fool you. Ichiza is a small and intimate an all-vegan pan Asian restaurant that packs a punch. Not only is their food delicious, but the experience is also one of the highlights of this spot. Their vegan adobo hits home for me, and it is my go to every time we are there. As for Chris, he prefers the noodle soup. They also have a fantastic selection of teas and tea serving ceremony is one we highly recommend.
Sizzle Pie: If you're looking for late night vegan pizza (by the slice), sizzle pie is the spot. They also have a killer vegan ranch and garlic knots that we recommend you try out. It's our go-to spot if we need some late-night grub in Portland.
View this post on Instagram
New Seasons Market: This initially wasn't a spot we considered for meals while we were out, but after discovering that they sold $9 impossible burgers with all the fix-ins (cheese included with no additional charge), we have frequented this market for dinner. It is by far the cheapest impossible burger we have come across (Portland or not), and it is so dang good! They also have a hot bar + other deli items that are vegan as well.
The Sudra: They offer fresh and flavorful Indian-inspired vegan dishes and specialty cocktails. The restaurant started with the focus of creating Indian-fusion focusing on fewer grains and potatoes and more on fresh produce and wholesome dishes. We have only gotten take away from this spot and have never actually dined at the restaurant, but speaking for the food, we enjoyed it! If you love Indian cuisine and flavors, this spot is for you.
Next Level Burger: One of the first 100% vegan burger chains with some seriously good food. Next Level Burger offers both housemade patties and Beyond Burgers in plenty of different flavors and styles. Each one is delicious in its own right; it all just depends on what you're in the mood for. NLB also offers some seriously good milkshakes and loaded fries smothered with vegan cheese, and oh so much more.
Bars + More Food
View this post on Instagram
Modern Times PDX: Also known as the Belmont Fermentorium, this brewery offers not only a tasty selection of beers, including some experimental offerings but they also have a menu filled with delicious comfort style bar food. Think—beyond burgers, sausage sandwich, meatball parm (on garlic bread), and more! They have a killer brunch selection on the weekend, too. You can also stop by to pick up some beers, crowlers or growlers to go. Oh, and I forgot to mention, everything, including the beer, is 100% vegan 🙂
Psychic Bar: A low-key, neighborhood bar inside an old Victorian house with spacious outdoor seating, serving Indian-inspired fare with a thoughtful selection of beer, wine, and spirits. They have a few vegan options on the menu, and everything is distinctly marked with a "V" to eliminate the guesswork. We've never actually eaten at Psychic, but we have been there for drinks and enjoy the vibe.
Black Water Bar: Looking for one of the best housemade burgers in Portland? Black Water Bar is a classic punk rock dive bar with a full vegan menu offering food at super reasonable prices. They often have punk and hardcore shows, as well as a monthly drag show. If you're looking for an authentic Portland experience, Black Water is the spot.
View this post on Instagram
Capitol Bar: An all vegan karaoke bar with some super tasty food. Capitol Bar offers the Impossible Burger along with a bunch of other tasty selections including IPA mac and cheese, jalapeno popper quesadillas, buffalo bowls, and so much more. The vibe at Capitol is upbeat, colorful, and modern. They also have a great selection of beers on tap and handcrafted cocktails.
View this post on Instagram
The Bye & Bye: An all-vegan bar in the Alberta neighborhood that has tasty (and a bit heavy) food, a dog-friendly patio, super casual atmosphere, and friendly staff. Offering a variety of different sandwiches, bowls, and small plates, we recommend this place for a casual dinner with friends.
Back to Eden Bakery: Located in Alberta, Back To Eden has both a Cafe and Dessert shop next door to each other that will have something for everyone. Their menus are all vegan and gluten-free,
Desserts
Eb & Bean: If you're looking for vegan froyo or soft serve (with no artificial sweeteners, flavors, preservatives, corn syrup, or GMOs) this is spot is for you. Eb & Bean has a vegan menu, and they rotate their flavors monthly depending on the season, so it's fun always to be able to try something new. They have a wide variety of toppings with tons of vegan options, including vegan "magic shells" and a vegan caramel sauce!
View this post on Instagram
Doe Donuts:
An artisanal 
vegan donut shop offering a wide variety of unique flavor combinations that are sure to knock your socks off. They were voted best vegan donut shop by VegNews Magazine readers and also voted top 3 best donut shops by Portlanders via Willamette Weekly. They have some closures during the week and close reasonably early, so make sure you check before you go.
View this post on Instagram
Sweet Pea Bakery: An all-vegan bakery that offers an array of baked goods and sandwiches which are to die for. This is this perfect place to grab a quick bite with friends or for food on the go.
*Blue Star Donuts: French-inspired donuts with unique and complex flavor combinations that are a must try. The vegan orange olive oil donut is our favorite, and although it may seem like an odd flavor combination, we promise it is delicious.
VooDoo: We wanted to include VooDoo here because of all the hype around it. We want to keep it real and say we prefer the two donut spots over this one…but we do understand why VooDoo is a tourist attraction as it is cute and quirky inside with unique looking donuts!
Other Places To See
Food Fight Grocery Store: An all-vegan grocery store in Portland where you can find everything you are looking for and more. We love to stop by this shop because we always find vegan products that we don't come across a lot in "mainstream" grocery stores. They even have some legit vegan soft serve that tastes like McDonald's to us but in the best way possible.
View this post on Instagram
Powell's Bookstore: I know you may be thinking really, a bookstore? Trust us; this place is more than just a bookstore. Powell's has something for everyone and s a great place to grab a cup of coffee and get lost in (in the best way possible). Their Burnside location is a whopping 68,000 square feet, features nine color-coded rooms, three floors, 3,500 sections, and more than 1 million books. They offer a detailed map and even a free app to navigate the store (it provides turn by turn directions to specific books, how cool is that). It is the largest independent new and used bookstore in the world.
Japanese Gardens: Designed in 1963, the Portland Japanese Gardens encompass 12 acres with eight separate garden styles and includes an authentic Japanese Tea House, meandering streams, intimate walkways, and a fantastic view of Mt. Hood.
Forest Park: If you're coming to Portland for the first time, Forest Park is a must. Filled with miles and miles of trails surrounded by lush green landscape, this is one of the largest and most beautiful parks in Portland. We've only been on a few hikes here, but we promise you can get lost exploring for hours on end. Happy hiking!
View this post on Instagram
Vegan Mini Mall: Located at 1217 SE Stark St, the vegan mini mall consists of side-by-side vegan businesses including The Herbivore Clothing Company, Sweet Pea Baking Co., Food Fight! Vegan grocery store, and the vegan tattoo shop Scapegoat Tattoos. If you're looking for all things vegan, this is the spot for you.
St. John's Bridge: This gothic-style bridge is our favorite landmarks in Portland. We encourage you to drive along it (and head to St. John's for the afternoon) or even park and walk along it for some great photo ops.