Heading to Aruba? We've got you covered with where to eat and what to do, especially if you are vegan!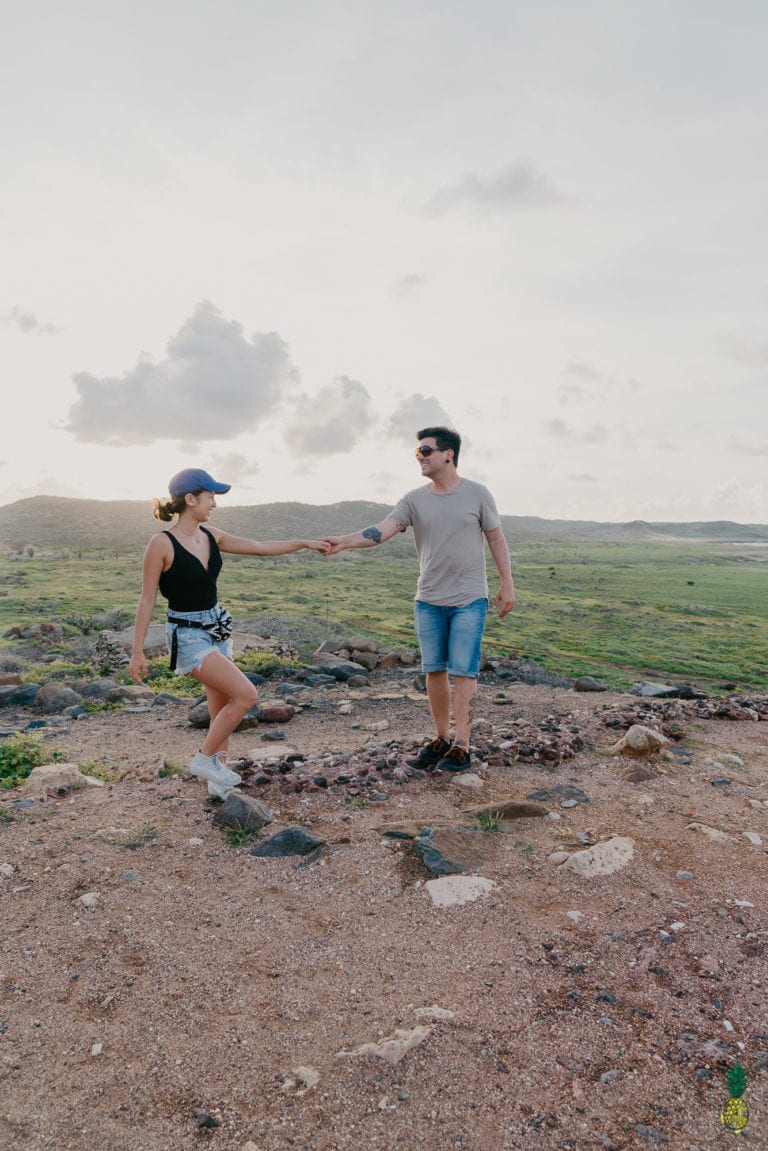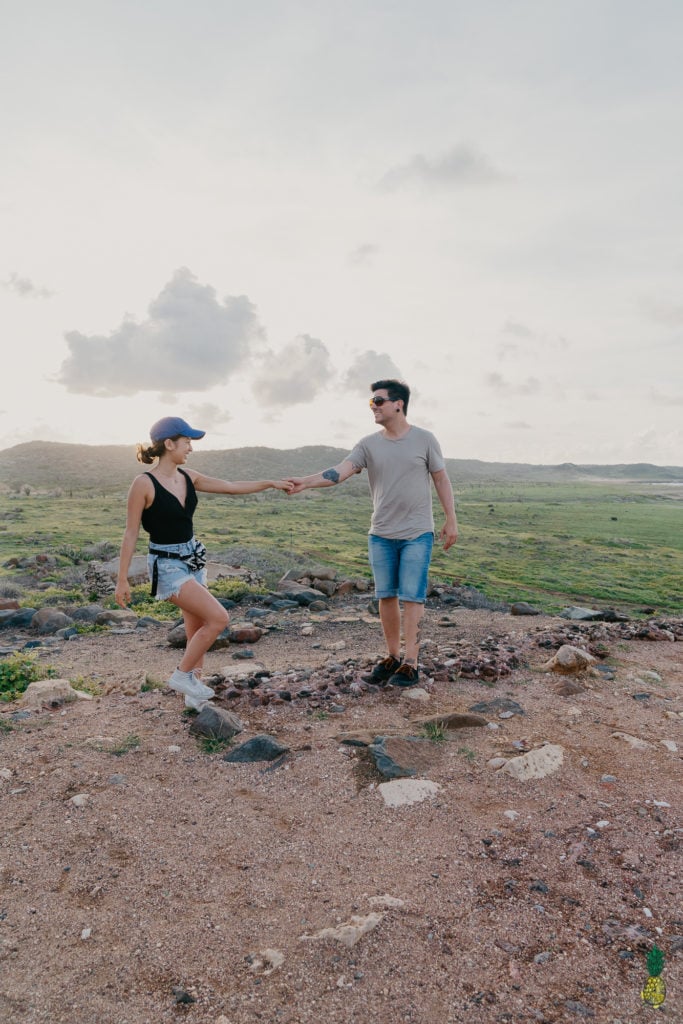 We recently got back from an incredible 5-day trip to the lovely island of Aruba hosted by Vegan Aruba. While we were there, we got to experience the beautiful culture of the island along with their growing vegan scene which has been cultivated single-handedly by Meredith Marin who runs Vegan Aruba. She's been putting in an immense effort to make veganism more accessible on the island and over the past two years she's made a huge impact on not only what the restaurants are serving, but also the different activities that are offered as well. We are here to outline where we ate and what we did while in Aruba to serve as a resource for those looking for an incredible vacation spot. You can also find a fully up-to-date resource at veganaruba.com!
Let's start off with the most important part…
WHERE TO EAT
Elements Restaurant at Bucuti & Tara Beach Resort (IG: @bucutitara) – The first night of our trip, we had an incredible dinner at Elements Restaurant with expertly crafted selections such as Avocado Tartare, Tofu Caprese, Gnocchi Carbonara, Moroccan Meatballs, and Peanut Tempeh Satay. Everything we had here was so full of flavor, unique, and delicious. They also served us fresh bread with an olive tapenade and vegan butter, which hit the spot after a long day of travel. Elements Restaurant is located at Bucuti & Tara Beach Resort which is the only resort on the island that has a carbon neutral footprint. They have a strong focus on sustainability with an Eco-conscious mindset, which we think is pretty darn awesome!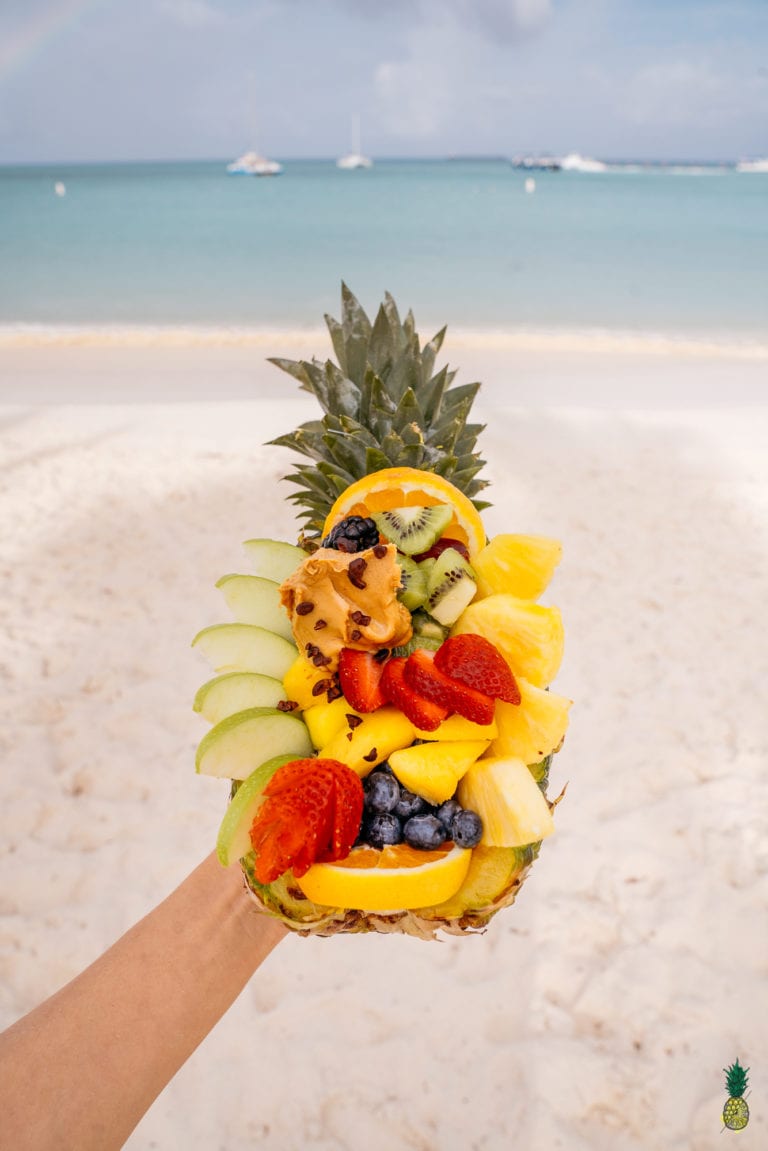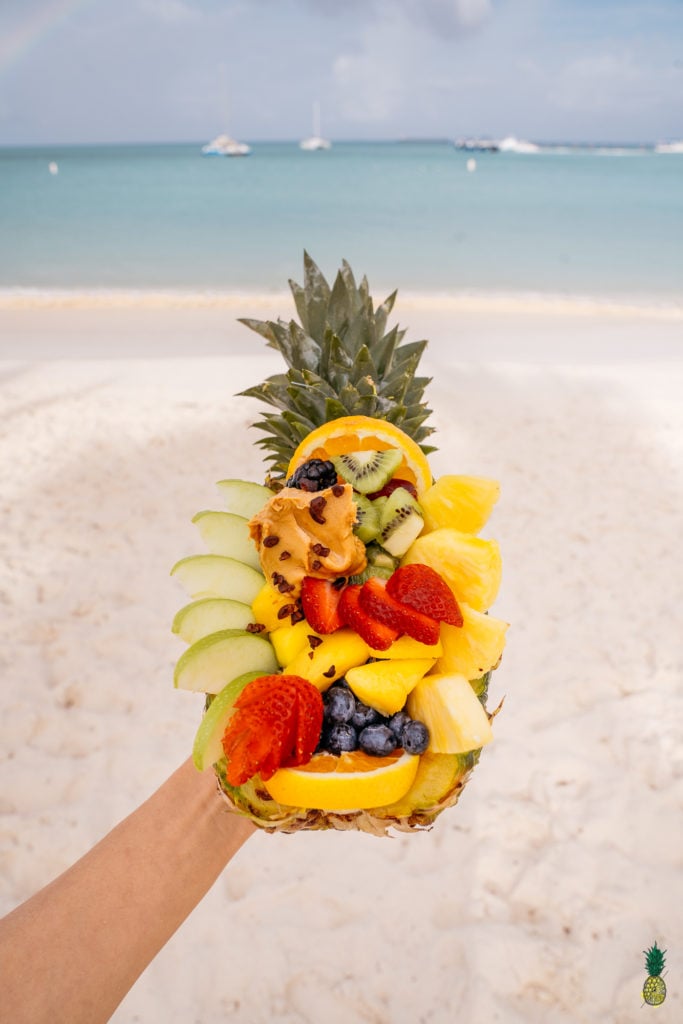 Eduardo's Beach Shack  (IG: @eduardosbeachshack) – We hit this place up for a refreshing breakfast before a paddleboard yoga class at Eduardo's Beach Shack. They serve up a large selection of juices, smoothie bowls, raw treats, and even vegan waffles! This was the perfect refreshing breakfast after a long day of travel and was just what we needed to get the day started right. Jasmine has a loaded up acai bowl that was served in a pineapple and topped with a heap of fresh fruits (pictured above). Chris went for the waffles and topped them with both cocowhip and acai whip! Both meals were full of flavor and deeply satisfying. Eduardo's Beach Shack was one of the first places in Aruba to start offering vegan options over 14 years ago. It was started by an Australian couple who super kind and hospitable towards us. Beach Shack is the perfect name for this place because that's exactly what it was—a cute little shack on the beach which seems to be a popular destination for both tourists and locals, alike.
Nourish Cafe (IG: @nourisharuba @islandyoga @yoga_girl) – After an intensely challenging but super rewarding standing upright paddleboard yoga session (info in the what to do section) in the crystal blue waters of Aruba, we had the opportunity to dine at the only 100% vegan restaurant in Aruba, Nourish Cafe. Attached to Island Yoga Studio and run by the one and only Yoga Girl, Nourish Cafe offers selections such as tofu scramble, breakfast burritos, smoothies, juices, and even a housemade burger. We got both the breakfast burrito and the black bean burger (pictured above) and washed them down with fresh juice, too. We really enjoyed the freshness of the food and drink and can't wait to return next time we are on the island!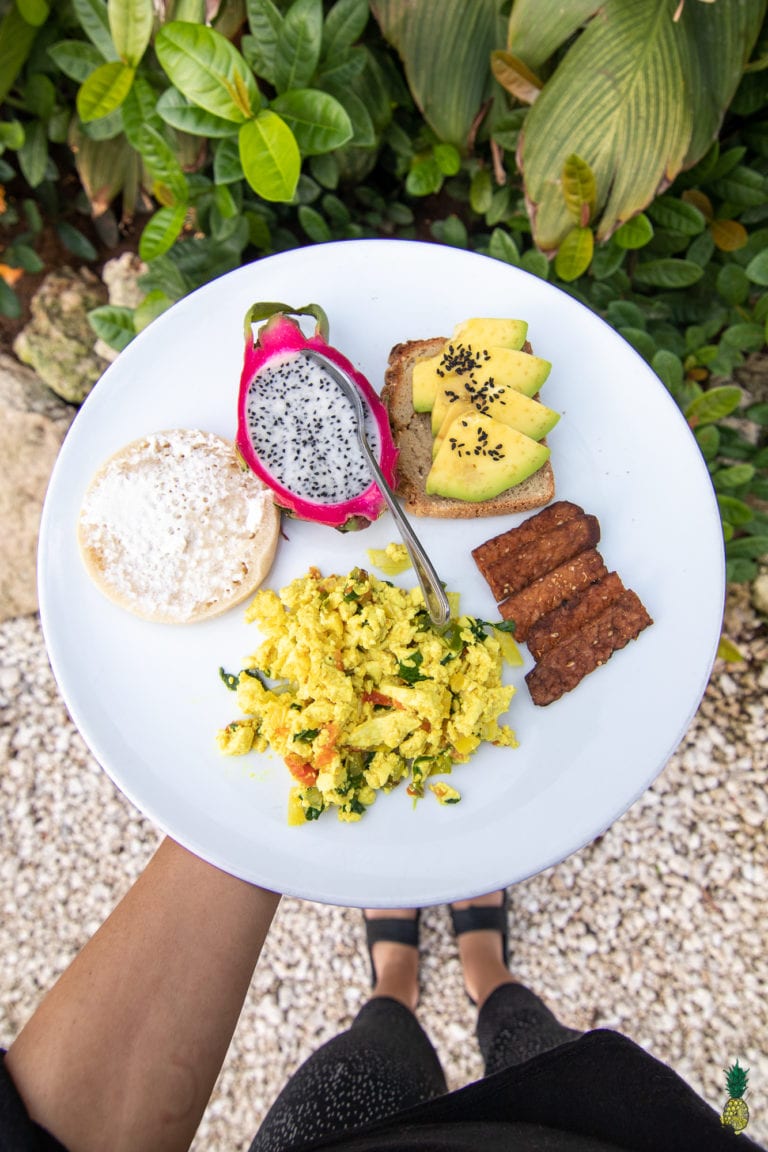 Ike's Bistro at Manchebo (IG: @mancheboaruba @ikesbistroaruba) – Ike's Bistro is located within Manchebo Resort, where we stayed for our trip. We visited Ike's twice while we were in Aruba. Their vegan menu is fairly new BUT don't let that fool you. They are killinnn it in the kitchen and their vegan options are off the chart. For our first visit, we had dinner at Ike's Bistro. The vegan menu offered was impressively extensive and outrageously tasty. We started out with a unique lychee ceviche, a vegan cheese variety platter, and some spicy buffalo cauliflower wings —all of which were full-flavored, filling, and succulent. We also enjoyed Tofu Steaks and Truffle Porchini Risotto as our main course which was mind-blowingly tasty. For dessert, we had a housemade snickers bar that hit all the literal sweet spot. Layers of coconut, caramel, nougat, and chocolate…mmm mm mm…SO GOOD. We visited Ike's again for breakfast the next morning and they served us a vegan breakfast plate (pictured above) that we were thoroughly impressed with. Even though they are new to serving vegan food, they made one of the best tofu scrambles we have had, ever!
Faro Blanco Restaurant (IG: @faroblancoaruba) – Faro Blanco Resturant was one of the spots we hit on a vegan food tour we did with Kukoo Kunuku. They offered incredibly scenic views of the ocean landscape and amazing vegan Italian food. The restaurant is actually located next to the only lighthouse on the island. They served us up a very unique grilled Ceasar salad accompanied by a tasty flatbread and a heart penne vodka dish. It was very cool to have penne vodka again for the first time since going vegan, it definitely did not disappoint.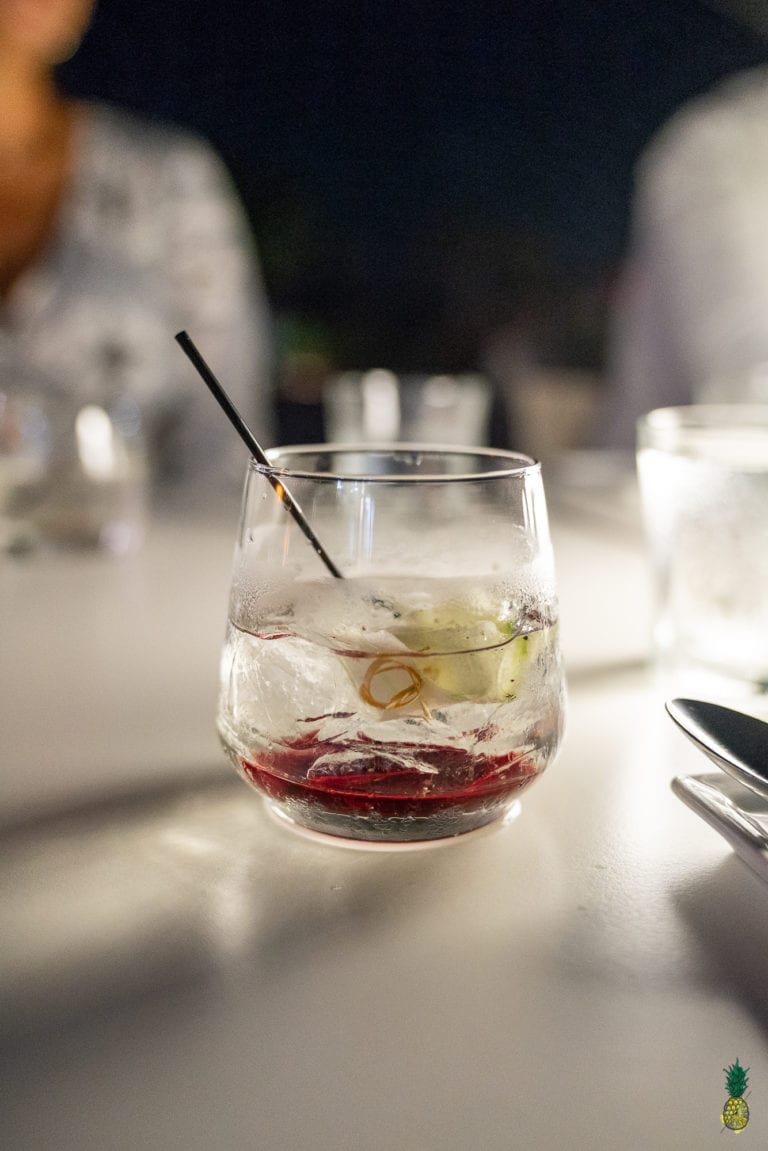 White Modern Cuisine (IG: @whitemoderncuisine) – White Modern Cuisine served us simple yet modern cocktails and dishes. This place had a very sophisticated and elegant vibe which we really enjoyed. The star dish from this restaurant, and of the night, was the corn chowder they served us which included various variations of corn including popcorn, baby corn, popcorn, and of course fresh corn. It was creamy and absolutely delightful.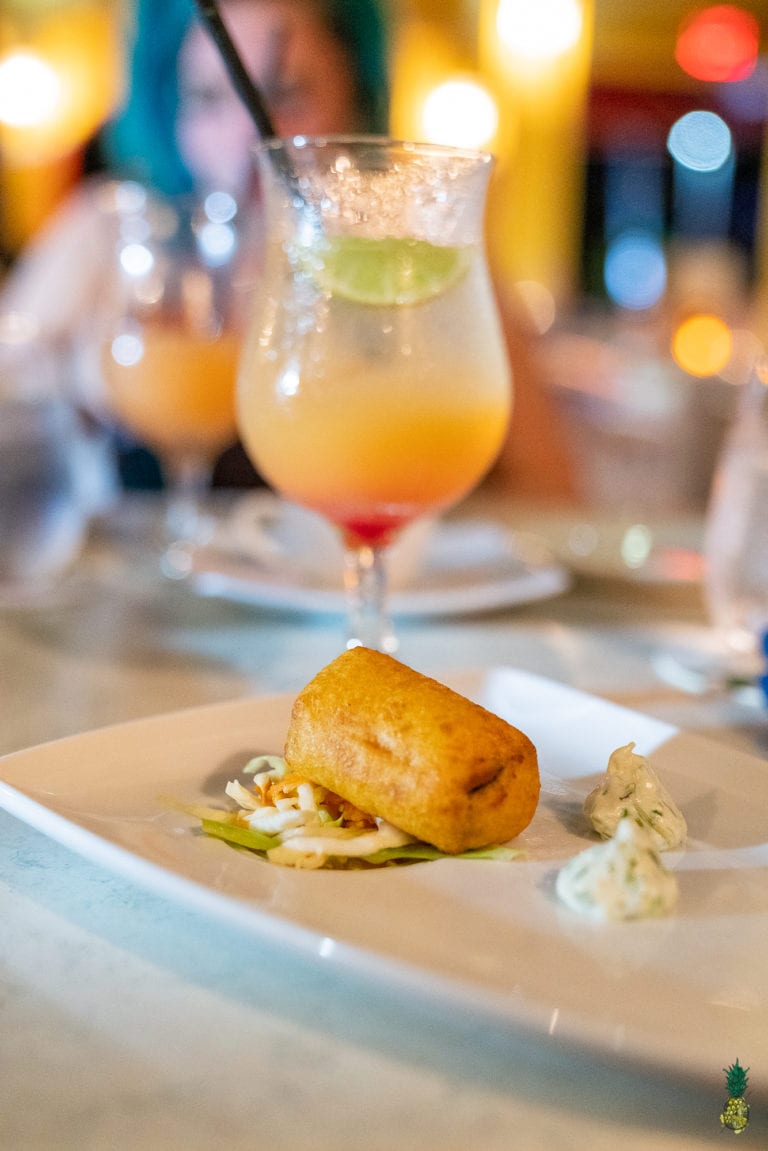 Hadicurari (IG: @hadicurariaruba) – Hadicurari is a restaurant located right on the ocean. They're known for their seafood, but let me tell you, they know how to whip up some pretty scrumptious vegan dishes. We started off having a pumpkin spice latte-esque soup, which was rather enjoyable. It was followed by a fried vegan fish fillet that could fool any meat eater (pictured above). Seriously, it is one of the best vegan "fish" we have ever tried! If you're ever in Aruba, you need to bring your fish-loving friends and family here to have their minds blown!
Yemanja Woodfired Grill (IG: @yemanjaaruba) – Yemanja Woodfired Grill was one of the first restaurants on the island to have extensive vegan options, but apparently, they've been stepping up their vegan-food-game more recently! They served us up a BBQ platter which included BBQ "ribs", mac and cheese,  jackfruit pulled-pork, and a side of coleslaw. Everyone was so impressed with how meaty the ribs were and how creamy and delicious the mac and cheese was. This was the perfect way to end the night!
Taste of Belgium Restaurant (IG: @tobaruba) – The next morning we were ready to stuff ourselves silly again. We went to Taste of Belgium Resturant which is known for their all-you-can-eat brunch. They offer a wide variety of small dishes which you can order as many as you want of for one flat-rate. This price also includes bottomless mimosas, so you know it's gonna be a party! We really enjoyed their unique selections such as the Belgian waffle slider with a vegan sausage patty inside. The buffalo cauliflower they had was also a favorite! It was really cool to see the very large vegan menu they had! If you're looking for a fun brunch place on the island that everyone in the family will enjoy, look no further!
The Little One (IG: @thelittleonearuba) – After brunch, we went on a jeep tour across the island, More on that below, but we made a pit stop in San Nicholas where The Little One mobile bar was popped up to serve us some delicious pineapple cocktails. This converted Volkswagen bus is now a mini mobile bar that serves up drinks on demand for events and parties across the island. It was the perfect refreshing treat after a hot day exploring Aruba!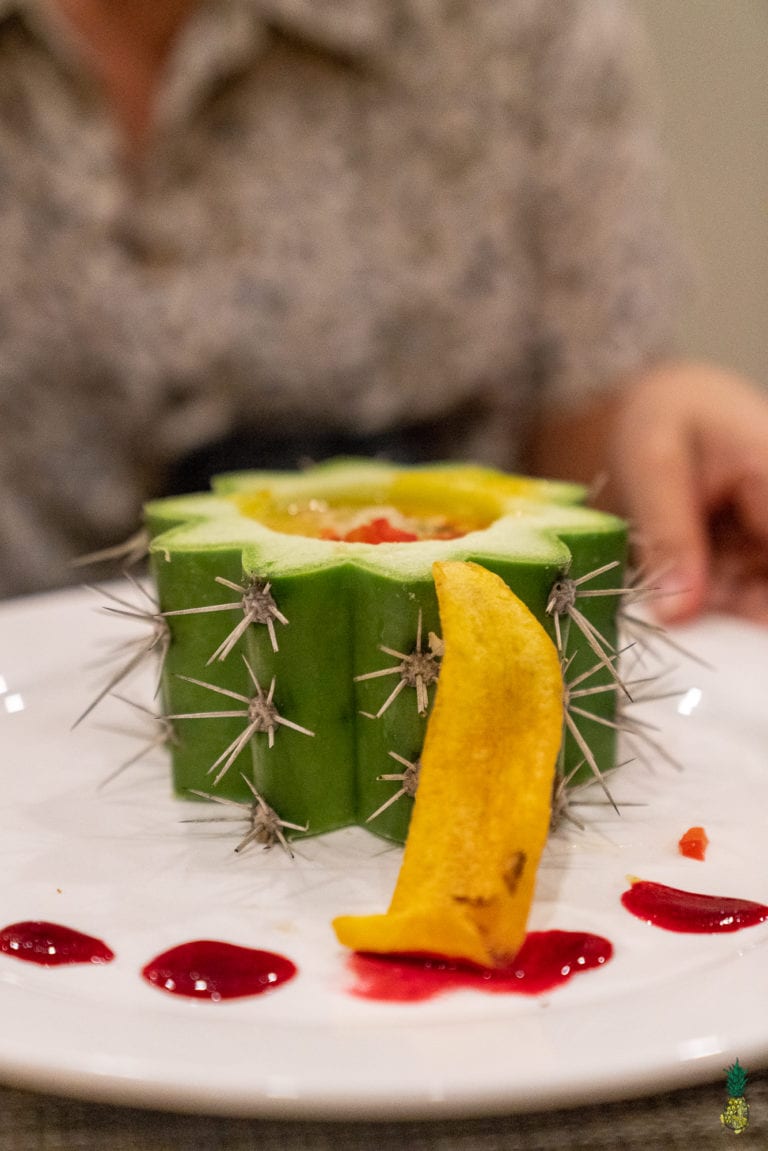 Hilton Resort (IG: @hiltonaruba) – For our final dinner on the island, we went to the Hilton Resort where the chef prepared us a very fancy (and delicious) multi-course vegan meal. Each dish was made with special attention and care, and I was particularly impressed with the presentation of the food. The start of the show was the soup that was served in a cactus pictured above. It was so cool!
One Happy Bowl (IG: @onehappybowl) – This was the newest restaurant that we had visited on the island, and we were actually able to get a sneak peek before it opened. If you're in for a healthy breakfast or lunch, or a quick bite or drink, this is your spot! The main concept of One Happy Bowl is a unique mix of healthy food and guilty pleasures. One Happy Bowl is intended to serve you a bowl of food with the best plant-friendly ingredients and healthy toppings. They have everything from chocolate hummus to flamingo pancakes (pandan and coconut, so good!), baked bananas and more! We loved how flavorful and refreshing all of the dishes we tried were, it was the perfect meal to send of us off onto our long day of travel back to the U.S.
And now for the rest of the trip!
WHAT TO DO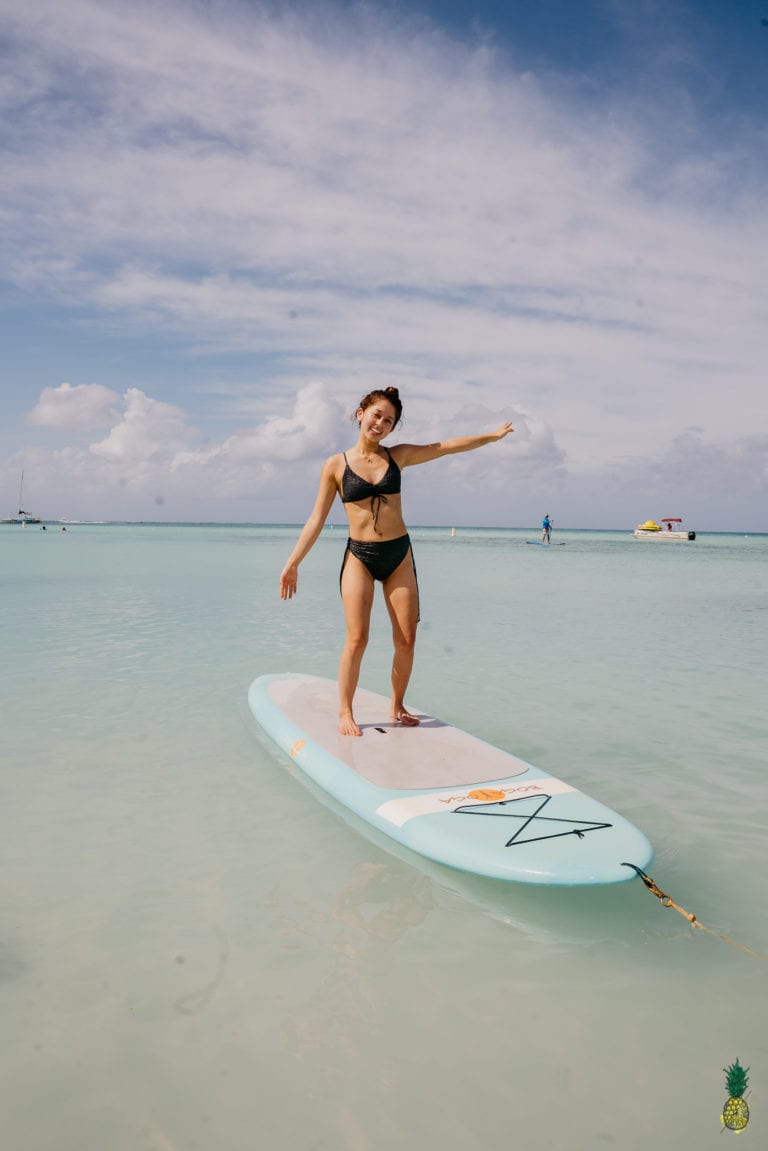 Stand Up Paddle Board Yoga (IG: @islandyoga @yoga_girl) – It had been a while since we've both practiced yoga, and neither of us has ever been on a Stand-Up Paddle Board, so we thought we may be out of practice for this activity. Thankfully, our experience was pleasant with this SUP Yoga class. It was very laid back with just the perfect touch of challenge. Definitely one of the best yoga class experiences we've both ever had! If you're ever in Aruba you owe it to yourself to go to @islandyoga and have a class or hit the water and do a SUP yoga class with them!
Ritz Carlton Spa Experience (IG: @RitzCarlton) – We took the afternoon to enjoy the Misterio di Aloe Treatment, a journey of wellness, peacefulness, and relaxation. This vegan spa treatment is hydrating, cleansing, and rejuvenating, including facial, full body massage, and foot reflexology It is highly recommended, especially if you are coming to the island to relax. We felt so refreshed after and our skin was glowing!
Monforte Luxury Cruise (IG: @monforteluxurycruise) – This was definitely one of our favorites experiences on this trip.  This was Monforte's first 100% vegan cruise and boy did they do a good job! As we set sail in the beautiful crystal blue Caribbean waters, we danced, ate delicious food, and drank to our heart's content. We also were able to snorkel and rope swing off the side of the boat once docked, which was so much fun! If you're looking for a fun excursion that all of your family and friends would enjoy, look no further than Monforte Luxury Cruises!
Meditation (IG: @cacaoyoga) – Antakarana of Cacao Yoga offers meditation as well as aerial yoga. We were fortunate enough to be able to meditate on the beach with her one morning and it was MAGICAL. Since we got up basically as soon as the sun rose, there was no one else on the beach. It was the perfect way to slow down and be present.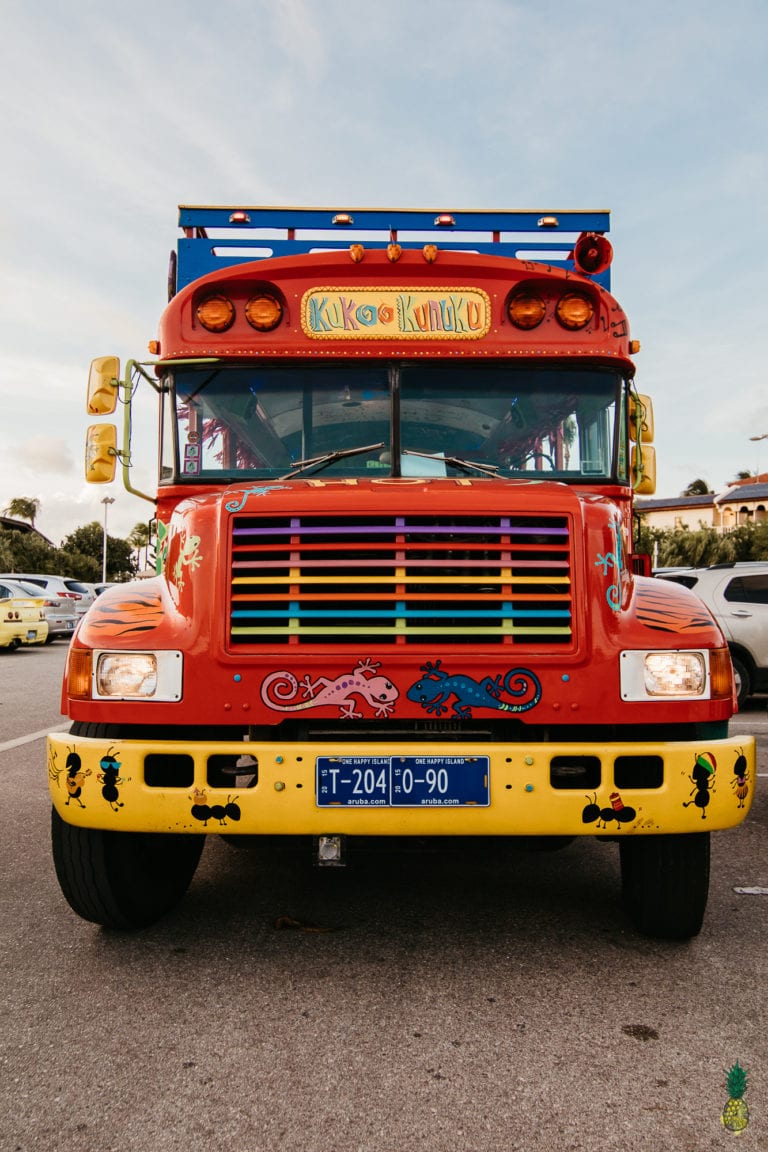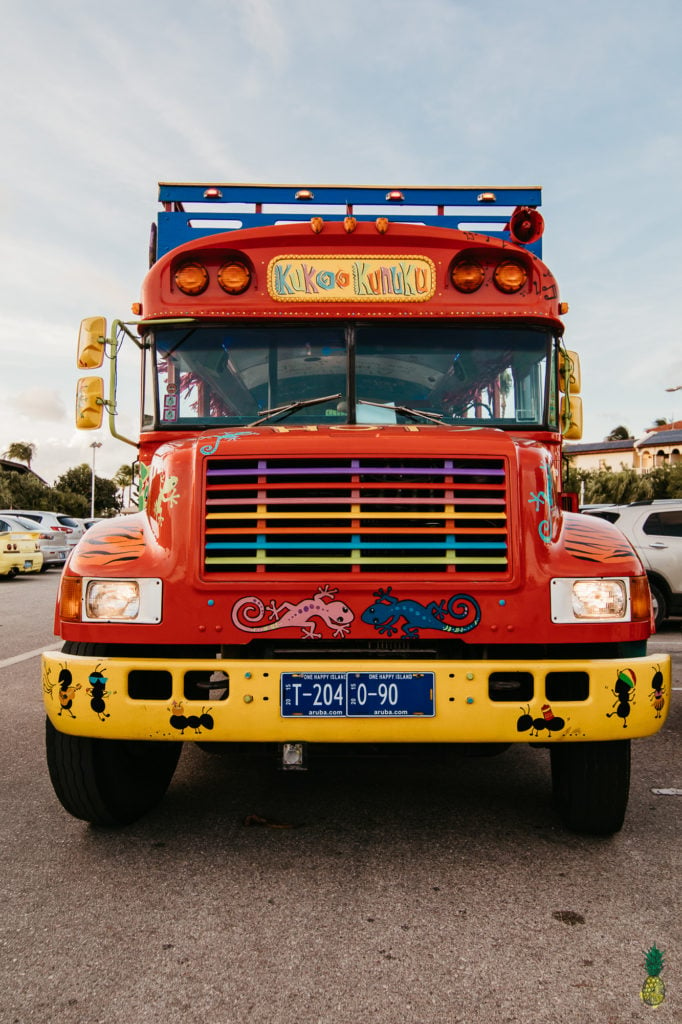 Party Bus Food Tour with Kukoo Kunuku (IG: @kukookunukuaruba) – An old school bus that was transformed into a party bus that takes you on yours of your choice around Aruba, to cruise around the island and explores in style. It is fully equipped with surround sound speakers so that you can bump party music all night + maracas to get the energy flowing. We had a blast during our tour, it was a party for sure!
Terra Wave Yoga at Manchebo Pavilion (IG: @dushiyoga) – The perfect beachside yoga experience. This was a great way for us to unwind and be in the moment. We also did yoga on these awesome balance boards, something totally new to us, and it brought the perfect challenge to the flow.
Jeep Tour with De Palm Tours (IG: @depalmtoursaruba) – Our tour with De Palm felt like a scene straight out of Indiana Jones, in the best way. The Jeep brought us around the island to a few locations (discussed in this post): Donkey Sanctuary, Arikok National Park, San Nicolas, and Bushiribana Gold Mine Ruins. The tour guide was super nice and informative and I really felt like this tour really gave us a good sense of the Island outside of the tourist attractions.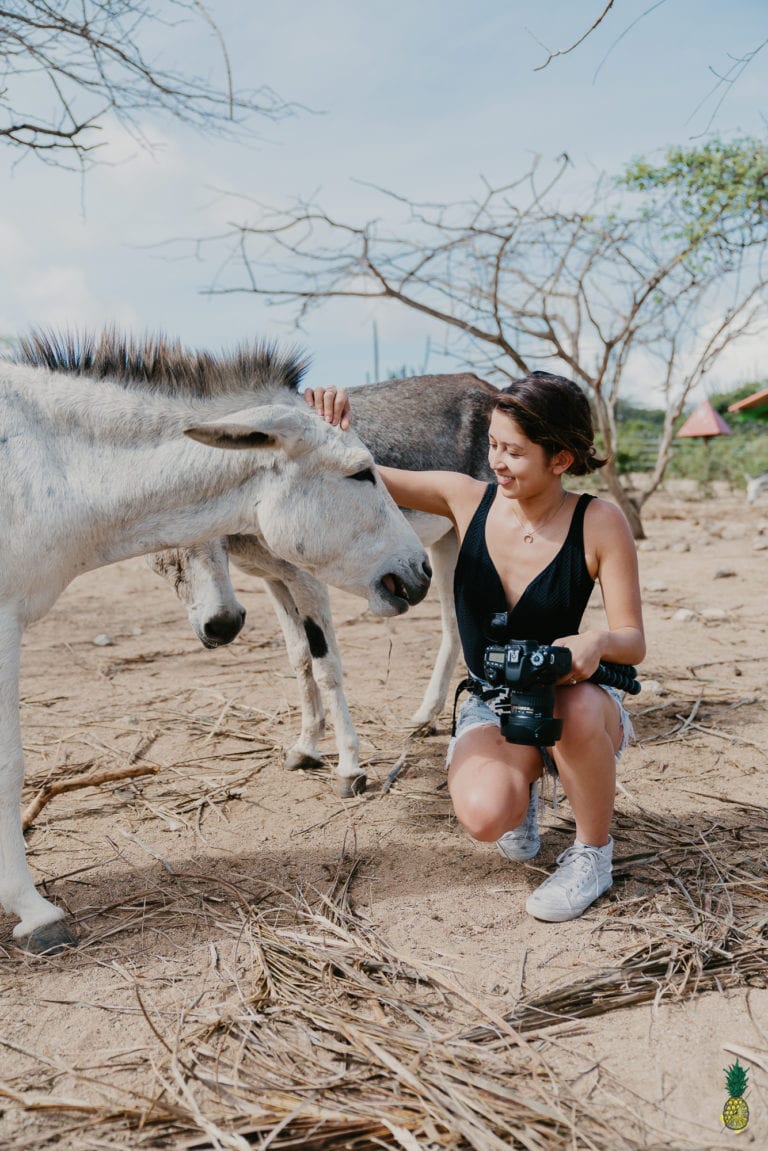 Donkey Sanctuary (arubadonkey.org) – This sanctuary was founded in 1997 as a non-profit and completely volunteer-run organization with a simple mission to save the donkeys on the island. Although not originally native to the small island of Aruba, donkeys have existed on the island for 500 years. They were the primary mode of transportation until cars began to be introduced on the island. The wild donkey population began to increase, as well as the human population, and with that came more and more vehicles which in turn made it a common occurrence for donkeys to be injured or killed alongside the roads. The sanctuary now exists as a safe haven for the donkeys. We had not been up close and personal with a donkey before, but to our surprise, they are just like big dogs! They want pets and treats, and were so friendly to us all.
Arikok National Park – 20% of the island of Aruba is comprised of the beautiful Arikok National Park. We drove through the gorgeous vistas, desert-like hills filled with tall cacti and got an amazing view of the breathtaking coastline. We also explored a cave which was unlike any other thing we have experienced thus far. It honestly felt like we were in a movie, it was unreal!
San Nicolas – We visited this quiet and eccentric city on the island that is far removed from the glitz and glam of Palm Beach high-rise resorts. It was filled with beautiful street art and such a calm and quiet feel. it is definitely a must visit.
Bushiribana Gold Mine Ruins – Aruba had its very own version of the Gold Rush for much of the 19th century. An English company built a gold smelter at Bushiribana in 1872, a beautiful spot near the sea that was sacred to the island's original inhabitants, the Arawak Indians. Throughout the years, Aruba's gold industry extracted 3 million pounds of the metal. Today the sandstone and coral building is mostly in ruins with only a few crumbling walls still standing, but this historic site is definitely worth a visit. There are spectacular views and so much history in this one spot. (Info from In Your Pocket).
——————————————————————————————————
We hope that this travel guide can help with you with your upcoming trip to Aruba! If you would like to check out more places we have been, find them here.