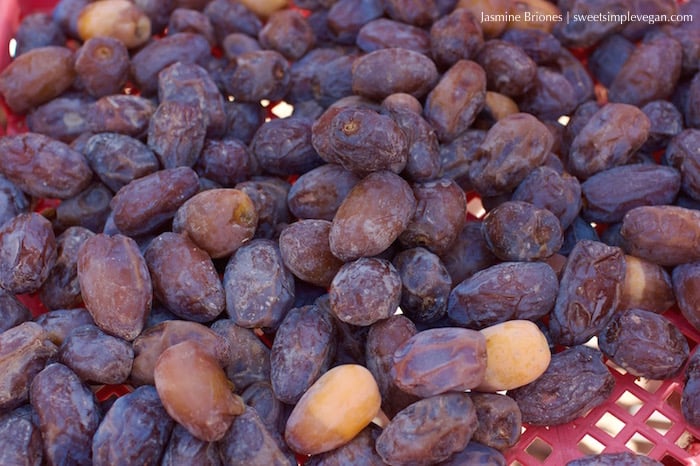 Did you know that medjool dates are actually considered a fresh, not dried, fruit?!
This past week, (familiar for those of you who follow me on Instagram or Facebook) I was privileged enough to visit the 2015 Natural Delights Medjool Date Blogger Summit at the Bard Valley date farm.

14 talented women were chosen to attend, and what a great group they chose. A constant flow of energy, passion and giggles all around, I had a good time from my meeting of Kathy at the airport to my final goodbyes to LA. It was interesting to have been put into a group of such a wide variety of bloggers. There was a large variation of opinions and viewpoints,and it was enlightening to open my perspective up a bit to that of others, and grow from the thoughts and experiences of other successful bloggers.
One of my favorite parts of the summits was getting the behind the scenes of what it takes to get medjool dates from the palm to our homes and in our tummies! The educational aspect of the trip surpassed my expectations. I appreciated the fact that Natural Delights, down to their growers, reached out to us bloggers, and asked for our insight on matters and what changes we see fit. We were constantly engaged in discussions, included in a fun panel, and even given the chance to sample new and exciting projects to give our feedback on what is being done. We visited the Date Pac, which is the facility where they sort, wash and pack medjool dates for shipment, as well as the date farm, where we were able to harvest the fresh medjool dates!
I know it may be cliche, but the only thing left to say here is that I am so grateful to have been given the opportunity to attend this summit. If it were not for all of you here on my blog and on my social media accounts, this opportunity would not have presented itself. Thank you so much Natural Delights, and thank you so much to all of my readers, supporters, and loved ones. Let's see where I am off to next!
xo Jasmine