It is more common now than ever to work from home. Whether you are self-employed or work remotely for a company, it's essential to stay productive while in the comfort of your own home.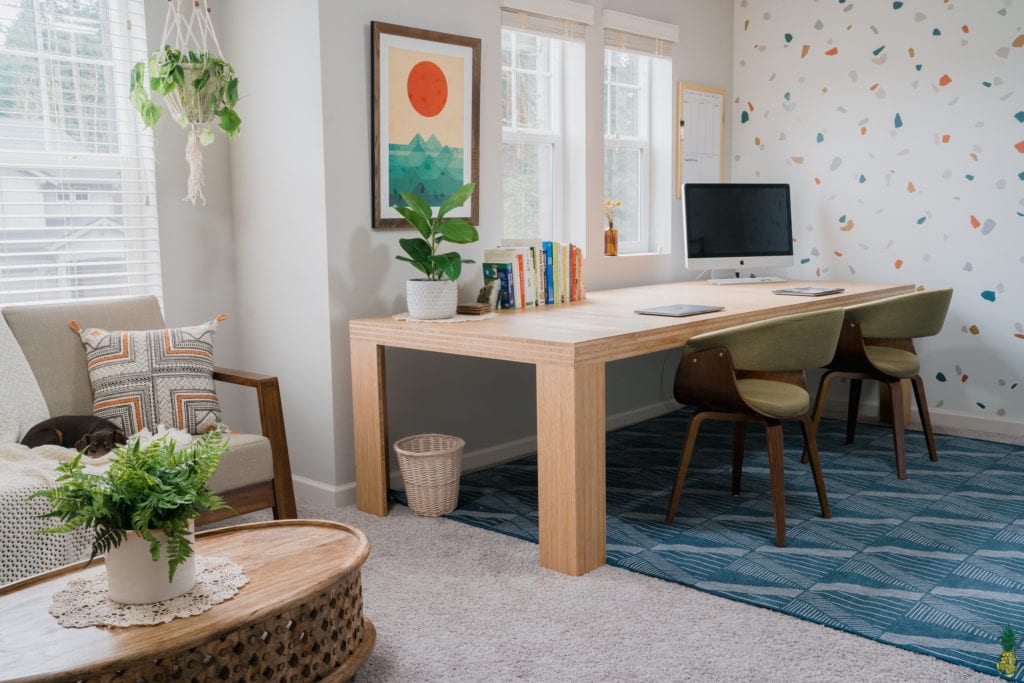 This post is sponsored by Medley Home
We've both been working from home for over five years now, and in that time, we have learned a lot about how to stay focused and productive when there is so much potential for distraction.
Below are our top tips for staying productive while working from home:
Create a Dedicated Workspace (That You Love) – I think this has to be our top tip. Before we moved into our new home, the space we were living in did not have a dedicated workspace. This lead to us working in bed, in the kitchen, or living room, and it was far from ideal. Once we created a dedicated work space, our efficiency and focus shifted and we were able to become more productive with our work. We wanted to create a work environment that was not only motivating, but also inspiring, and this office has really been able to help us focus on a whole new level.
When creating our space, we knew we wanted a sizable conference-style desk. Since Jasmine and I both like to have a lot of space to spread out and work, we felt it was essential. We found the absolute perfect table from Medley, and they were kind enough to provide us with it for our office. We are excited about Medley because not only is their furniture beautiful, but everything is sustainably sourced and handcrafted in California with non-toxic materials. Our conference table is made from bamboo, which is a rapidly renewable resource and also happens to be incredibly durable.
Separate Yourself From Your Phone – This probably comes as no surprise, but our phones are easily the biggest distraction we have. We've been doing our best recently to distance ourselves as much as possible from our phones during working hours, and it has made an enormous difference in our productivity. We've experimented with a few different methods of reducing screen time. These include: putting our phones on airplane mode, turning off notifications, and even leaving our phones in another room entirely.
Take Breaks – When working from home, we sometimes get so lost in what we are doing that we forget to take breaks. We have found that we are usually more creative and productive when we take small 10-15 minute breaks every two hours or so. These breaks usually come in the form of getting more coffee (or matcha for Jasmine), taking a walk outside, stretching, or playing with our pup Berry.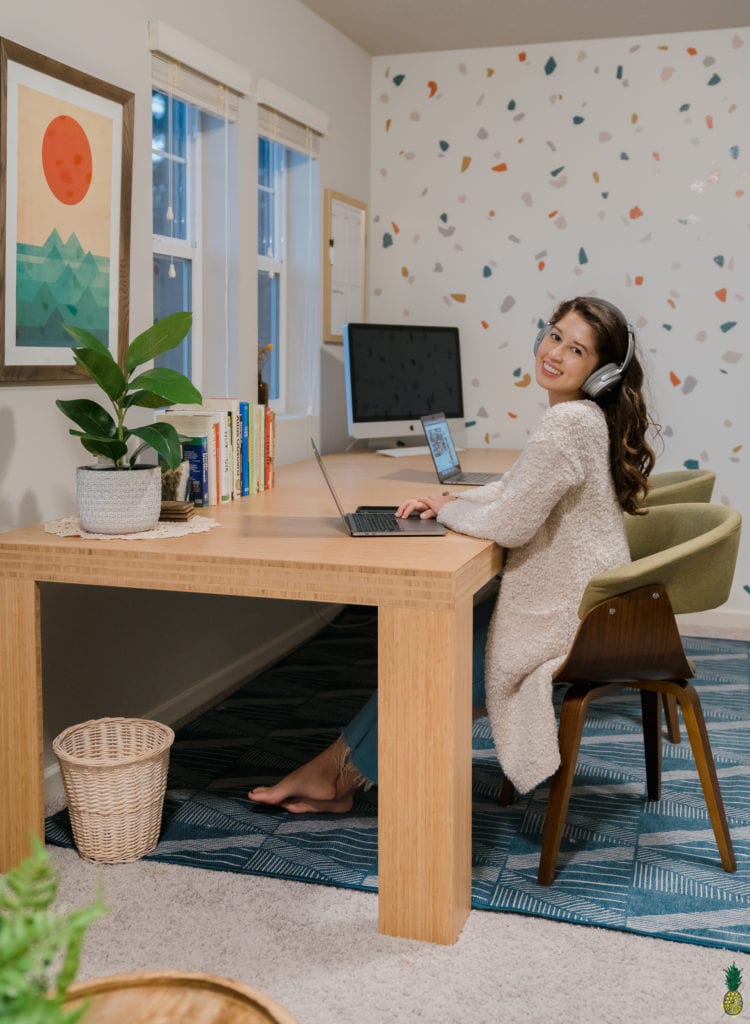 Be Aware of Your Posture – I wouldn't be able to count how many times in the past five years, we started our workdays in our bed or on the couch. While it may seem comfortable at first, after an hour or two, we always find ourselves slouching, distracted, or even asleep. When we started working on our Medley Conference Table in our office and became more aware of our posture, we noticed such a difference in our focus and attention to the task at hand. To also help with posture, we have a standing desk tabletop desk which is great to break up the monotony of sitting all day.
Keep Your Space Clean – Remove clutter and remember that less is more. When our office or workspace is clean and decluttered, it is so much easier to focus and be creative. Plus, having a clean workspace helps us start the day with a clear mind and always inspires us to gear up and get things done.
We hope these simple tips help you stay more focused if you work from home. If you are new to the work-from-home life, it does take some time and adjustment to get used to. Once you get in the groove, chances are you'll be more productive than ever before.
We also want to send a little bit more love to our friends at Medley Furniture. If you're in the market for new furniture, they've got a wide selection of beautifully crafted customizable pieces handmade in California. Their whole collection is also eco-friendly and made with non-toxic materials, which we think is pretty darn awesome.
Other items featured in this room:
Make sure to check out other posts on sweetsimplevegan.com!