Today we are sharing with you a room makeover from an area in our home that desperately needed some work. We hope you enjoy! 🙂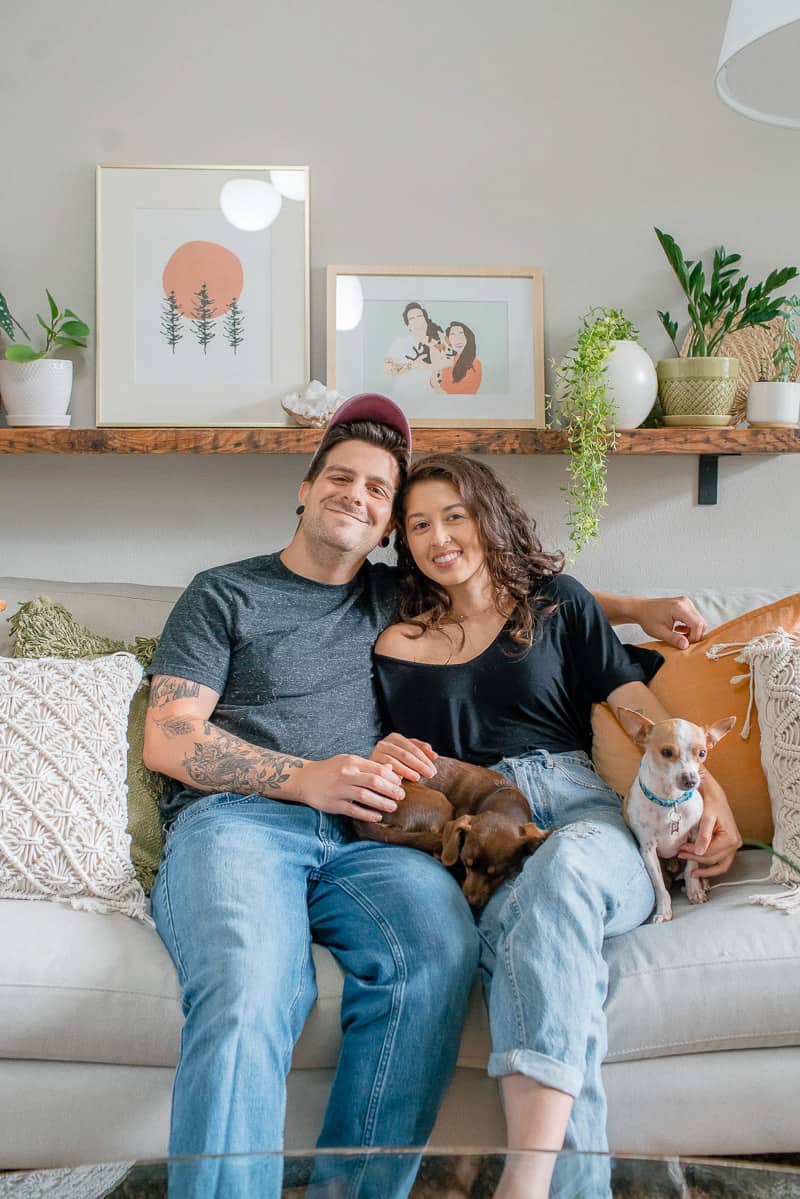 Over the past year or so, we've been working on turning the front room in our home into a dream space to film videos and any other non-cooking content in. After months of planning and decorating the space is finished, and we couldn't be happier with how it came out.
This post is sponsored by our friends at Room & Board who provided many of the beautiful furniture pieces for this space.
We love Room & Board for so many reasons, but something that resonates with our core values is their stance on sustainability. They're founding members of the Sustainable Furnishings council and craft high-quality, long-lasting furniture in the USA with less environmental impact. You can read more about their commitment to sustainability here.
Here's a full list of the Room & Board furniture pieces in our space:
Once we had the foundation of the furniture in place, it was time to fill the space with additional decor items and accent pieces. When it comes to the decor in this room, we wanted to curate a collection of simple but sentimental pieces. When bringing this space to life, we wanted to focus on keeping it open, airy, and minimal. Since the room is on the smaller side, simplistic design is key.
We also wanted to incorporate tons of greenery into our space. We filled our room with a bunch of plants and pops of green with different accent pieces. Since this room is in an area that doesn't get maximum sunlight, we've incorporated a mix of both real and fake plants. Thankfully, you probably can't even tell them apart!
In addition to the plants we mentioned earlier, we added a jute rug to our space. It's a neutral color and fits the vibe of the room perfectly. We also have a 72″ floating shelf above our couch, which is serving as a centerpiece in the room. The shelf was made from a piece of reclaimed wood salvaged from a house on Killingsworth in Portland. We thought this was a cool way to tie in some individuality to space.
On the shelf, we are including both plants and artwork. The left piece of art we got from Etsy which is simplistic and representative of the Pacific Northwest. On the right is a custom family portrait illustrated by The Mindful Mess on Etsy of our little family.
For the additional pieces in the space, we have a long wooden mirror from World Market that we absolutely love. Also on the ceiling, we swapped out the "boob" light on the ceiling with a mid-century modern style chandelier that fits the room perfectly.
Other items in this room:
That about concludes our room walk-through. We hope you enjoyed it and we hope this can serve as inspiration for your space. Make sure to check out Room & Board and show them some love!
If you want to see our Bedroom tour makeover and tour you can find it here!