We've been hard at work designing our room since the beginning of the summer, and it has finally come to life! We are excited to share with you our first ever "room tour" on our blog. This is the first space that we have had together, so we wanted to make it extra special. We wanted to create a space that really reflected who we are and we poured our hearts and countless hours into this project, so needless to say we are proud AF with the outcome. We also are going to share some tips with you if you are looking to revamp or redesign your space as well 🙂
If you didn't already know, we packed our bags, loaded up Chris' Prius, and set our sights on the PNW at the end of May this year. As soon as we pulled out of the driveway, we knew our lives would never be the same again. It has taken a little while to get adjusted here, but couldn't be happier with our home and the beautiful nature that surrounds it. Since we are surrounded by such natural beauty, we wanted our room to reflect that. We've included all natural dark wood pieces and a whole bunch of vibrant plants to bring our space to life.
Morris Bench // Anton Bed // Hudson Side Table // Lane Floor Lamp // Hudson Full Length Leaning Mirror
We partnered up with our friends at Room&Board to furnish our bedroom with vegan and sustainable furniture, and we couldn't be happier with how everything turned out. If you're unfamiliar with Room&Board, they're a sustainable furniture company who has been making timeless furniture for the past 35 years. Almost all of their products are manufactured in the US and the craftsmanship of each piece is next-to-none. If you're in the market for new furniture, we can't recommend them enough!
Here is the "before" to give you an idea of the space we were working with.
So let's do this!
Tip #1: Get the dimensions of your space before picking out furniture and decor
The last thing you want is to fall in love with furniture and decor but have it not fit in your room! If you know exactly how big your space, you can properly design it.
There is a website called Plan Your Room that you can use to create a digital blueprint of your space to figure out how the dimensions of your room will work with what you want to bring into our space. You can also do it old school as well and draw it out on a piece of paper. What we also did was we took photos of each wall and order on our iPhones and drew on them with the drawing feature in the photo editing section. The only drawback to this is there were only a select few colors so we weren't able to get the full effect of what our space would look and feel like.
Tip #2: Find inspiration
We had no idea where to start. We knew we wanted walnut wood furniture in our room and that we wanted to incorporate a lot of plants into the design, but that was about it. We don't have a background in design (just regular people trying to create a cute and functional space lol), so we drew inspiration from online. Pinterest was our go-to, as well as Instagrams accounts such as Room&Board, Pistils Nursery, Hutch App, Brook Linen, and Joanna Gaines. I actually created a "bedroom inspiration" folder on our Pinterest if you want to check it out 🙂
Tip #3: Start with a good foundation
This is super important! Once we had a solid foundation for our room figured out, we were able to start adding accents and other decor elements seamlessly. We started with our pieces from Room & Board (mostly from the Anton and Hudson collections) and they really helped us set the vibe for the room. We built the design around those pieces, being sure to highlight and compliment them as best we could.
Tip #4: Treat your room like your sanctuary.
For us, it is the place in this house where we spend a bulk of our time, so we wanted to make it a positive and calming space where we would feel our best. We kept this in mind when we were designing the space and I feel like that vibe is felt throughout! We also incorporated bits of both our pasts, the present, our relationship, things that inspire us, and of course our baby (Berry).
We prefer to keep our room free of a television and most electronics. I try my best to not work in my room and although it does happen sometimes out of habit or if other parts of the house are occupied, but generally speaking, I try to keep all work and "social" applications our of my room, and focus more on relaxing and being with myself and Chris and we are in there.
Tip #5: Create a focal point in your room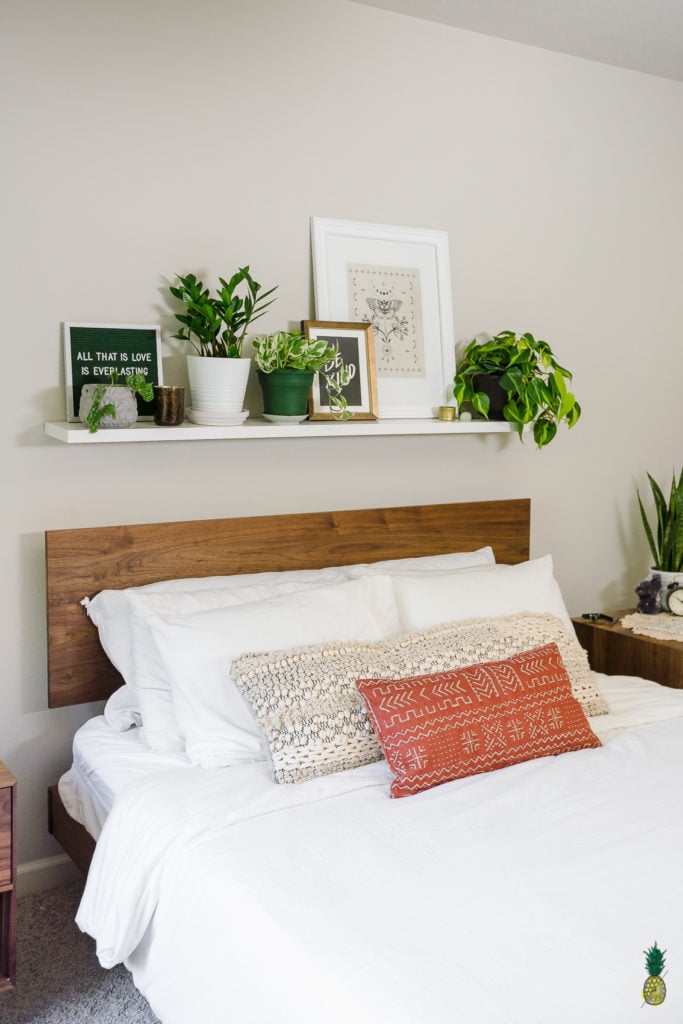 The focal point should be the 'first thing' you see when you enter a room. It should be interesting to look at (think colorful or textural) and visually appealing. If you can't really pinpoint what this is, figure out what the largest furniture piece is and make that your focal point.
For us, our bed is the focal point of our room. It is right smack in the middle and is visible at pretty much every angle in the space. We had the Anton Bed Frame to start with and we built everything off of there.  We wanted to incorporate both artwork and plants, and it was either going with hanging artwork and hanging plants, or a floating shelf with everything resting on top. I was skeptical at first because it seemed pretty dangerous, but we were reassured by our research that it would be sturdy and safe if we did it right. We went with a white floating shelf and white bed sheets to contrast the walnut bed frame. For the decorative pillows, the beige kind of just happened (we originally got it for the bench but it worked so well here) and the red pillow we thought would bring great contrast in against the plants on the floating shelf.
The funny thing about the floating shelf is that everything on it kind of just fell into place. We already had a bunch of the items on there and we were lucky enough to have the green, gold, beige and gray all mesh well together.
Tip #6: Fashionable and functional protection
Trust us, we know from experience how easy it can be to scratch or damage a nice wood surface with almost no effort at all. It's important to protect your surfaces, but you also want to make sure they still look nice. Our solution was a macramé table runner on our dresser and doilies for our side tables.
Tip #7: Liven up the space with plants
We love the look and feel of fresh plants in our room. They add a certain charm to the room + some of them are air purifying and are actually great to keep in your house.
If you do not want to commit to caring for a plant just yet, fresh (or fake) flowers are where it's at!
Tip #8: Positive Affirmations
We think it's a great idea to include positive affirmations throughout our space to liven up our mood. We found this Que Sera, Sera piece (which translates to whatever will be, will be) and the Be Kind piece above our bed from Society 6. We also printed out photos of all of us because we wanted to incorporate that into our space. These photos make us happy, especially baby Berry! We also have a letter board with a Circa Survive quote above our bed as well 🙂
Tip #9: Brighten up your space with mirrors
Mirrors are a great way to brighten up an open up your space! They can bring in more light and make a room feel much larger. We are in a low-light space (we are facing away from the sun, so we don't get a lot of natural light), so mirrors are a great way to bring more natural light into the space. We have both a leaning full body mirror and a floating mirror above our bed.
Tip #10: Stylish pet bed and storage 
We wanted to be able to incorporate Berry's place board and toy box into our room in a fashionable way. We wanted to include areas for him to enjoy as well but we didn't want it to take away from the space, so we can up with solutions that I am really stoked on.
The first is his place board. Berry isn't really good with doggy beds. In fact, he has had 2-3 at this point in his life (he is only 2!), and each one of them is long gone. I think he thinks they are giant toys because they are a similar style, so he completely destroys them. Anyways, a place board was the best option for this. It is great for training AND it is made from a material that he does not associate with a toy. The problem was that it isn't the sleekest thing out there, so we covered it with a cute recycled blanket and it blended in perfectly.
PS: The red "southwestern/Aztec" pillow that is on the bench is from Amazon. We realized after looking for a pillow with this print that more often than not these are NOT vegan (made with wool), so we just wanted to let you know to shop for them with caution!
For his toys, we parted from the old plastic toy box we had for him and instead went with a storage basket instead. The Bangla Storage Basket from Room&Board is sturdy enough for him to jump in and out of, and is big enough to hold (his excessive amount of) toys. We pot another blanket on top to hide them and it works perfectly! Sometimes Berry even sleeps on the blanket on top too, it's the best.
Tip #11: Statement lighting
Pendant lights and chandeliers come in all shapes, sizes, and styles. We went through SO many trying to figure out what worked with our space, from metal, glass orbs, crystals, etc., and we finally found the winner! We thought that this Ikea light really vibed well with our room and matched perfectly with our rattan chair. What do you think?
Revamping your light fixture can really transform your room. It brings in an extra element that is often overlooked. Some lights (including ours) has cutouts in it so when it is lit, it brings a nice intricate light pattern to the room. It is especially cool at night!
Tip #12: Choose a color scheme
You don't have to have everything set in stone, but basically,  have a general idea of the colors you want (or don't want) in your room. This can really help with the planning process and help you eliminate things you may come across when shopping for your room.
Tip #13: Don't forget about your doors!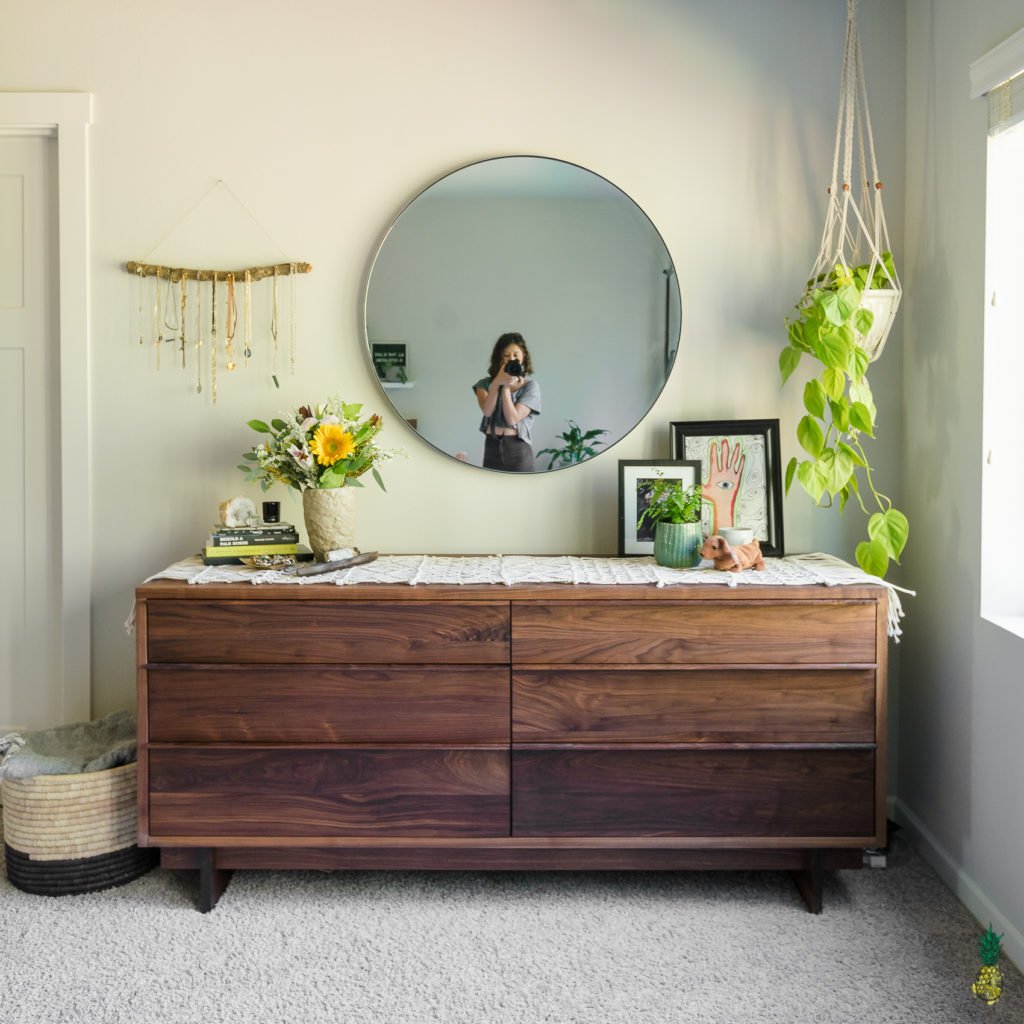 Sooo we made the mistake of not taking into consideration walkways and doors when first designing our space. We had places plants and stools in different spots but realized that there were certain ones that either got in our way or that obstructed the path of the door. It was a little dangerous (we almost knocked over a plant!), so we rearranged things accordingly.
After living with my family for the past year or so, it has been nice to move into our first space together. We love how the design of the room came out and we hope these tips help you bring your room plans to life! Make sure to check our Room&Board if you're in the market for new furniture 🙂