This post is sponsored by Article.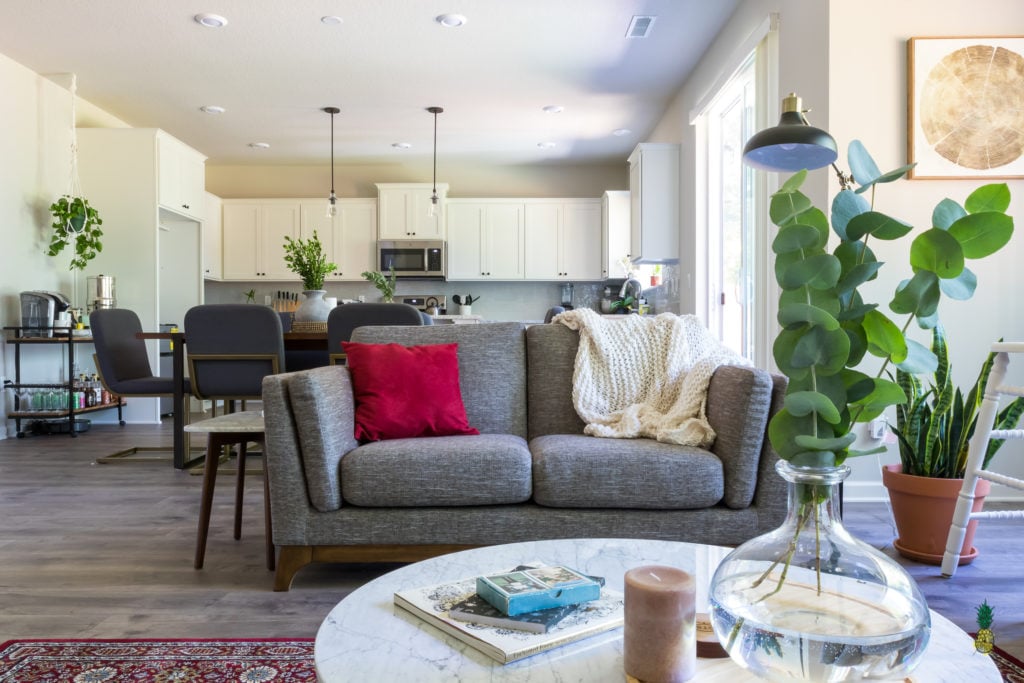 As most of you know, we recently relocated from Southern California to the Pacific Northwest with our friend Caitlin of From My Bowl. It's been a huge change for us, but so far we are loving every minute!
One of the most rewarding things we've done so far is set up our new living space. We teamed up with our friends over at Article to help us bring the space to life, and we thought it would be fun to share some tips on how we made our house feel more like a home. We've shared our 4 tips below, and you can find 4 more on Caitlin's page! 
Here are a few "before" shots of our place before we furnished it. Starting from a blank slate was both fun and challenging, but we are stoked on how it turned out!
Creating a Peaceful Space
Create a space where you can feel at peace upon entering, plain and simple.
Achieving this can be as simple as you let it and will be different for everybody. For us, we did our best to keep the floor plan open, bright, and inviting. This includes keeping it as clean as we can which has been quite a task but worth every minute. Plus, since we clean relatively often, it is easy to maintain a tidy space!
We also chose simple and modern furniture from Article to create a peaceful and quaint living area. We didn't want anything to be too ornate but we still wanted it to feel classy and chic. We wanted to go with lighter couches to keep it light in the room since we have darker floors, but not white because we don't trust ourselves in maintaining it haha, so we went with this beautiful matching gray Ceni sofa and love seat.
One of our favorite furniture pieces in the space is the Lignum Walnut Shelf that leans up against the wall (pictured below), which we adorned with keepsakes, books, and plants that we all love to give the room a relaxed yet sentimental feel. Another thing is that we do our best to burn incense and candles routinely to offer up a pleasantly peaceful scent. It seems like we have candles burning 24/7 in this house but we aren't complaining, it really brings something more to the space. Lastly, since our house is backed by the woods, we wanted to display art and decor that reflects our outdoor surroundings. We found artwork on Etsy (digital files that we blew up and framed) for above our fireplace and we really love what it has brought to the room. Plus, of course, plants…lots and lots of plants…and more below!
Plants 
Speaking of plants, we've found that one of the best ways to make our house feel like a home is to surround ourselves with nature. From the visual aesthetic of houseplants to their air purifying properties, adding some greenery to your living space will instantly make it feel cozier. This is also our first time taking care of plants and it has definitely been quite a fulfilling process! We even went out of our way to name each plant as well to help bring them to life and add more character. There is definitely a big difference in having living vs. fake plants, it feels so much nicer!
We wanted to add a bunch of plants to our living room to help brighten things up and to also bring a pop of color, contrasting our rug and red pillows. Each plant definitely adds their own unique charm and we love the variety that we have going on in the room.
If anyone is curious, here is a list of the plants that we have, from left to right (not including the dining table): Snake Plant, Rubber Tree, Lavender, Eucalyptus, Dieffenbachia (Dumbcane), Golden Pathos and Peace Lilies.
Home Cooked Meals
PS can you spot our fabulous mini-fridge? Haha! We are still working on getting a fridge but in the meantime, we're making it work!
Home cooked meals enjoyed with friends and family can help brighten up a room in minutes. Everything from the aroma of fresh food being prepared, down to the conversation enjoyed around the table.
We wanted our dining area to be the main attraction of the downstairs area, so we furnished it with a beautiful wooden table from Article to bring it to life. Along with that, we wanted to make sure we had stylish yet super comfortable chairs for when we are hosting intimate gatherings, and these are exactly what we were looking for
In the short time we've lived here, we've already filled the table with some of our favorite people and shared meals together, and we are looking forward to keeping the seats filled and the good conversation flowing! 
Spending Time with Family & Berry
Spending time with family (including our little Chiweenie Berry) is a crucial aspect of making our new house feel much more like a home. We designed the house to have plenty of seating whether it be around our dining table, in the living area or even nestled up on the cute pouf we got for the carpet. We also intentionally didn't include a television in the space because having a real conversation means so much more than staring at a screen. It's really helped us stay present and really appreciate the space we have created. When searching for our home, we also made sure to have an extra bedroom so we can always accommodate visitors. When nobody is staying with us, it's Berry's room because he is the king after all (just kidding…not really).
That's all we've got for you! For 4 more tips on making your house feel more like a home, head over to Caitlin's page! Also, don't forget to check out Article, they've done their best to streamline the furniture buying process to offer up high-quality products at an affordable price! We've been very happy with all of our selections and definitely recommend them if you are in the market for new furniture!
Products featured above: