We are back with a 2019 edition of our Christmas Recipe round-up. Below you will find our favorite Christmas recipes that we've cooked up over the years. We've got you covered with everything from Appetizers, sides, breakfasts, entrees, and even DIY gift ideas!
Appetizers:
Get ready to roll up to your family gatherings and holiday parties in style this year! We've got you covered with this herbed skillet pull apart bread recipe that is sure to blow everyone's minds.
Looking for a vegan appetizer for this holiday season? Well, you're in luck! This Baked Almond Cheese Ball makes the perfect addition to any holiday platter and made with only 7 simple ingredients.
The ultimate party appetizer that is perfect for the holiday season. This creamy baked onion dip requires just 9 plant-based ingredients, is ready in about an hour and is great for vegans and nonvegans alike. Get ready for a melt-in-your-mouth good recipe.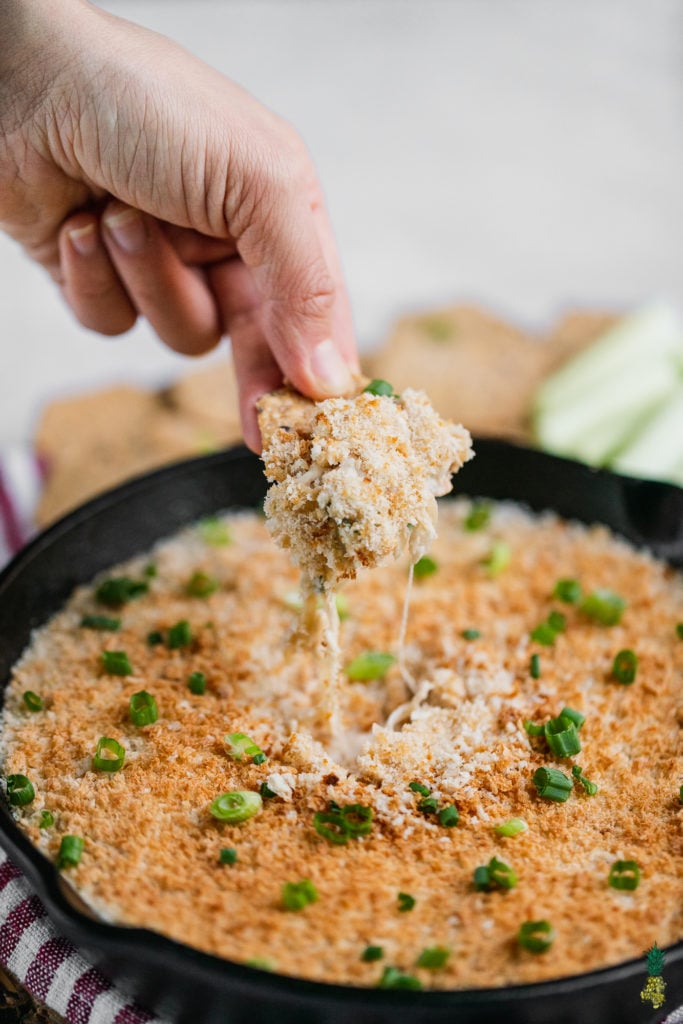 Growing up in an Italian family, every Christmas Eve we would have a gigantic feast consisting primarily of seafood and pasta. The one dish that stood out to me the most was fried calamari.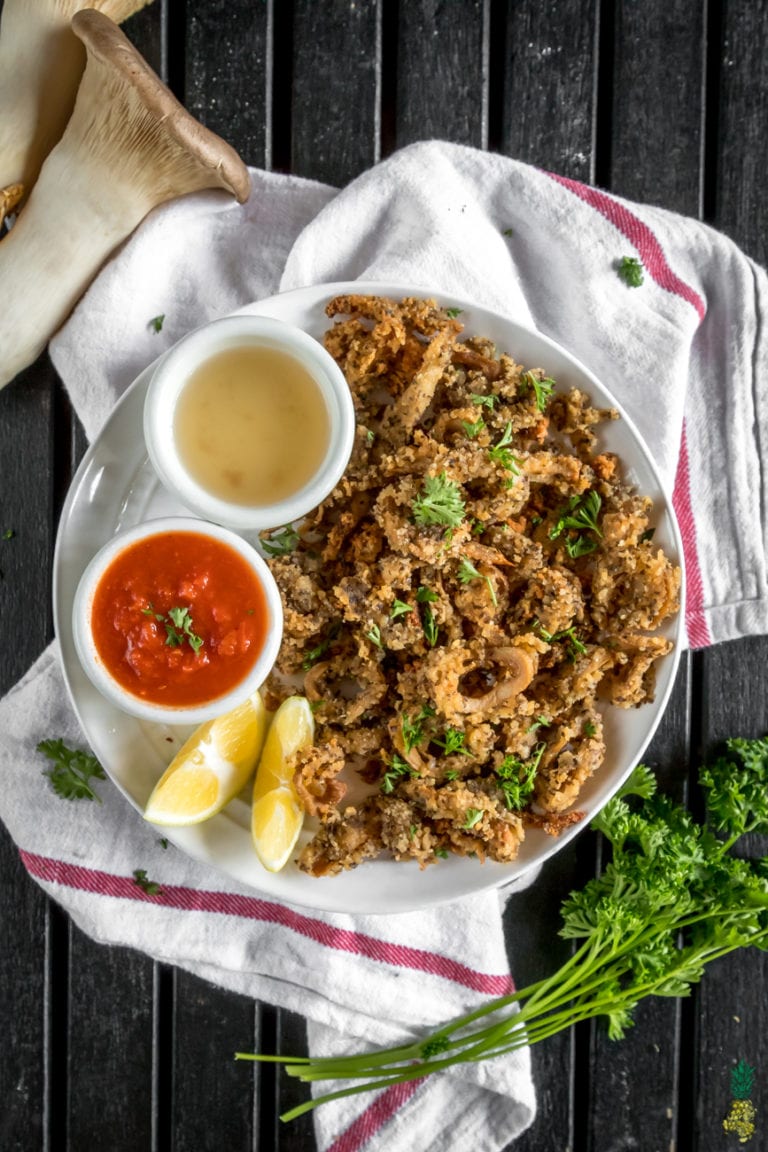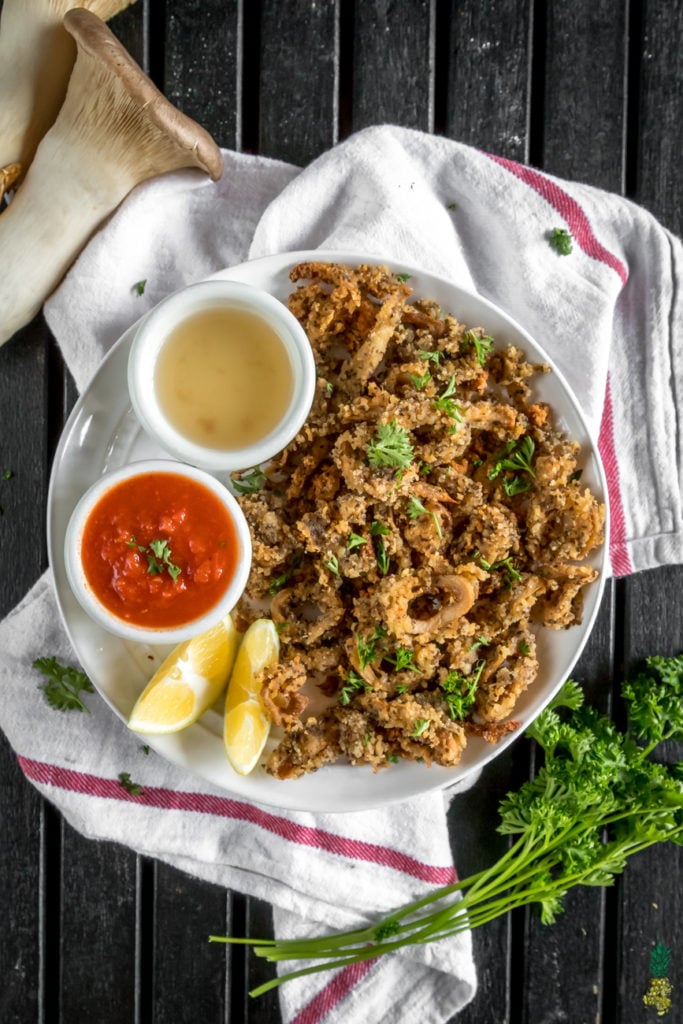 It's that time of year again! The Holiday season is among us, and as vegans, it's our responsibility to get creative and impress all of our omnivore friends and family with really really yummy foods. Today we will be sharing some ideas on how to make the perfect holiday party platter to bring to all of your upcoming holiday parties and events.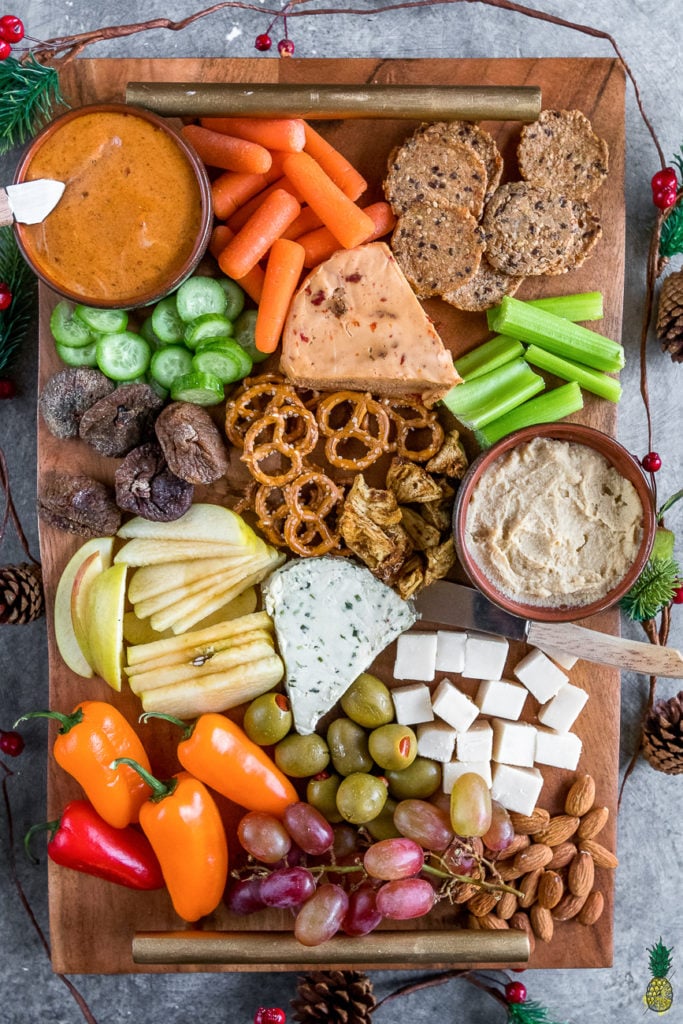 Healthy, hearty and easy to make — these lentil and vegetable stuffed mushrooms are a MUST make appetizer for your next holiday party!
Sides:
There's nothing quite like a fresh, warm and flaky biscuit, especially when it's made completely plant-based! Learn how to make the BEST tall, fluffy, and tender vegan buttermilk biscuits! They require only 8 simple ingredients and will be ready in about an hour! Plus, they're great for the holidays!
Christmas is almost here, and we are coming at you with this epic vegan buttermilk biscuit stuffing. That's right, buttermilk biscuit stuffing. Easy to make, ready in under an hour, THE side dish that your family will be raving about over the holidays.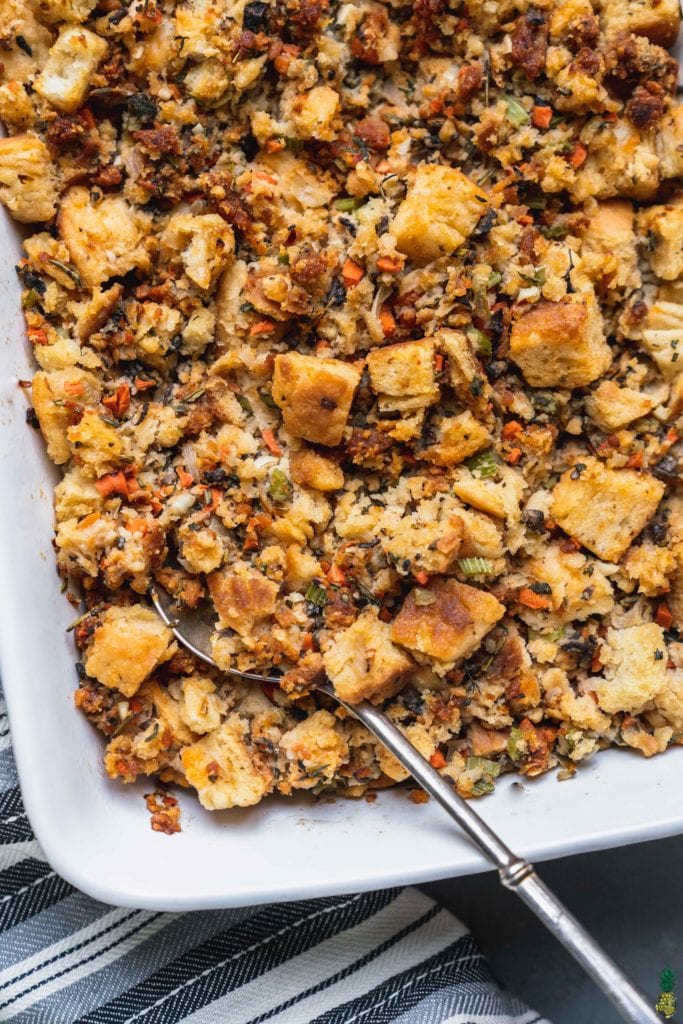 Nothing says "the holidays" quite like a creamy green bean casserole. This essential holiday side dish is traditionally loaded with dairy, but we are bringing you a version that is not only delicious, but 100% dairy-free and vegan!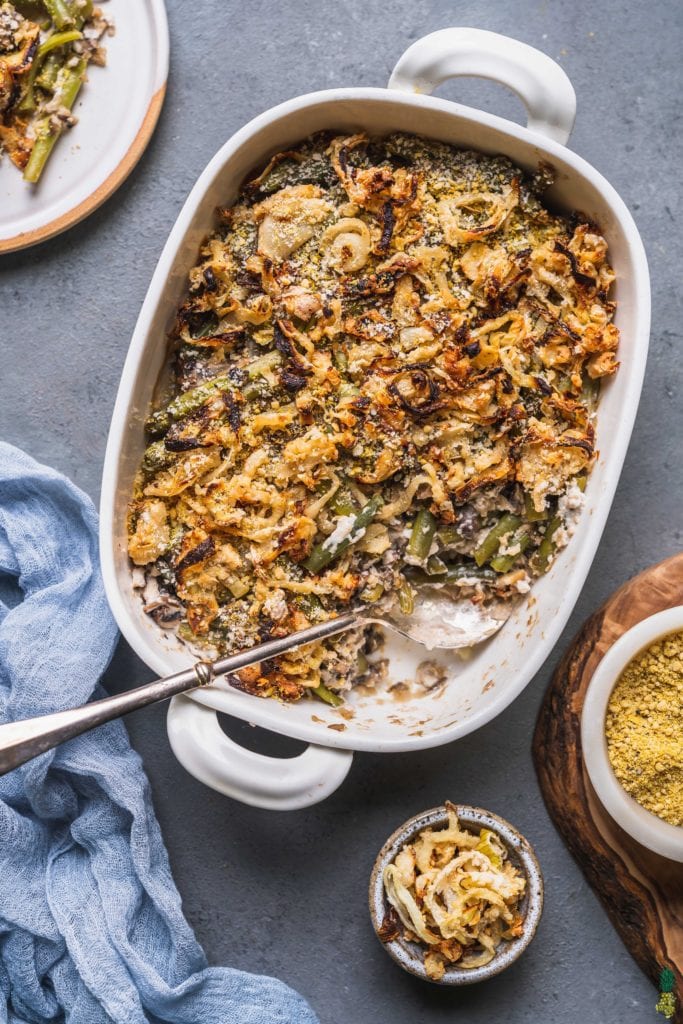 Chances are you've had a caesar said before, but have you had a Brussels​ Sprouts Caesar Salad? It's full of flavor, nutritious, and will make the perfect addition to any of your holiday meals.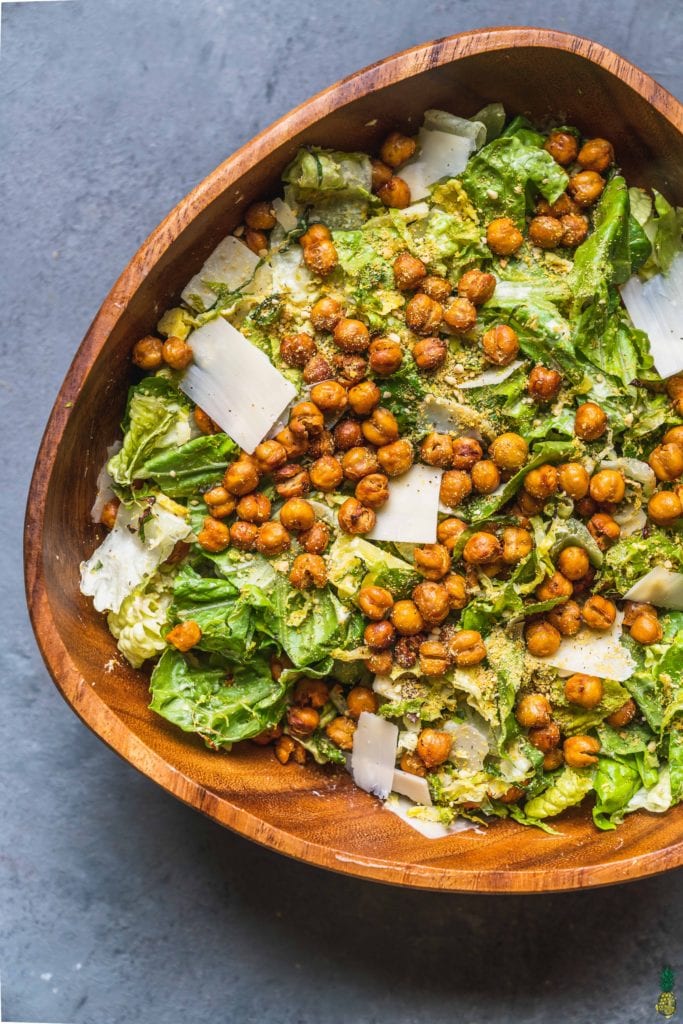 The holidays are upon us and we are coming at you with another tasty recipe for you to make and share with your friends and family this season. I am sure most of you have had a traditional shepherd's pie before, right? But, have you had a shepherd's pie inside of a potato?
The BEST vegan mashed potatoes made with a secret ingredient that brings them to the next level! These require just 5 simple ingredients total, are so easy to make and will be ready in about 30 minutes. They are perfect for the holidays, family dinners or even date nights at home
Calling all potato lovers, these crispy garlic and herb smashed potatoes are about to change your life. Crispy on the outside, soft on the inside, these smashed potatoes are garlicky and down-right delicious.
An easy side dish that is perfect for the holidays. Maple Roasted Acorn Squash requires just 5 simple ingredients and is ready in under an hour.
You'll never eat cranberry sauce out of a can again. This recipe is easy, requires just 5 ingredients and will be ready in 10 minutes!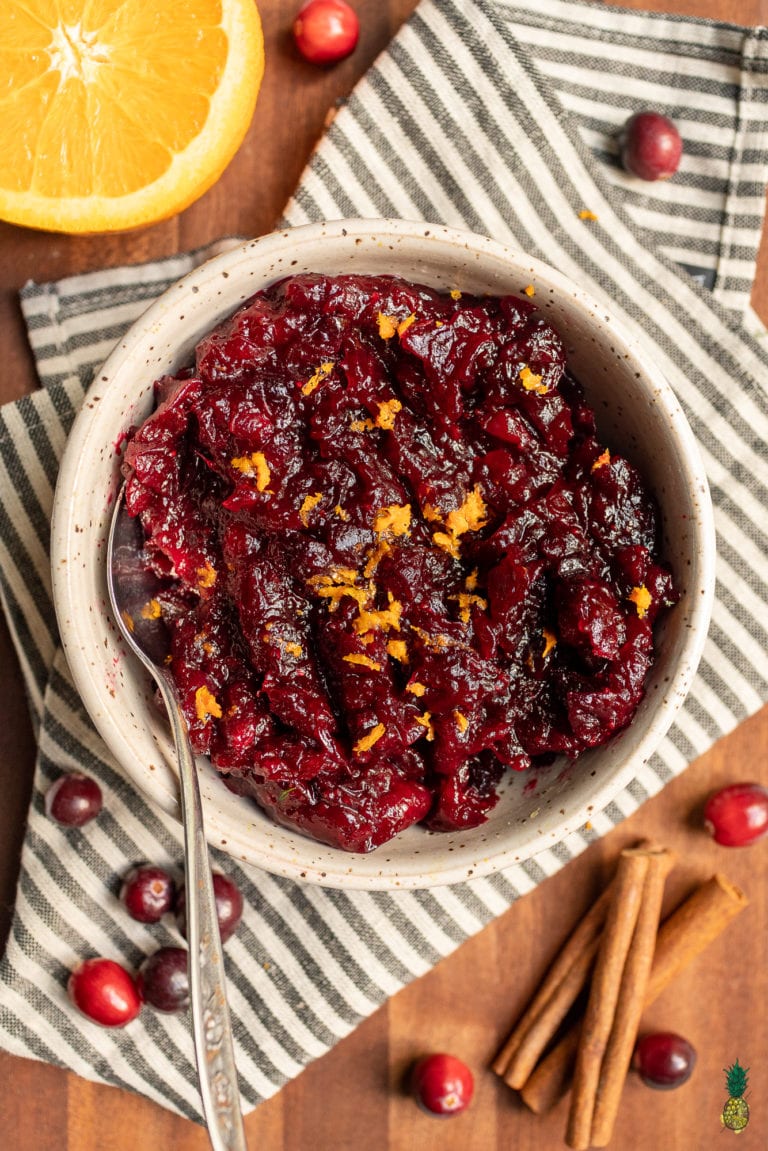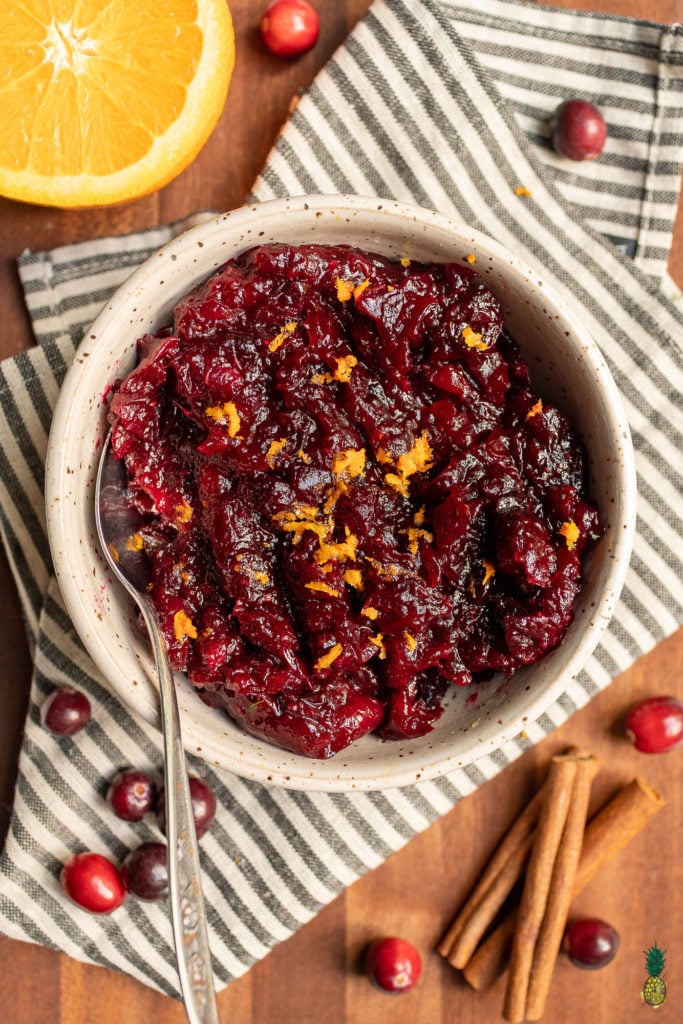 These roasted vegetables make the perfect holiday side dish because not only are they healthy, but they also take almost no effort to make!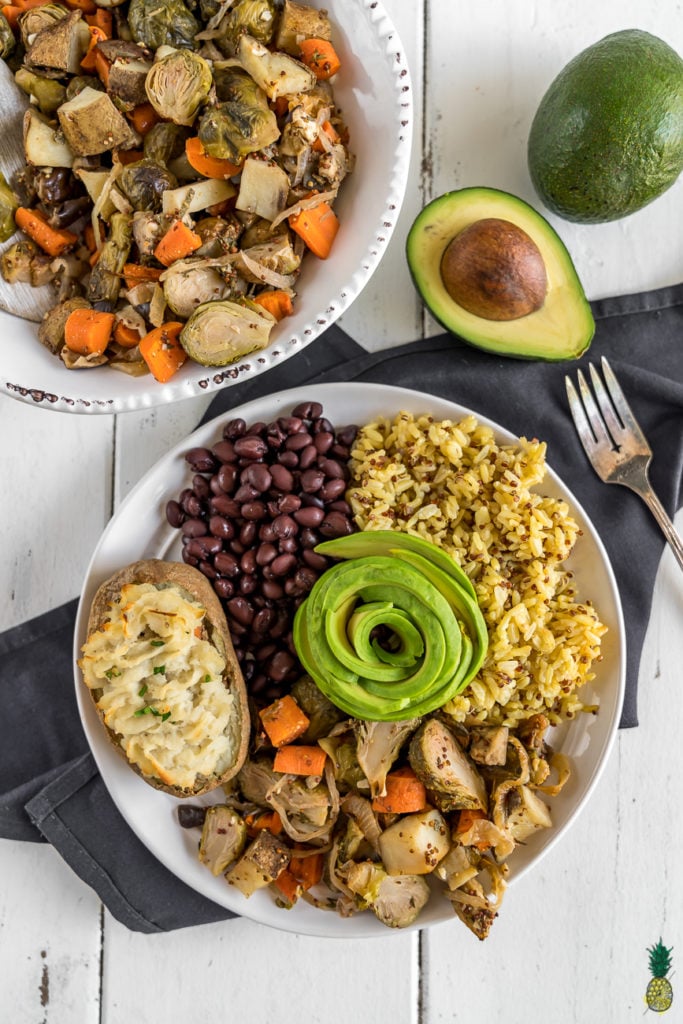 The Holiday Season is all about family, friends, and most importantly, comfort foods! As you may well know, mashed potatoes are among my all-time favorite foods. To celebrate this year, I thought it would be fun to make these ultra-decadent stuffed mashed potato balls.
A vegan mushroom gravy that is packed with flavor and perfect for the holidays! It is easy to make, requires simple ingredients, and will be ready in about 20 minutes.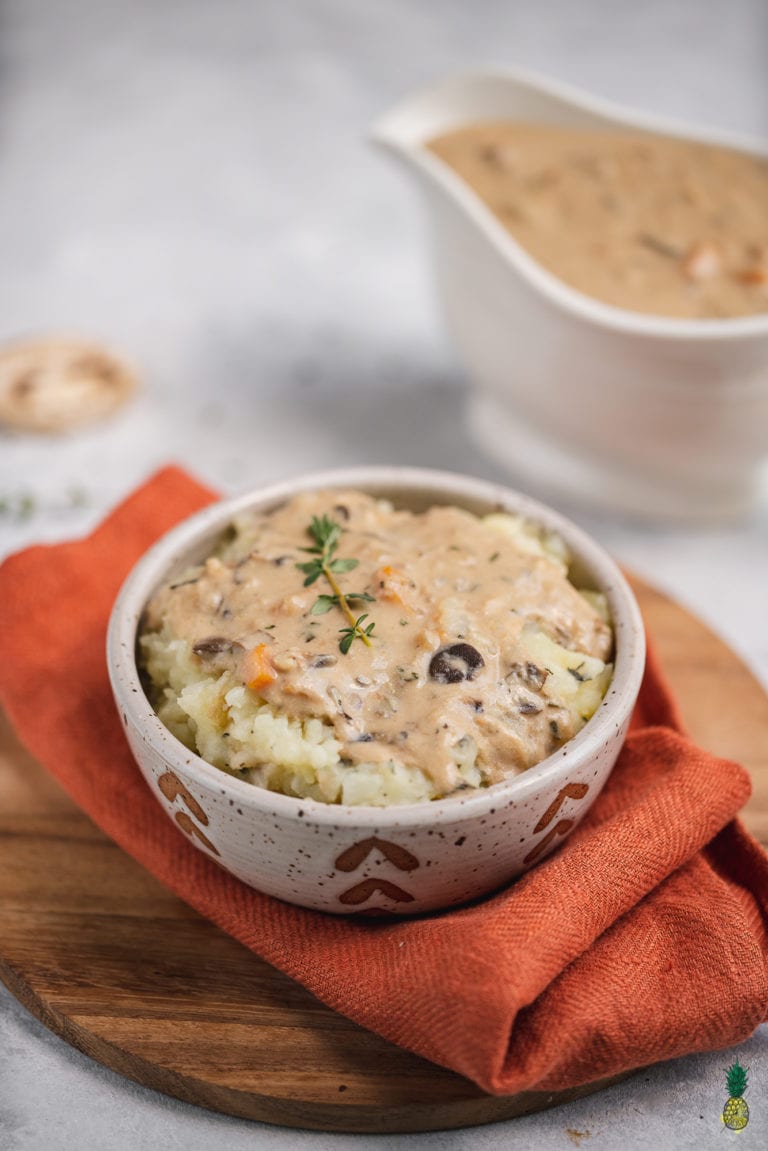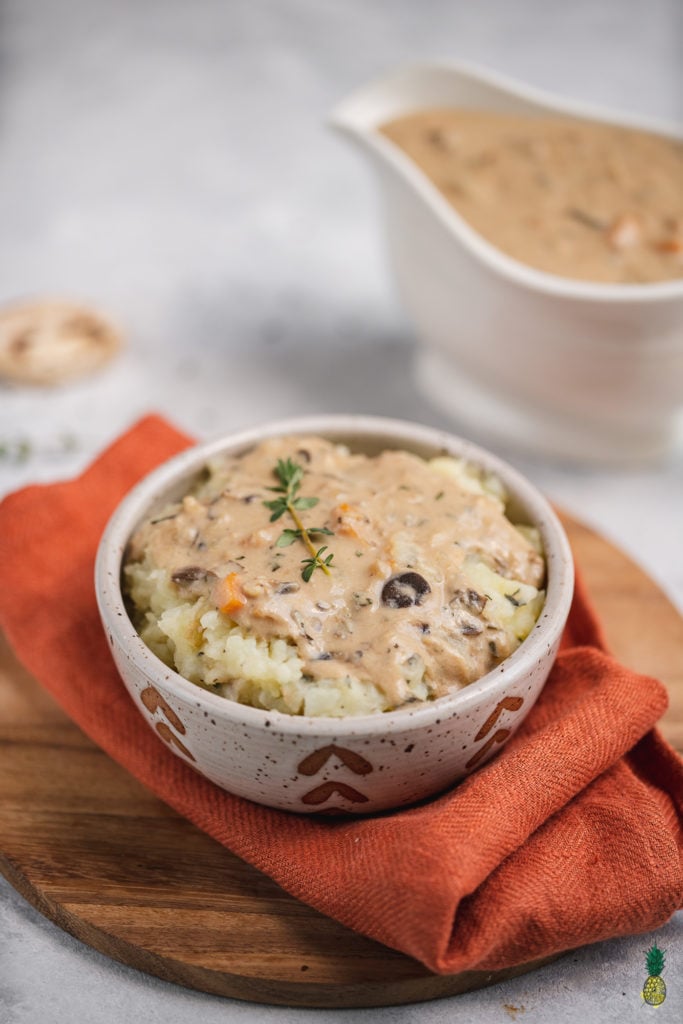 Who knew making your own vegan gravy at home could be so simple? With minimal ingredients and just 10 minutes of your time, you'll have a rich and savory gravy to top all of your favorite foods with this Christmas.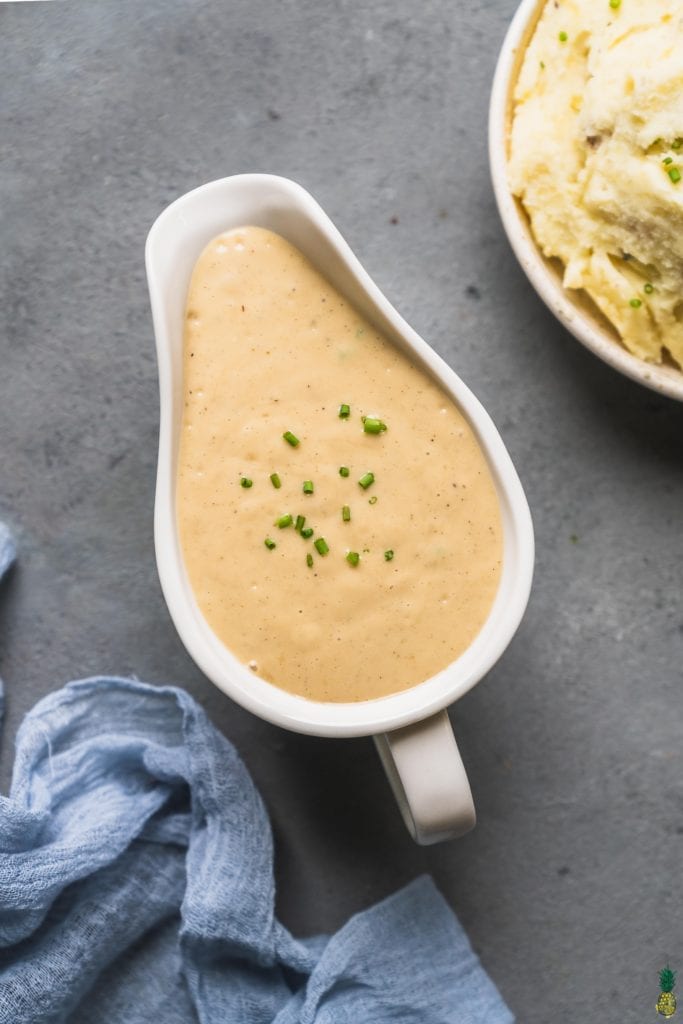 Breakfast:
Ever since I was a little kid, we would enjoy a breakfast strata on Christmas morning. Not only is strata super delicious, it's designed to be prepped the night before and popped in the oven for an hour in the morning (while we opened gifts) and then it's ready to enjoy! Afterall, who really wants to prepare a huge breakfast on Christmas morning? As you'll see below, the batter for our vegan strata needs to soak into the bread for 8-12 hours to fully set, so it's perfect to make on Christmas Eve.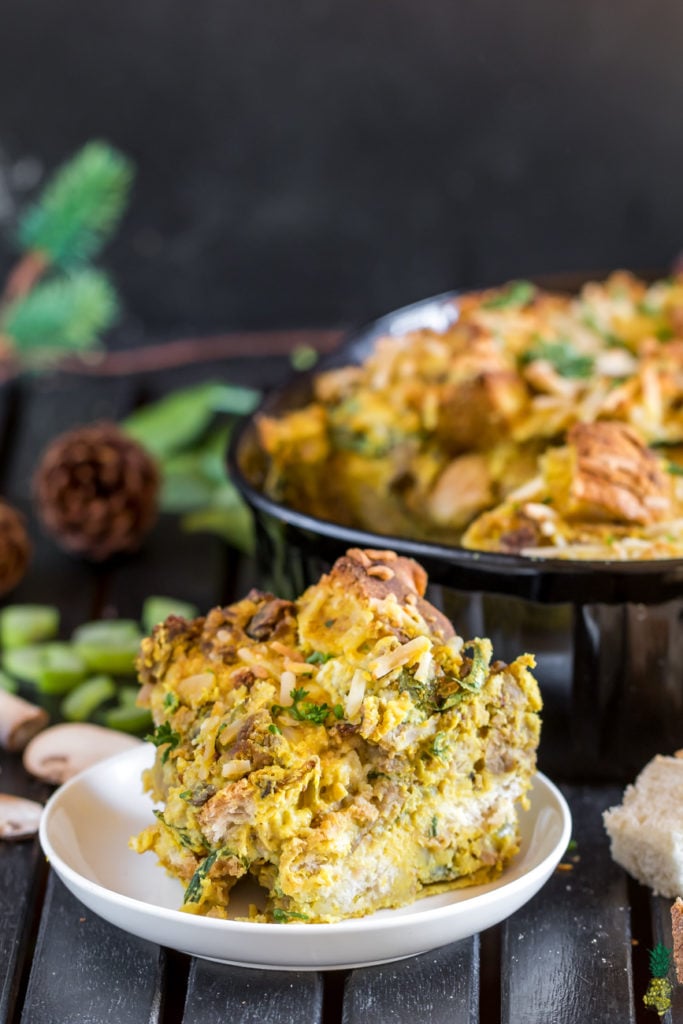 Green chili's mixed in with masa and fresh corn, these savory corn pancakes hold a flavor combo similar to that of tamales, but in flapjack form. Get ready for an epic savory breakfast experience unlike any other.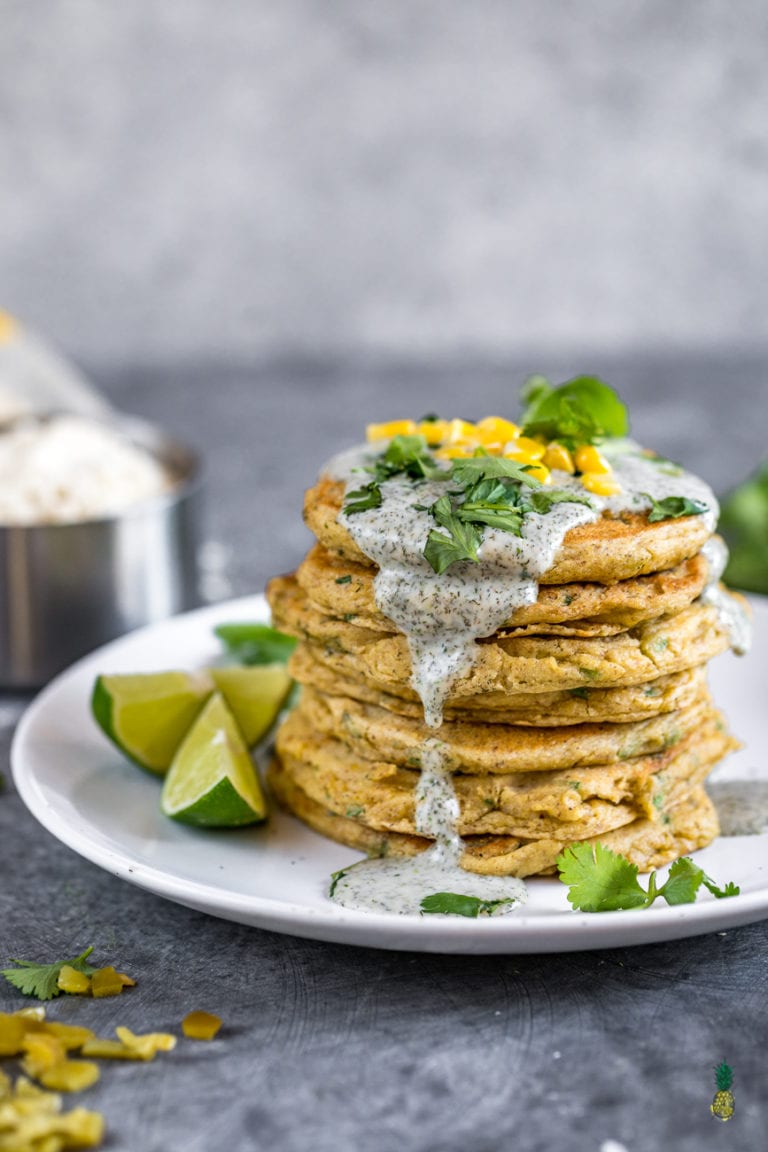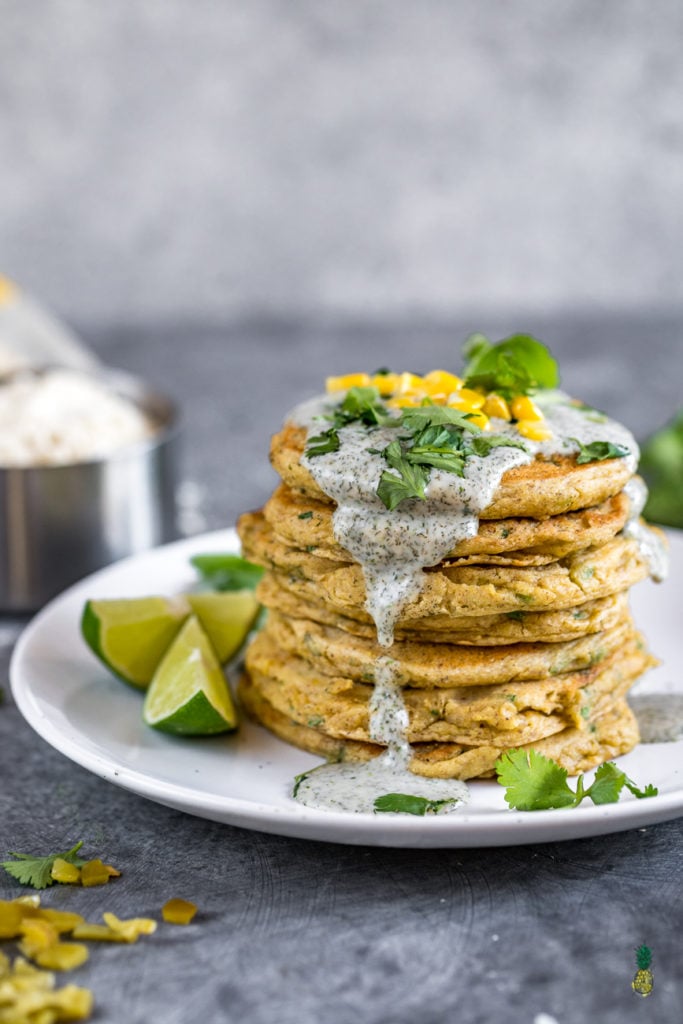 Take your morning to the next level with this Fall Sweet Potato Breakfast Casserole. Loaded with seasonal veggies, fall herbs, and both vegan sausage and cheese, this easy to make breakfast casserole is the tastiest way to start your day.
Entrees:
This vegan white lasagna with mushrooms and spinach is seriously DREAMY. It's stuffed with a spinach ricotta cheese and sauteéd mushrooms, smothered in a homemade creamy vegan cheese sauce and bursting with flavor!
Loaded with homemade tofu ricotta and spinach, and topped with vegan cheese and homemade marinara sauce, these Vegan Stuffed Shells are a Christmas recipe that everyone is going to love.
Learn how to make a vegan eggplant rollatini with this simple and delicious recipe. Thinly sliced eggplant is stuffed with homemade vegan ricotta cheese, smothered in a homemade marinara sauce. and topped with vegan mozzarella cheese.
Who knew you could make a meatloaf out of vegetables? This easy to make Veggie Meatloaf requires simple ingredients and just about an hour of your time. It's free from gluten and added oil, and makes the perfect Christmas recipe.
In need a vegan entree for the holidays? Look no further! You can make this flavor-packed holiday roast from scratch! A vegan turkey seitan roast loaded up with a mushroom and squash filling, you can't go wrong with this one!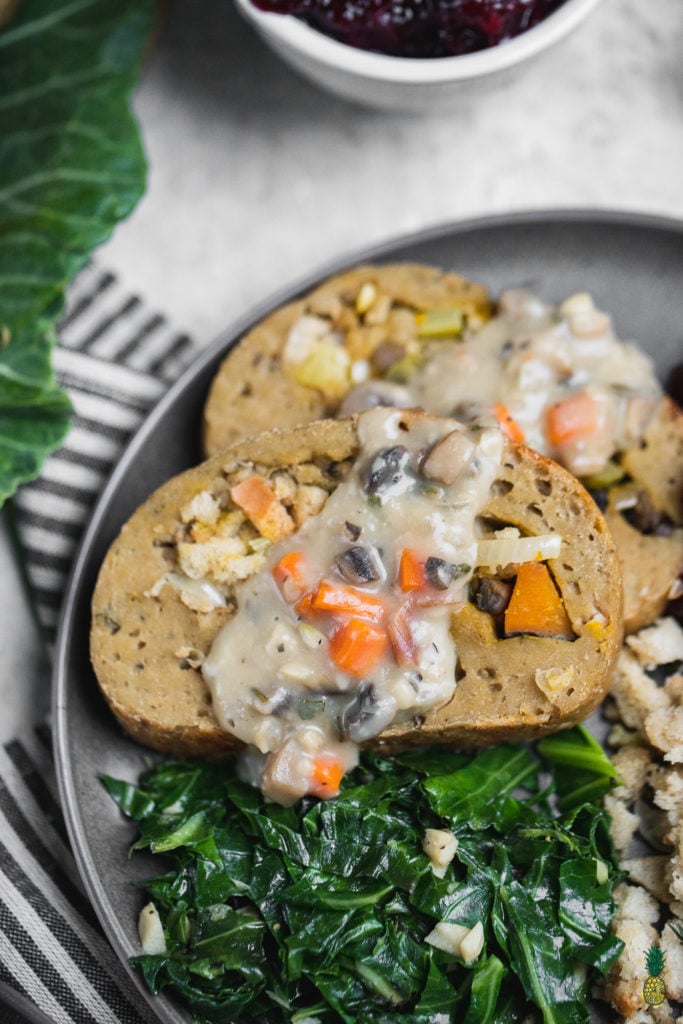 Vegan scallops anyone? I know this might sound crazy, but trust us, they are so flavorful and delicious—we can't wait for you try. Paired with a creamy Fettuccine Alfredo this is the perfect holiday recipe.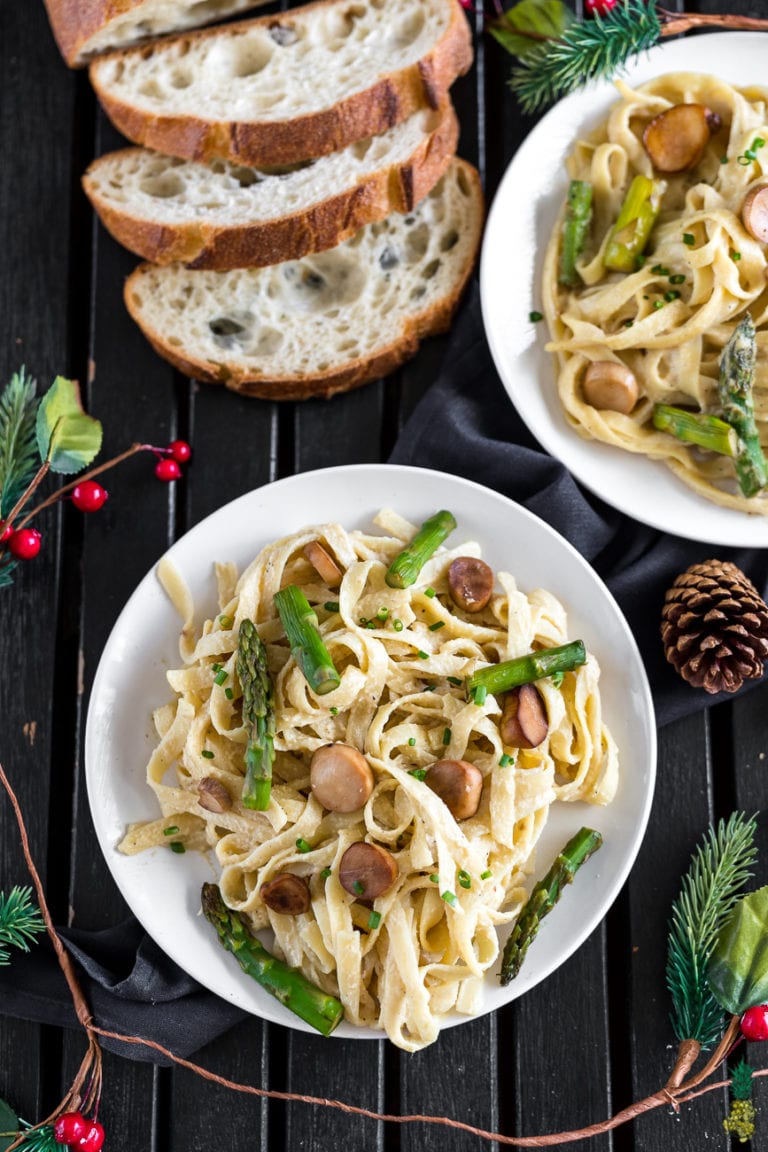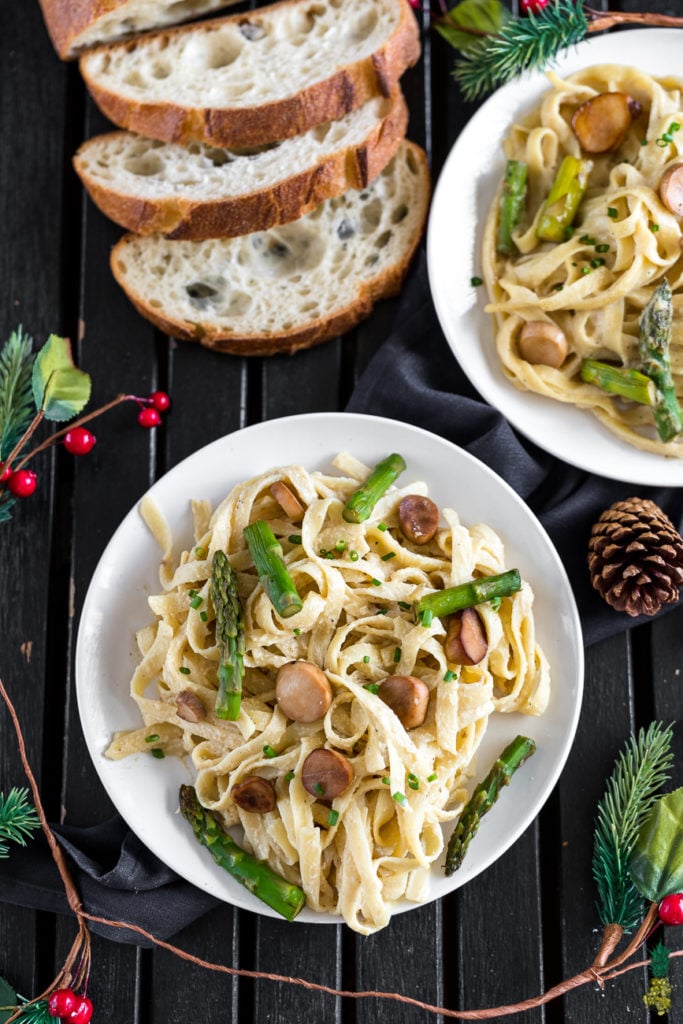 This Vegetable Wellington is loaded with lentils, mushrooms, walnuts and more! A flaky puff pastry crust wrapped around the perfect savory and satisfying vegetable mixture. It is the perfect holiday entree for vegans and non-vegans alike!
Tender, juicy, melt-in-your-mouth good vegan portobello mushroom steaks. This is an easy and gluten-free entree that is perfect for holiday dinners or date nights at home. The recipe is simple and will be ready in less than an hour!
'Tis the season…for tamales! Learn how to make the BEST oil-free vegan tamales this holiday season. Not only is this recipe fairly easy, but it is also packed with flavor and will definitely impress your friends and family!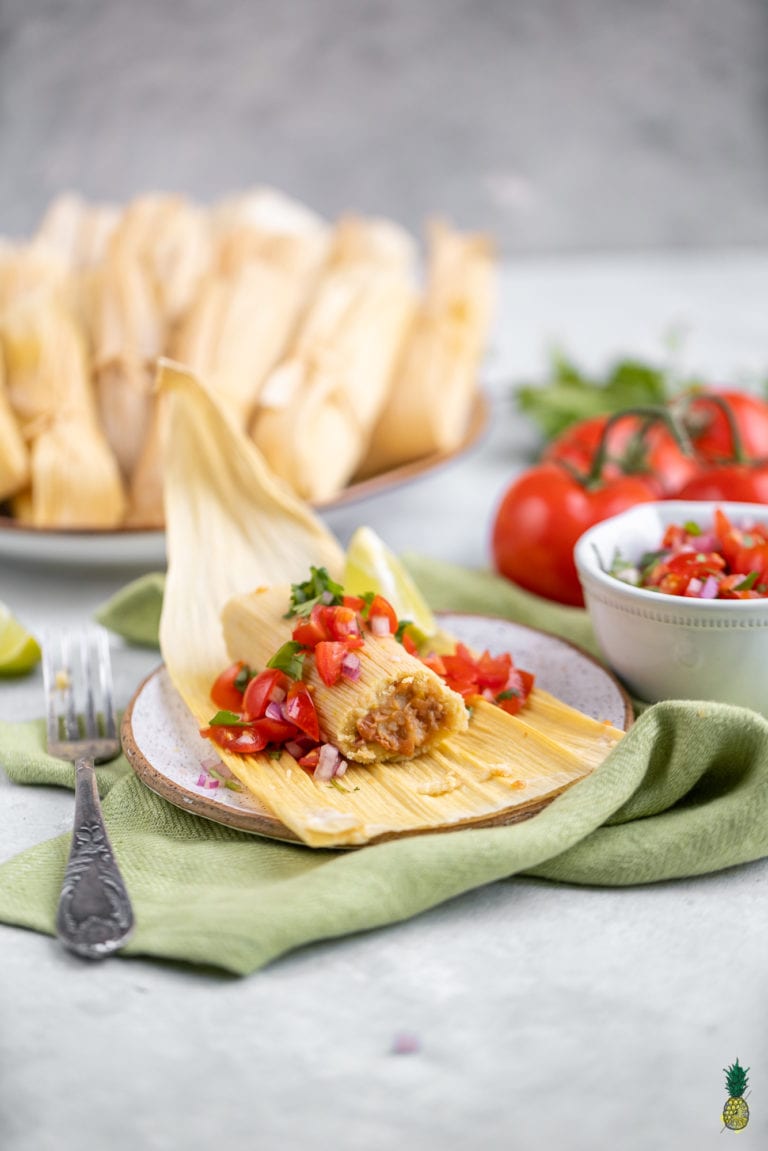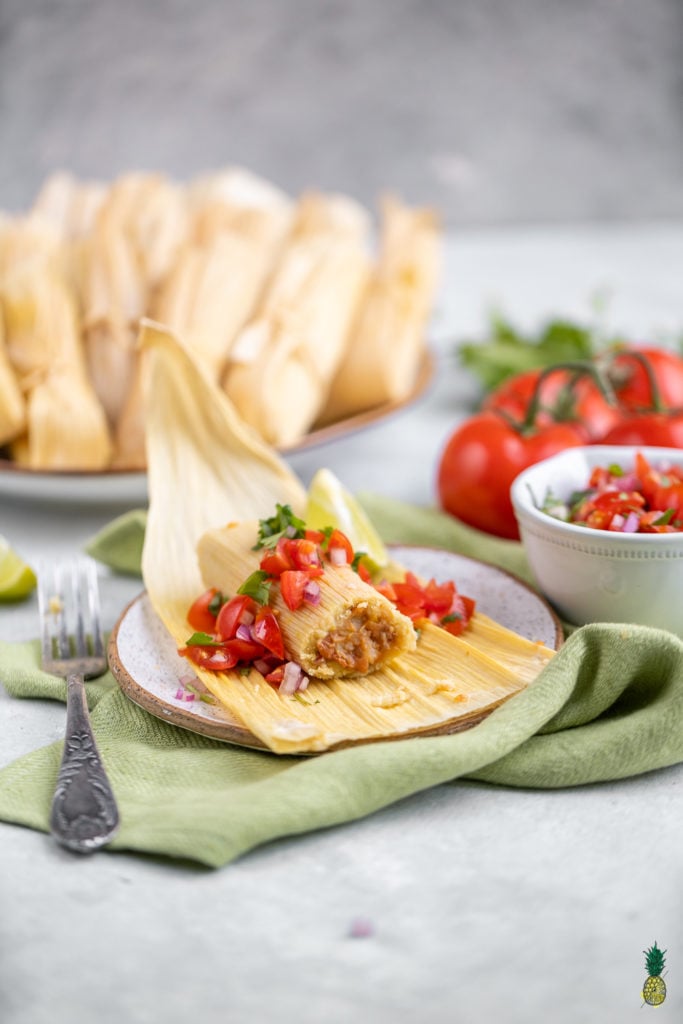 Here is a step-by-step guide on how to make the BEST vegan tamales this holiday season. Not only are these fairly easy to make, but they are also packed with flavor and will definitely impress your friends and family! One of the best Christmas recipes we've made!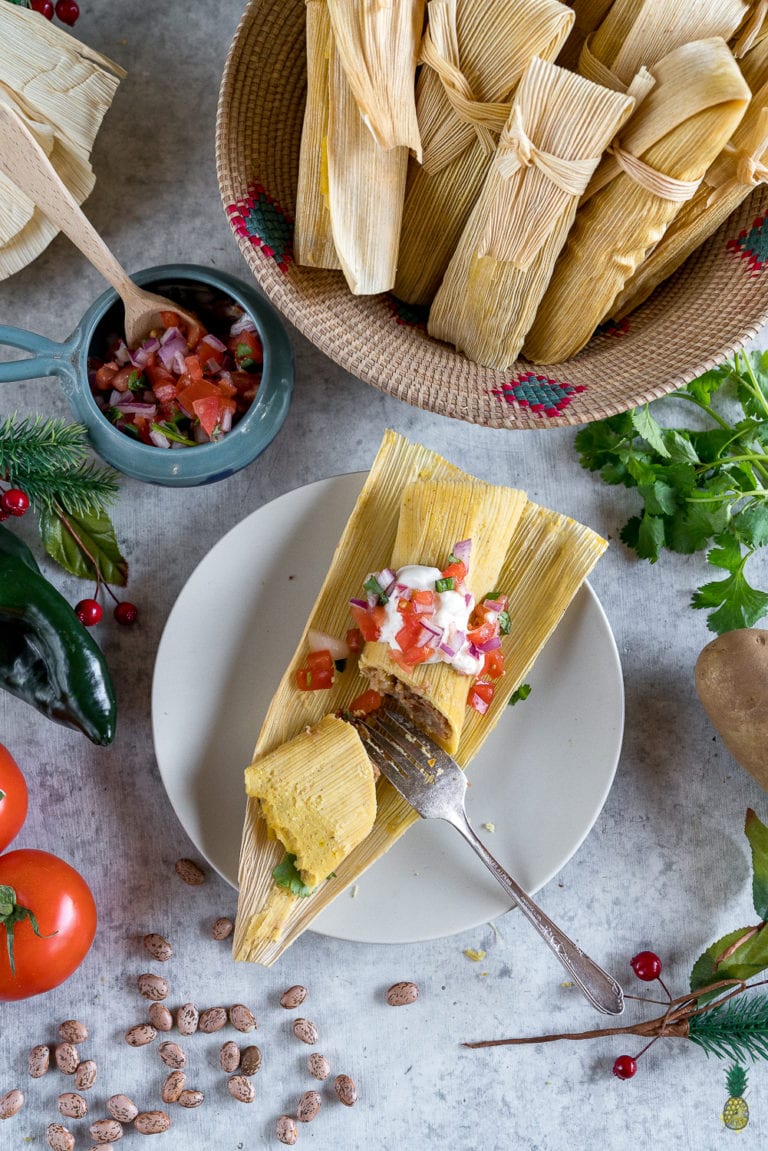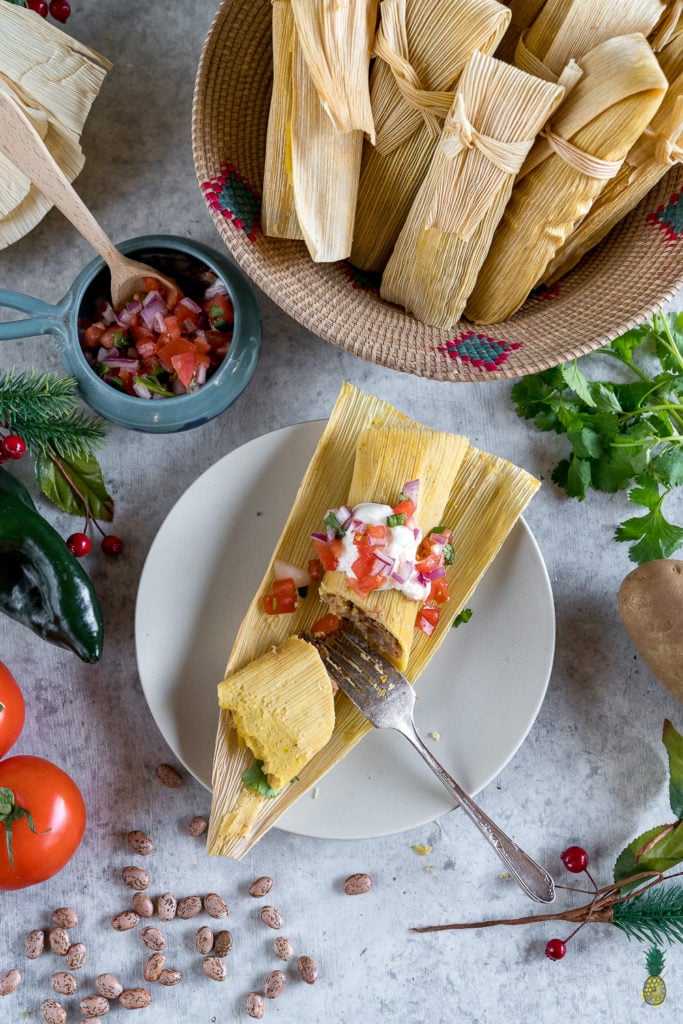 Crispy cauliflower steaks that make the PERFECT vegan Christmas recipe!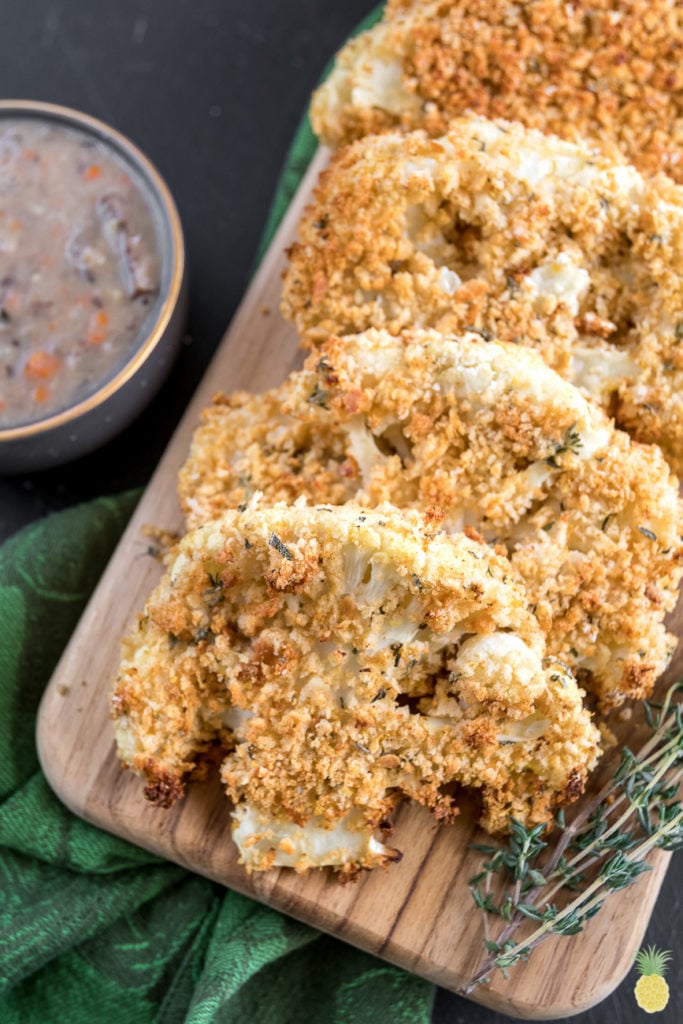 Desserts:
These Vegan Christmas Sugar Cookies will transform you back to your childhood and you wouldn't even know that they are plant-based. They are made with just 8 simple ingredients and SO dang good!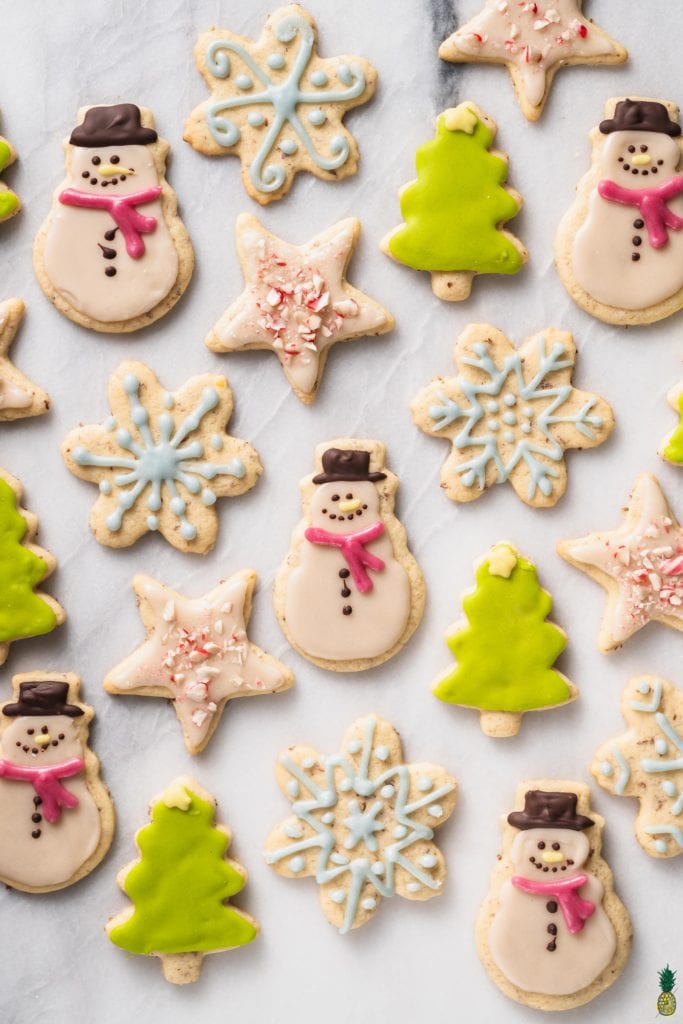 These are the BEST vegan gingerbread cookies you will get your hands on. They are easy to make, don't require any funky ingredients and are SO DANG GOOD!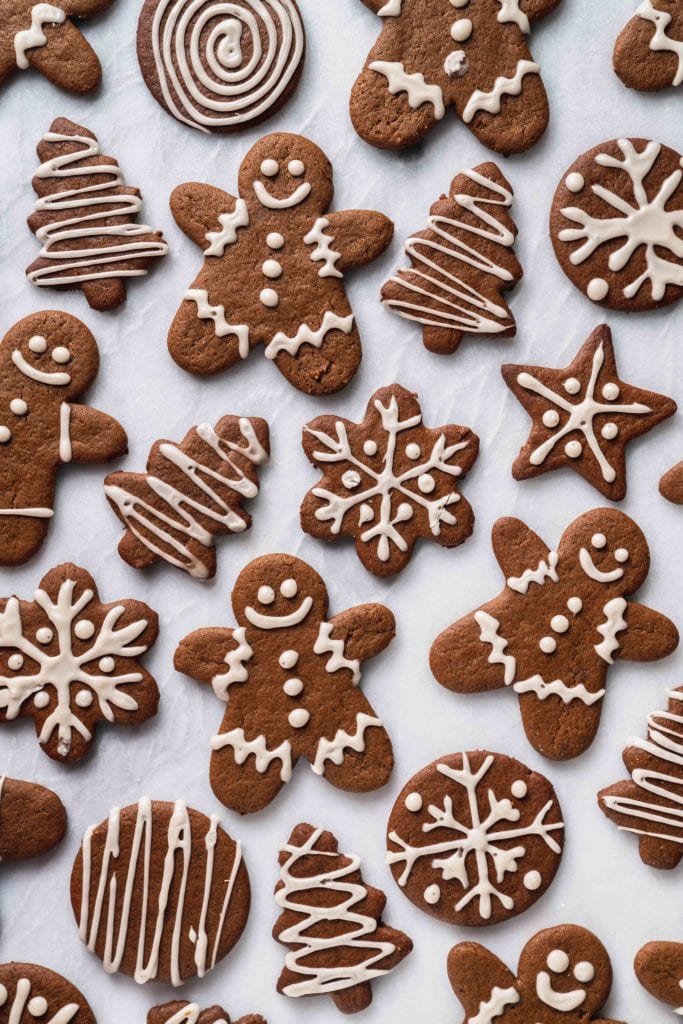 Looking for the PERFECT classic vegan brownie recipe? Then this recipe right here is for you! These vegan brownies are sweetened to perfection, a mix of both cake-y AND fudge-y, plus SO easy to make. They require simple ingredients and will be ready in less than an hour– so let's get cookin'!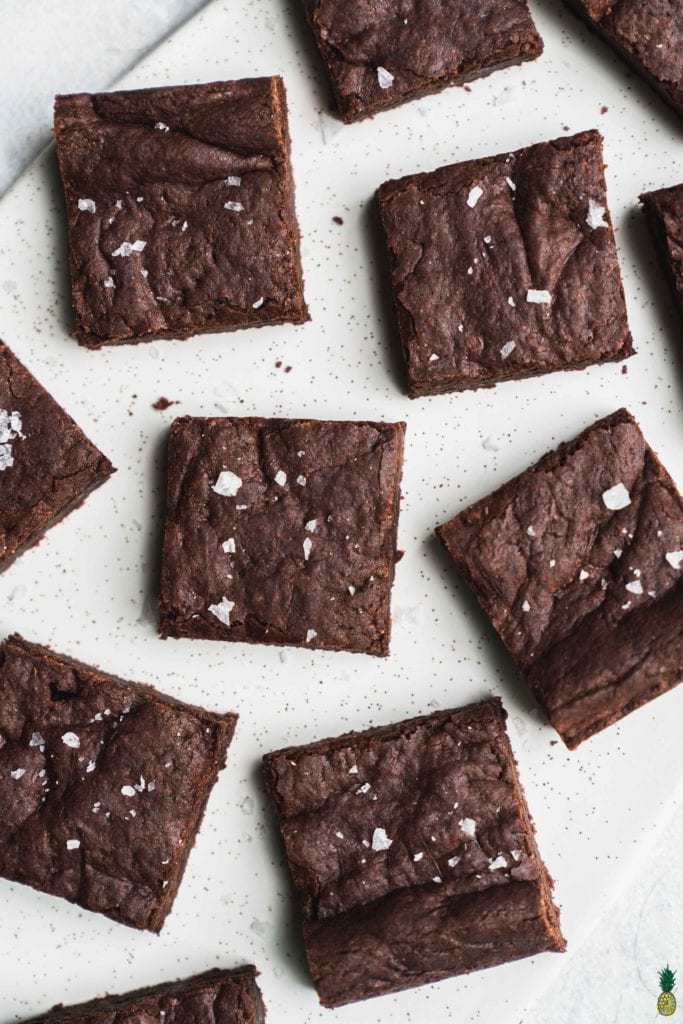 Chunks of naturally sweet & buttery pecans, pieces of tart and chewy cranberry PLUS a fresh kick of zested orange — are you ready for the ultimate holiday cookie? These Pecan Cranberry & Orange Shortbread cookies are going to be a new holiday staple!
Nothing says Christmas quite like these Cinnamon Twist Cookies. They're simple to make and require just 8-ingredients. Did I mention that they are incredibly delicious? Because these are about to blow your mind! Dip them in a cup of non-dairy milk and don't forget to leave some out for Santa.
These gluten-free thumbprint cookies are easy to make and require just 8 ingredients. This buttery and perfectly sweet vegan cookie is filled with strawberry + apricot jam and lightly dusted with powdered sugar. They make the perfect Christmas cookies, your family and friends will love them!
The holiday season is here, and we've been cooking up a storm to bring you some amazing Christmas recipes including these peppermint meltaway cookies. If you aren't familiar with what a peppermint melt away is, just think—carefully dusted minty morsels that literally melt in your mouth—sounds magical, doesn't it?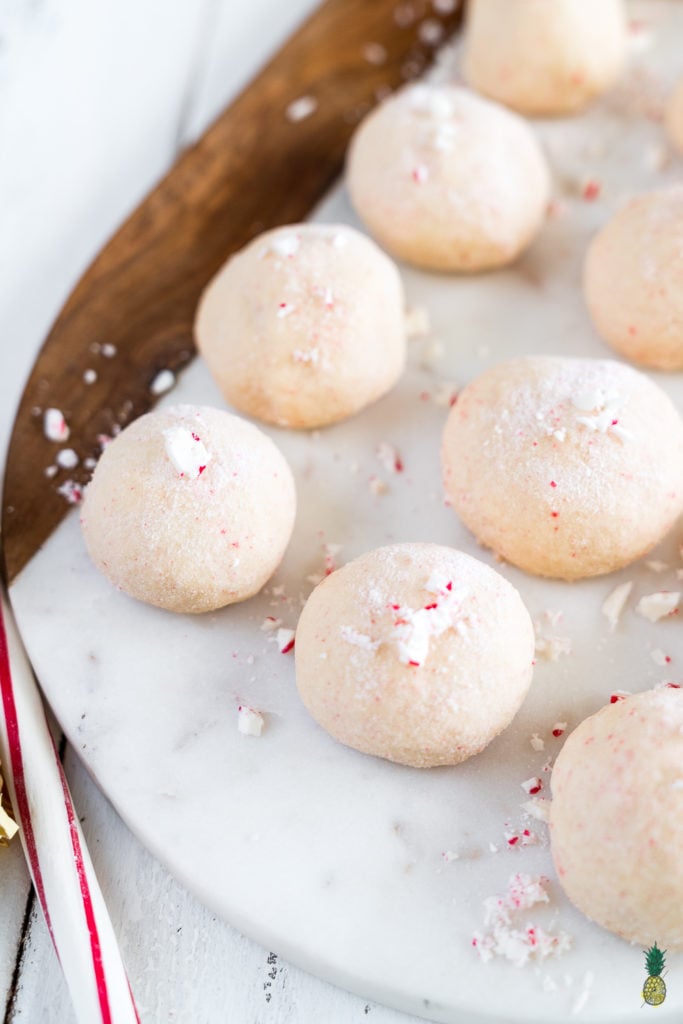 These vegan pecan tarts are to die for and are one of our favorite Christmas recipes. They require just 8 ingredients and are ready in less than an hour.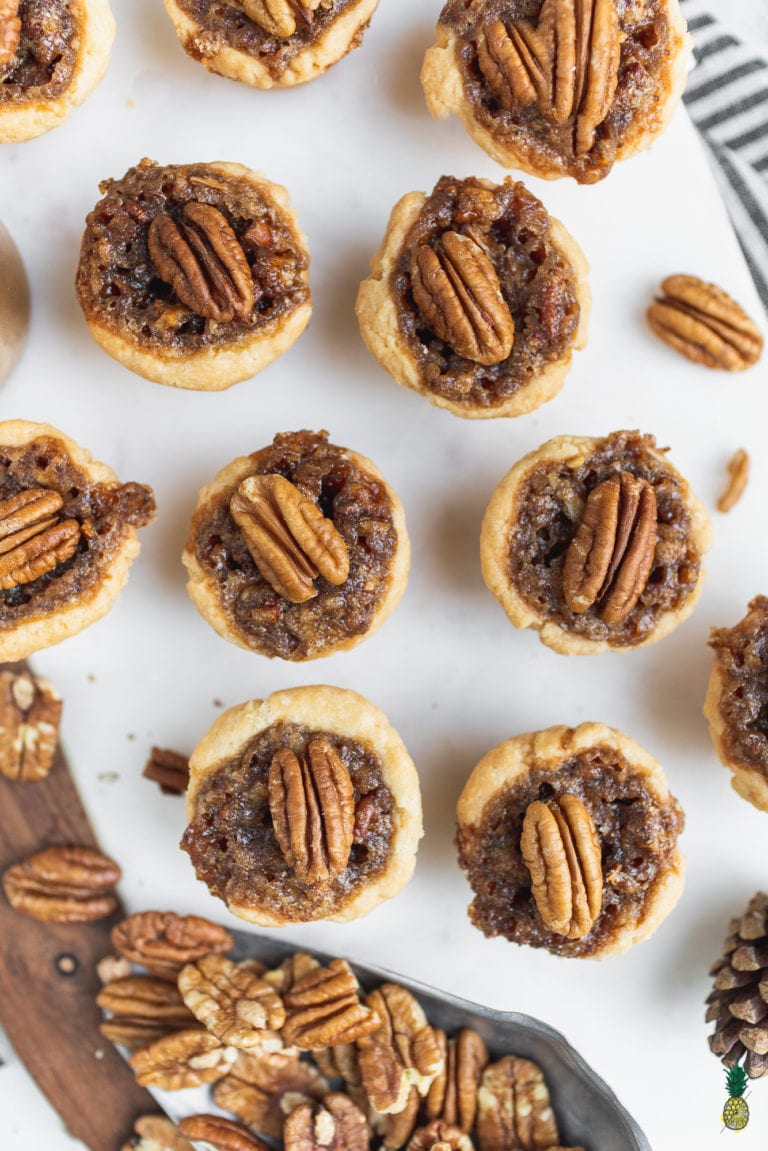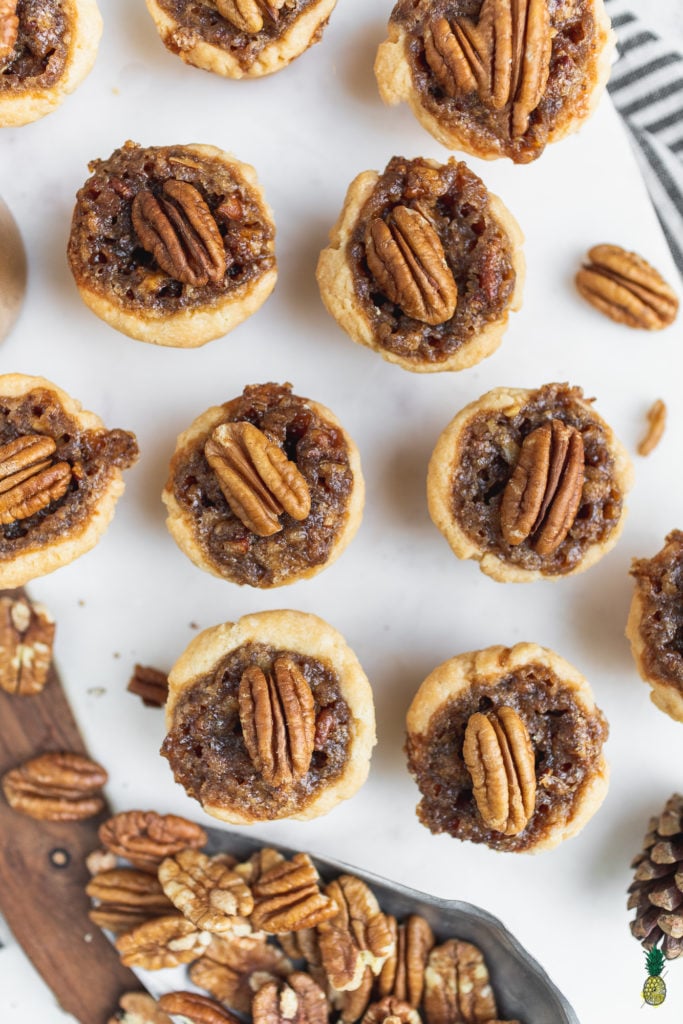 Regardless of which holiday you celebrate, this Vegan Braided Cream Cheese & Jam Danish shared below are calling for a spot at your table.
Light, fluffy, and perfectly sweet, these pumpkin cinnamon rolls are THE dessert to cozy up with this holiday season. We promise you are going to fall in love with these (pun intended).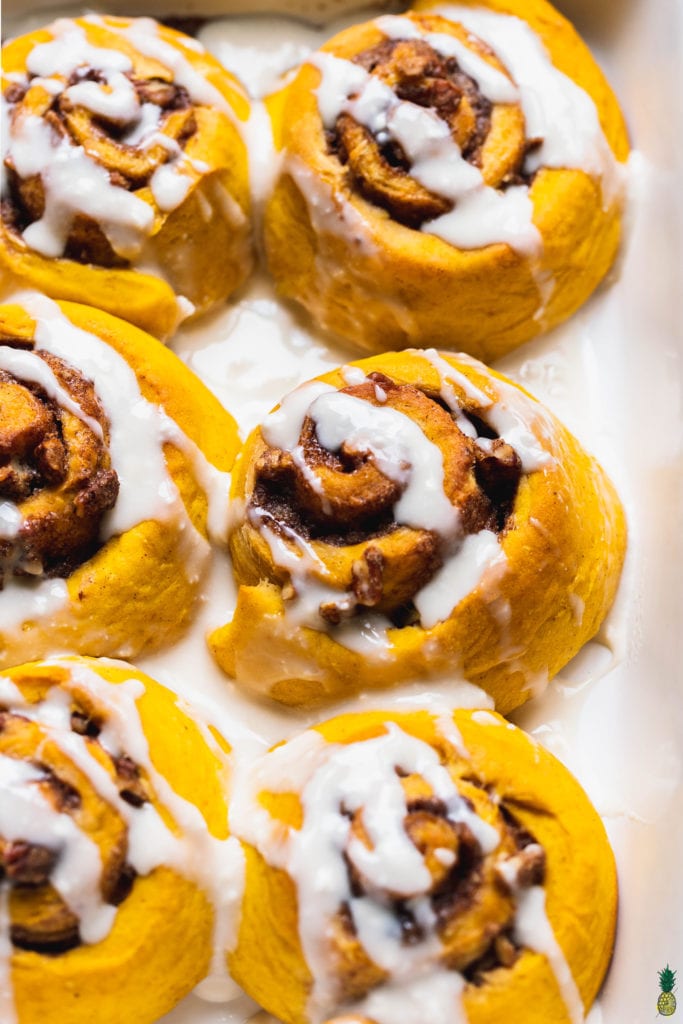 Nothing says the holidays quite like a big 'ol pumpkin pie, right? With that being said, we decided to veganize this classic recipe and man oh man, it's incredible! This vegan pumpkin pie requires just 10 ingredients, 10 minutes to prepare and 1 hour to bake!
This fall twist on a classic chocolate chip cookie will be your new favorite seasonal dessert! These Vegan Pumpkin Chocolate Chip Cookies are soft and perfectly sweet with a kick of pumpkin pie spice, and easy to make. Plus, they're gluten-free and vegan!
Sweet, soft, and spiced to absolute perfection, these easy pumpkin snickerdoodles are the perfect dessert to indulge in this autumn. Not only are they vegan, but also gluten-free and refined sugar-free! They also take only 15 minutes to make, so let's get baking!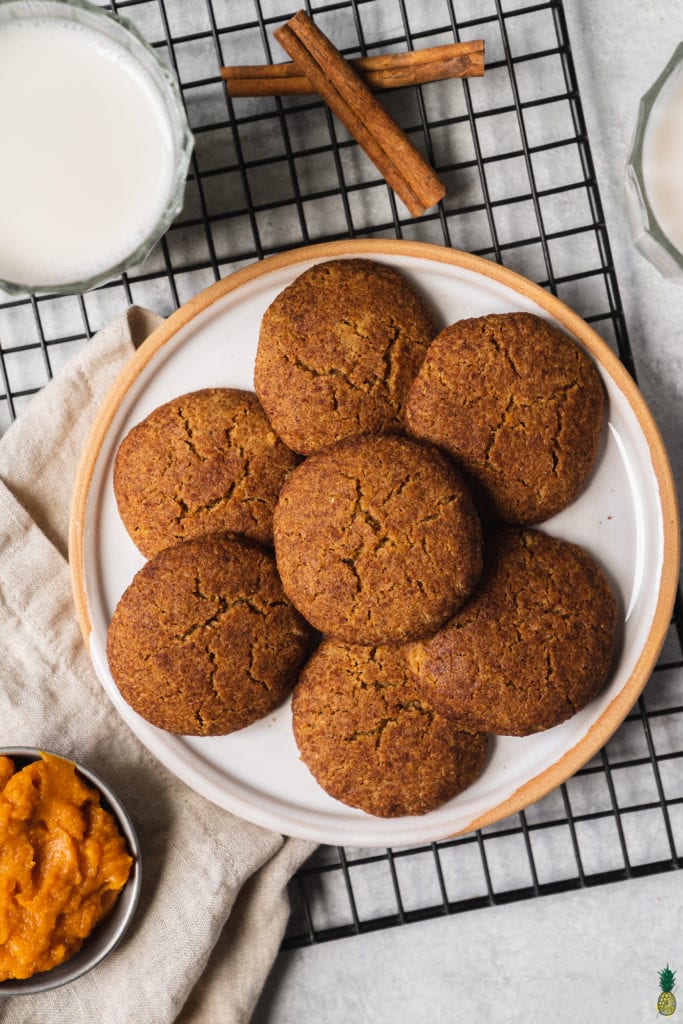 Learn how to make a delicious vegan chai latte at home. Frothy, flavor-packed and sweetened with dates. It's so easy to make and is definitely a must try!
A vegan twist on a fall classic, this apple crisp recipe is both delicious and simple to make. Nothing beats the smell of ooey-gooey baked apples smothered in cinnamon sugar…except for maybe the taste
Last Minute DIY Holiday Gifts
An easy to make vegan hot chocolate mix that is not only delicious and easy to make, but that is also the perfect DIY gift for the holidays!
This Lentil & Split Pea Soup is the perfect budget-friendly DIY holiday gift for anyone on your list this year. It's delicious, simple to make, and adds a personal touch that you can't find in a store-bought gift. Plus, it's naturally vegan and gluten-free so the whole family can enjoy it!
Learn how to make the best chocolate chip cookies that just so happen to be vegan. They're perfectly chocolatey, soft & chewy, easy to make and don't require any funky ingredients.
We hope you enjoy these Christmas Recipes as much as we do! If you make any of these Christmas recipes, make sure to tag us at @sweetsimplevegan and @consciouschris on Instagram. we love to see your creations! Wishing you and yours a happy and healthy holiday!