This Strawberry Mojito Mocktail is the perfect remedy for a hot summer day. It's as easy can be – made with just 4 ingredients and no straining or cocktail shaker required!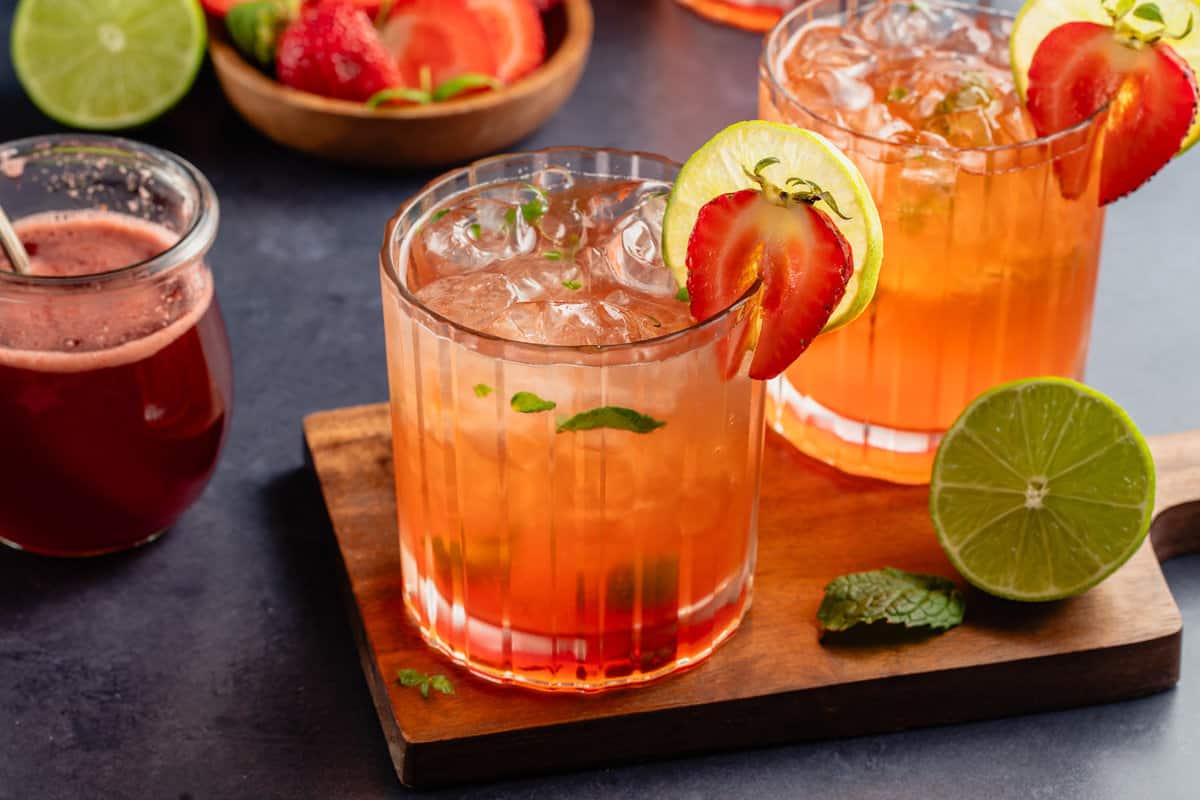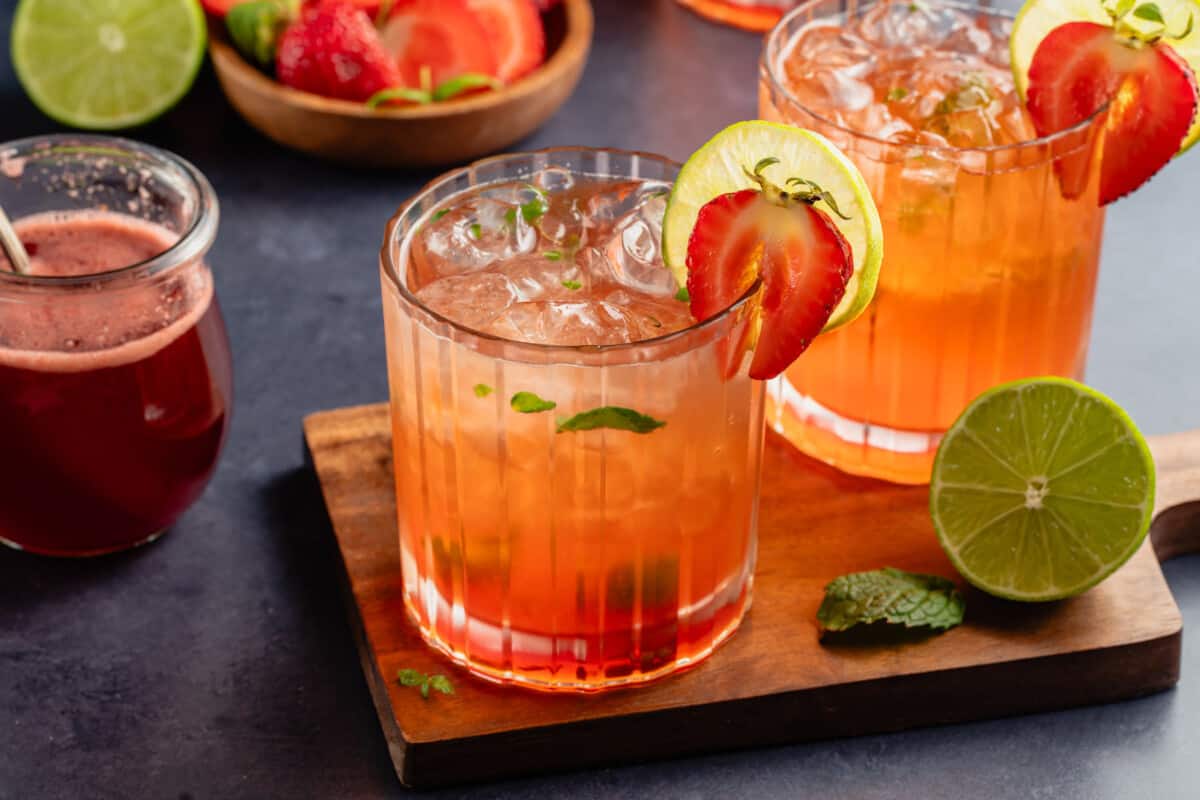 If you're looking for your drink for the summer, what could be better than a sparkling strawberry mocktail made with sweet strawberries? Just like all of the beverages and mocktail recipes on the blog, this mocktail hits all of our requirements.
It's simple to make, requires easy-to-find, affordable ingredients, and can be customized to suit your taste buds! The perfect homemade drink for a birthday party, baby shower, graduation party, and summer BBQ. You won't regret it.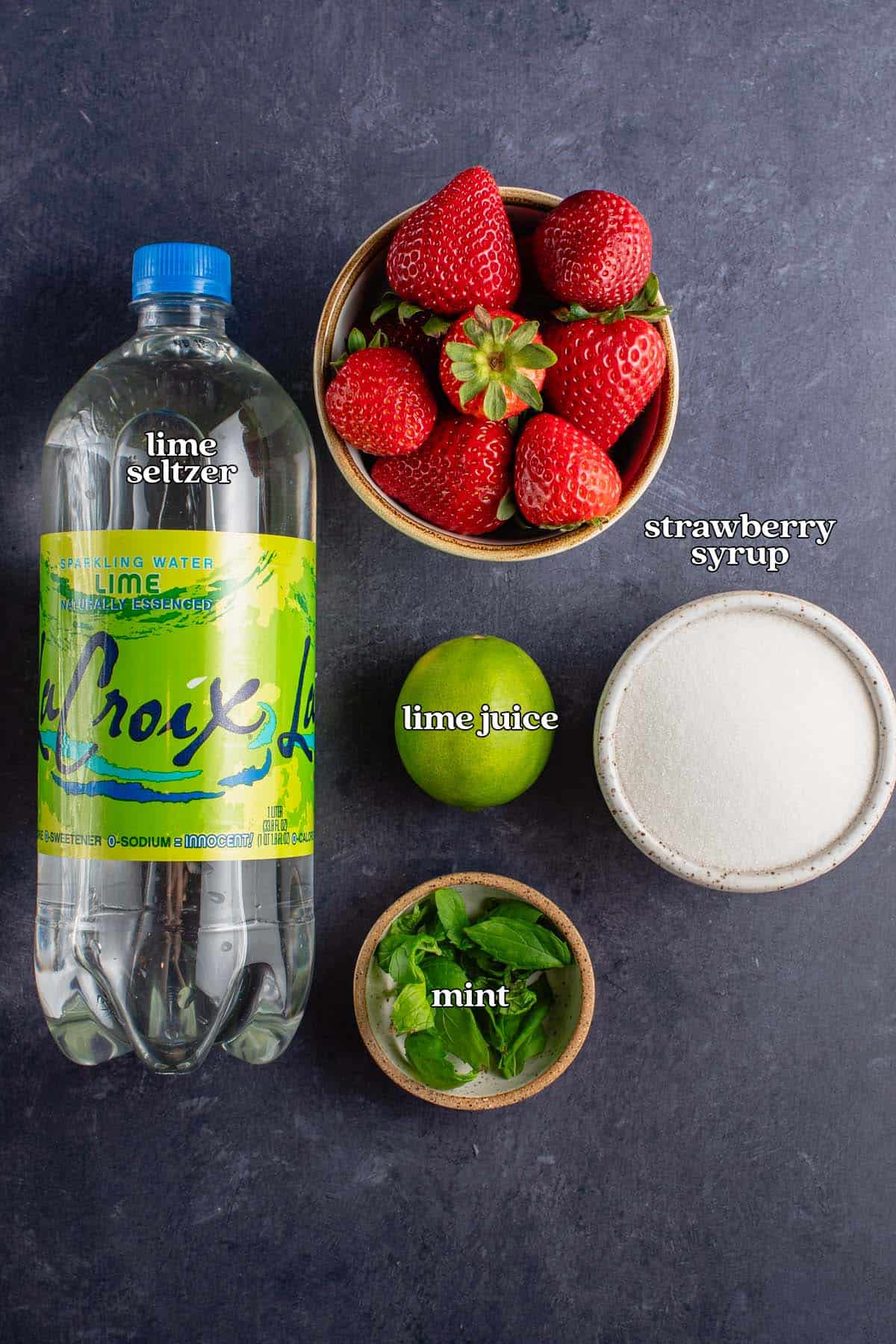 Ingredients You'll Need
Strawberry syrup: Our homemade simple syrup is made with fresh strawberries and is the source of both sweetness and the strawberry flavor in this strawberry mocktail recipe. If preferred you can opt for a store-bought strawberry syrup but we cannot guarantee the flavor will be the same.
Lime juice: For the best depth of flavor, use freshly squeezed lime juice. Pre-bottled lime juice is not as tart or sour tasting.
Fresh mint: Nothing beats fresh mint in a mojito recipe! We typically like to use 5 large mint leaves per mocktail. Feel free to adjust to your personal taste and don't forget additional fresh mint for garnish.
Lime seltzer: We find lime-flavored seltzer waters to compliment and enhance the flavors in this strawberry mocktail but truly any seltzer or tonic water will do. Use what you have!
Fresh strawberries: ​Fresh fruit is optional, but does make for a beautiful garnish. Take your homemade mocktail to the next level and add a fresh strawberry to the rim!
For the full recipe and exact measurements, scroll down to the complete recipe card at the bottom of the recipe.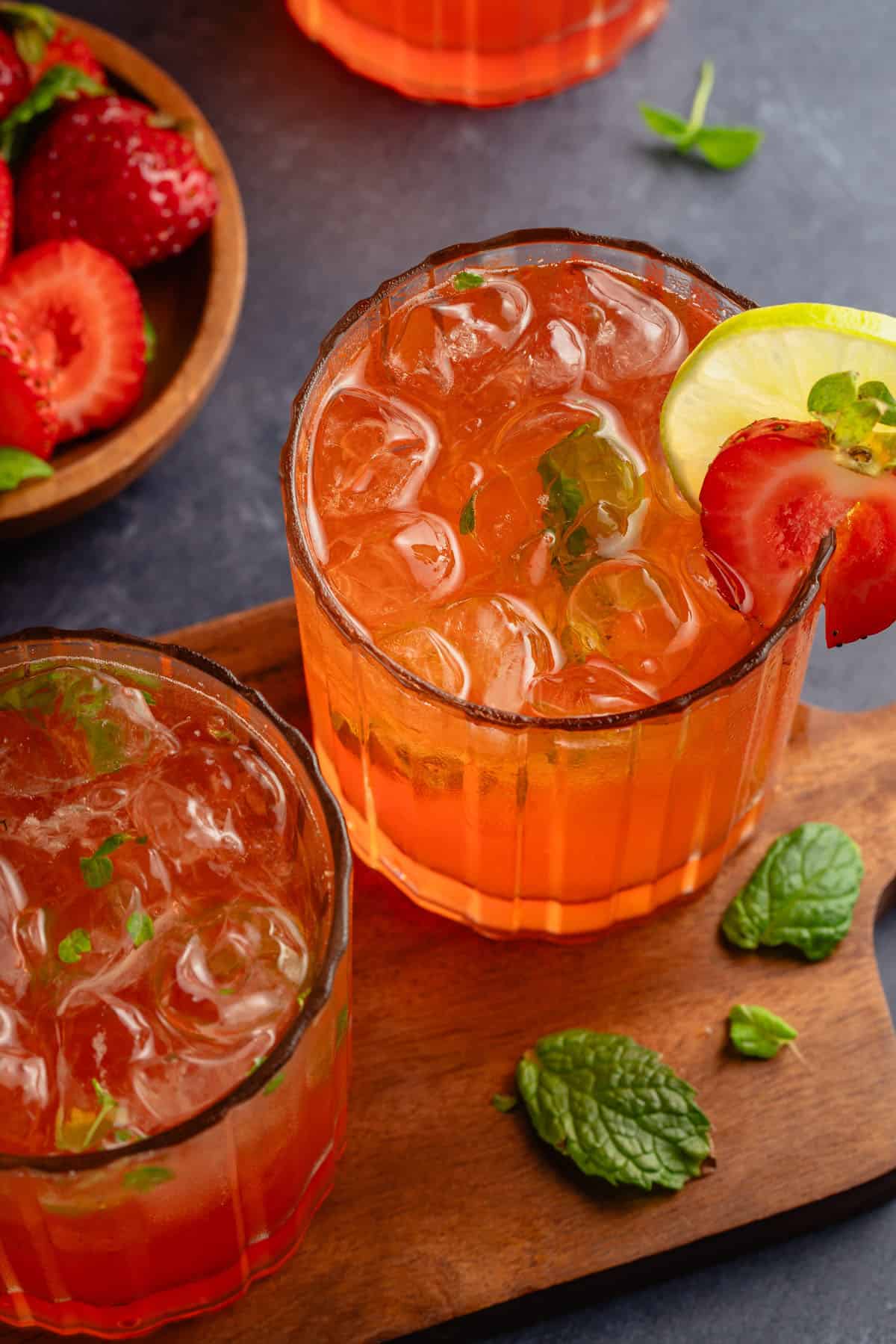 Add-ins and Variations
Pitcher-sized option: Serving a crowd? Make a pitcher-sized version of this strawberry mocktail! Instead of muddling the fresh mint in an individual drinking glass, add it to the bottom of your favorite serving pitcher and muddle directly in the pitcher. For a 64-ounce pitcher you will need: 6 ounces of strawberry syrup, 2 ounces of fresh lime juice, 40 large mint leaves, and about 4 cups of seltzer. Add lime seltzer right before serving!
Add fresh strawberries: ​Swap some of the ice with frozen strawberries! This will not only be pretty looking but keep your drink cool without watering it down, too.
Use another fresh herb: ​Mint is classic in any mojito recipe. If mint is not your favorite, try muddled fresh basil leaves.
Equipment Needed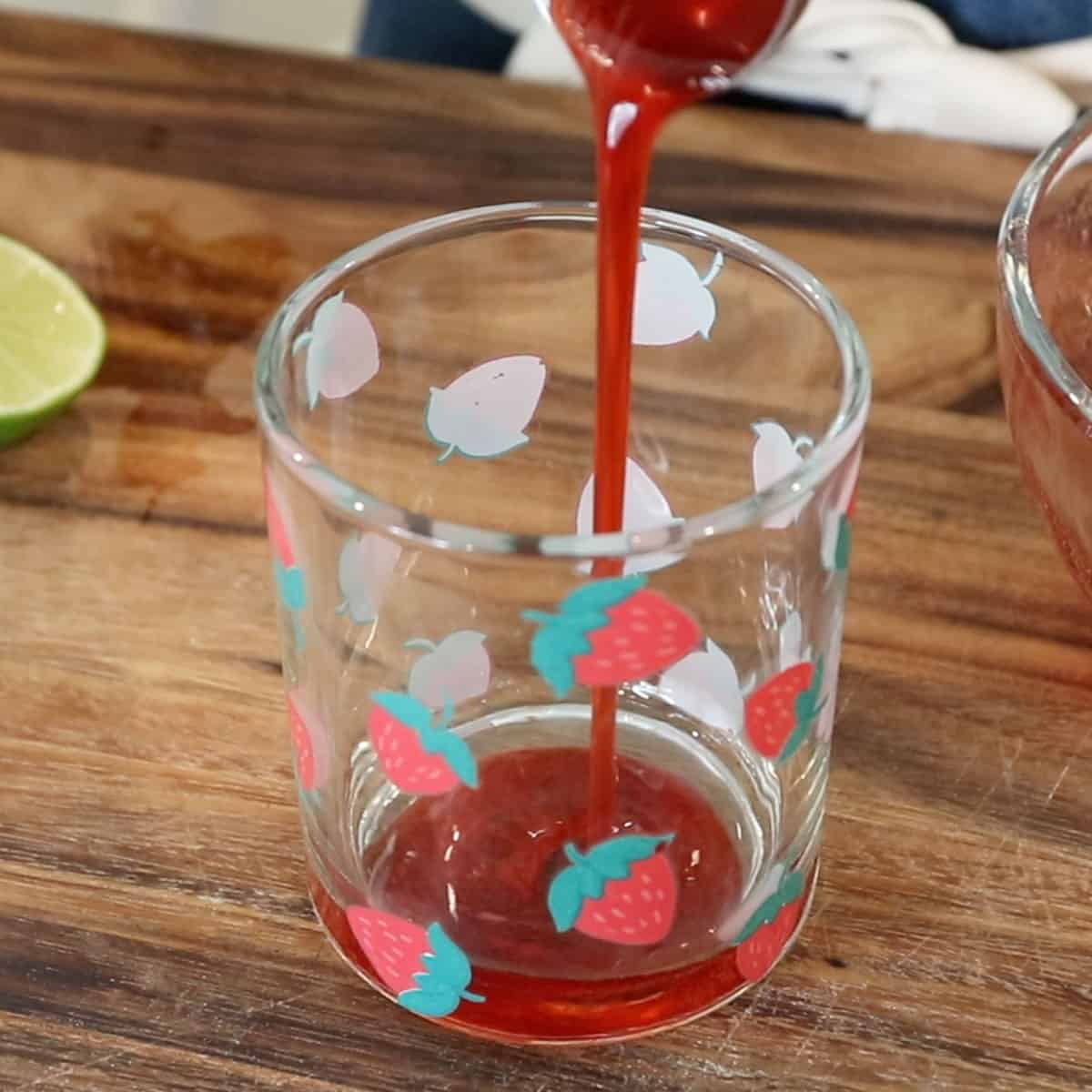 How to Make a Strawberry Mojito Mocktail
Muddle the mint leaves. In a small serving cup such as a highball glass, add the strawberry syrup, lime juce, and fresh mint leaves. Using a cocktail muddler or the end of a wooden spoon, gently muddle the mint for 30 seconds. Once ready, the juices from the fresh mint will be released and aromatic.
Add ice and top with seltzer. Mix the strawberry mocktail ingredients together gently, then garnish the rim of the glass as desired and a sprig of mint. Enjoy immediately while chilled!
Recipe FAQs
are mocktails non-alcoholic?
A mocktail and virgin cocktail are terms used to describe drinks that are 100% free of alcoholic. It's essentially the equivalent of drinking a sweet strawberry juice with fresh herbs!
are strawberry mocktails suitable for kids?
This non-alcoholic drink is suitable for kids. If your kids prefer a sweeter bubbly drink, swap the lime seltzer water with Sprite or 7-UP.
what can i serve with strawberry mocktails?
These mocktails pair well with a variety of our favorite dishes, but are especially perfect for summer gatherings and cookouts. We recommend serving with easy appetizers like Guacamole and Homemade Tortilla Chips. You can also try main dishes like Tofu Fajitas or Carne Asada Tacos.
can i turn this mocktail into a cocktail?
If you're of drinking age and want to turn this strawberry mocktail into an alcoholic cocktail, add 2 ounces of light rum or silver rum of choice then top off with the lime seltzer water. Enjoy!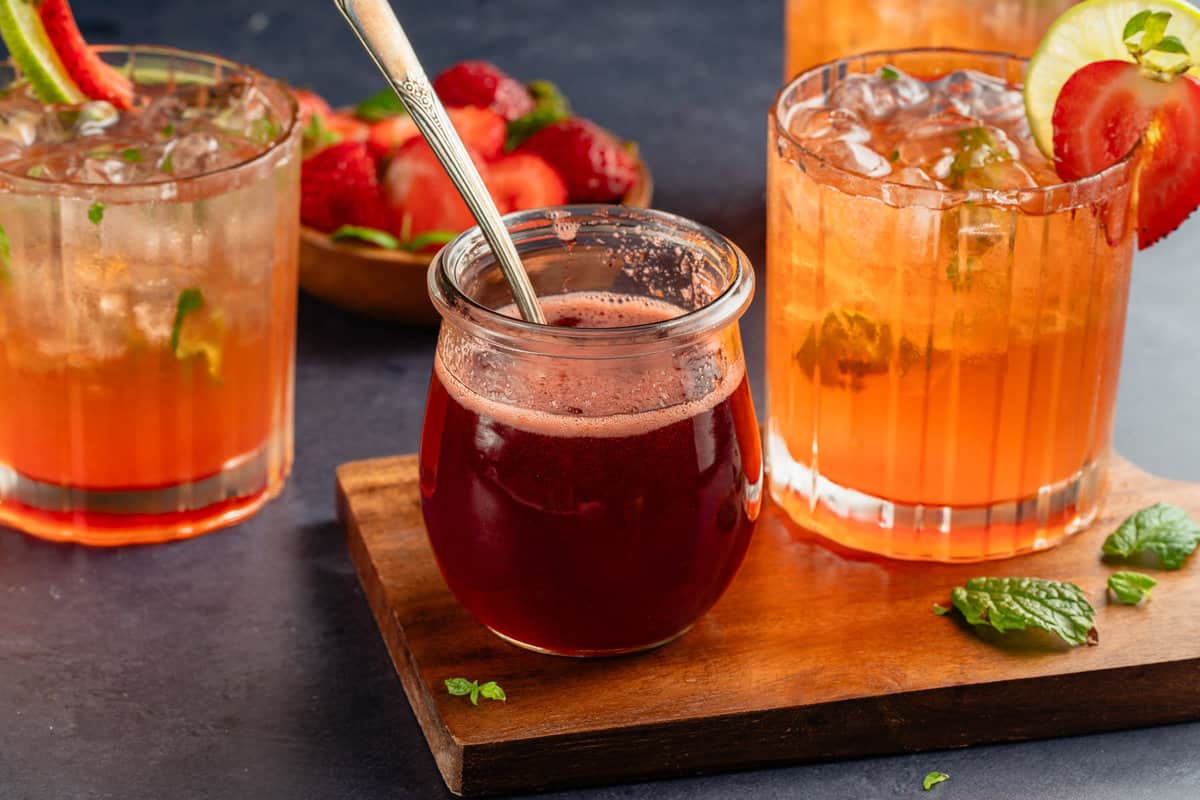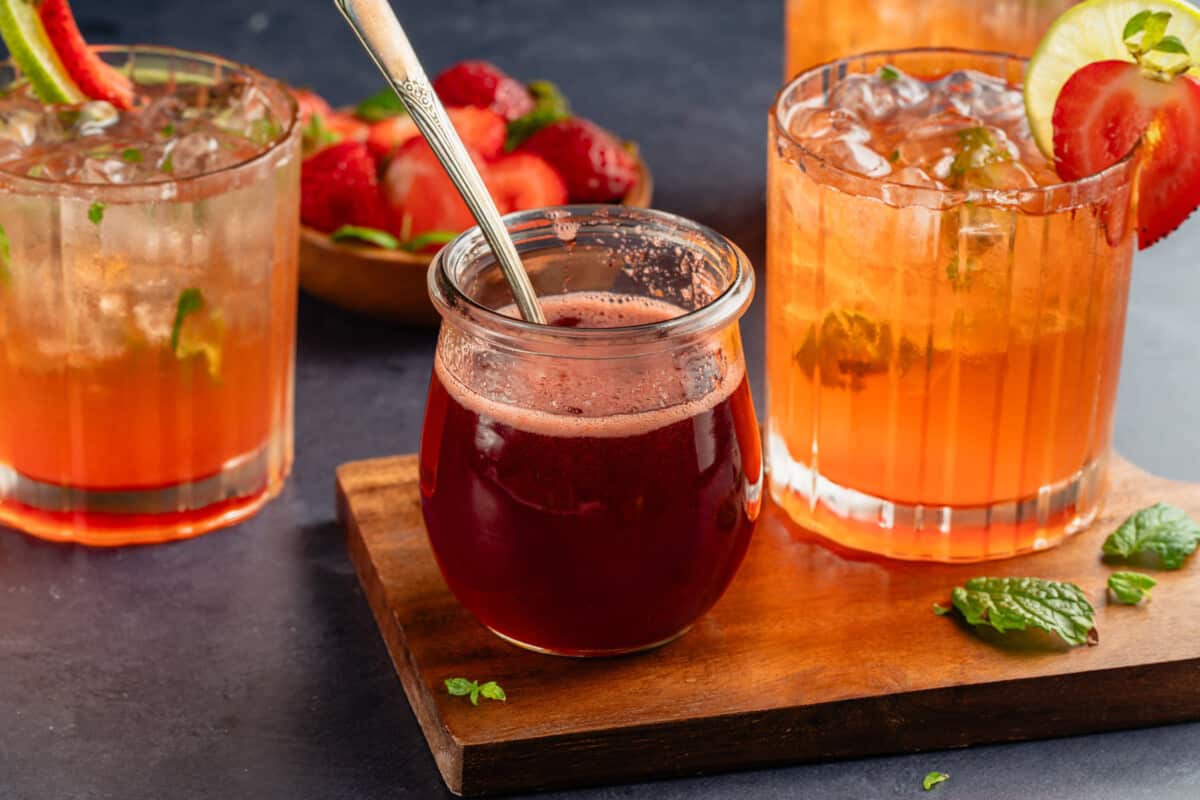 make ahead options
If you are prepping this strawberry mocktail ahead for a crowd, there are a couple of things you can do to prepare in advance and make day of as simple and easy as possible.
​For starters, our Strawberry Syrup can be prepped and refrigerated a few days ahead of time. Store in an airtight jar until ready to make your strawberry mocktail.
Second, the lime juice can be squeezed up to 24 hours in advance (This is especially helpful if making a pitcher-sized strawberry mocktail!).
Lastly, prep your garnish! Feel free to cut your lime wedges or slices and strawberry slices up to 24 hours in advance and store them in separate airtight containers until ready to serve.
The one ingredient we wouldn't suggest prepping in advance is muddling the mint. The leaves will quickly brown and while they will taste fine, they won't have the prettiest presentation. Some things are just best fresh!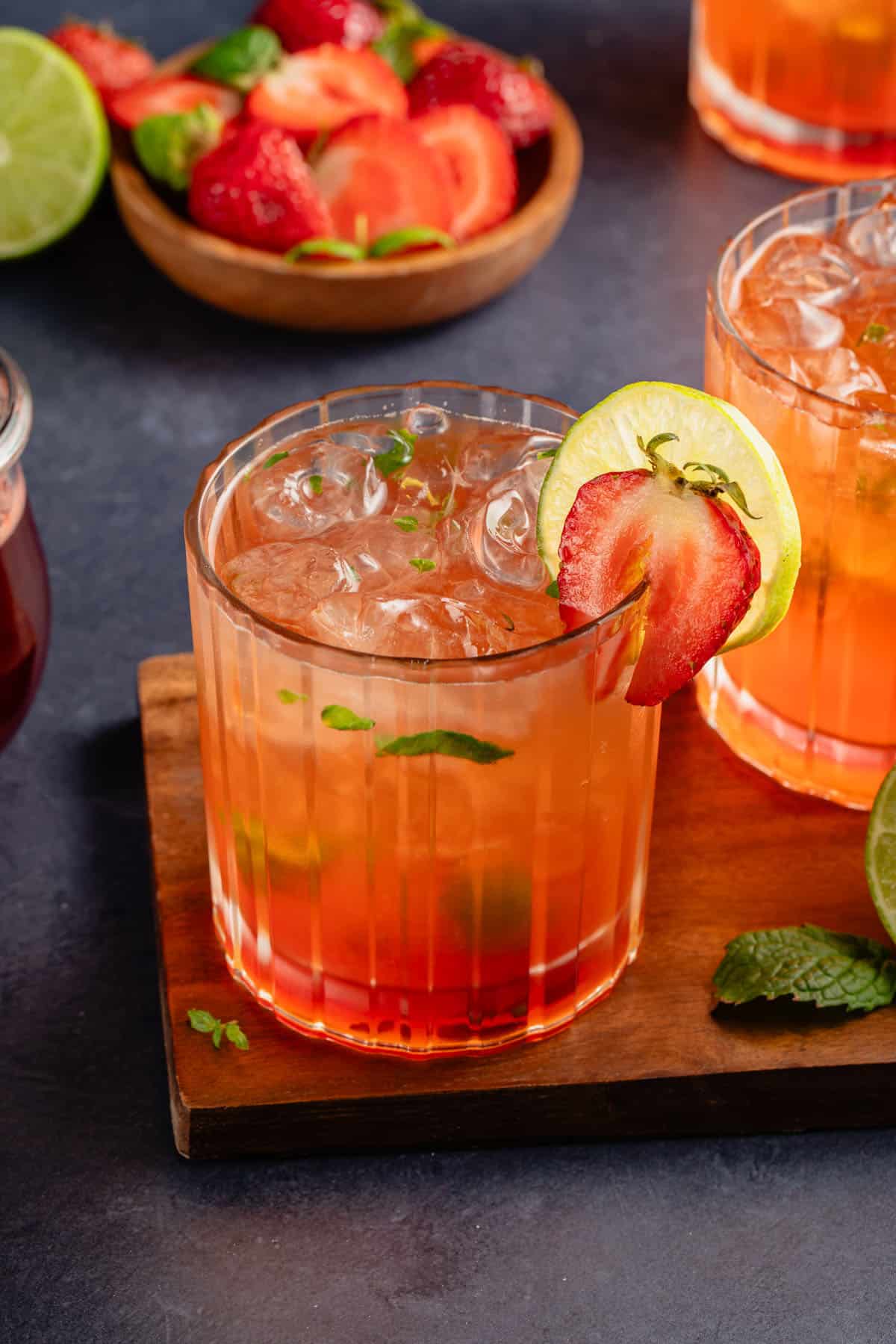 Storage Instructions
Store any leftover strawberry mocktail in an airtight container in the fridge for up to 24 hours. The seltzer water will become flat, but it will still be drinkable!
More Easy Non-Alcoholic drinks You May Enjoy:
Make sure you tag us on Instagram @sweetsimplevegan and @consciouschris and hashtag #sweetsimplevegan if you recreate these mushroom & potato taquitos, we love to see your photos!
Print
Easy Strawberry Mojito Mocktail
---
Description
This Strawberry Mojito Mocktail is the perfect remedy for a hot summer day. It's as easy can be – made with just 4 ingredients and no straining or cocktail shaker required!
---
3/4 ounces

strawberry syrup
Juice of

1/2

lime or

1/4 ounces

lime juice

5

large mint leaves, ripped or halved
About

1/2 cup

of lime seltzer
Ice
Garnishes
Mint leaves
Strawberry Slices
Lime slices
---
Instructions
Add the strawberry syrup, lime juice, and mint leaves into a small serving cup (about 8 ounces). Using a muddler or the bag of a wooden spoon, gently tap down into the glass on the mint for about 30 seconds.
Add the ice into the glass and top with lime seltzer. Mix gently, garnish, and enjoy!