This Vegetable Yakisoba is guaranteed to hit the spot! Stir-fried noodles, fresh vegetables, and a sweet and savory Yakisoba sauce tossed together until charred and crispy. All you need is a few fresh ingredients and 35 minutes to make this Japanese-inspired noodle dish.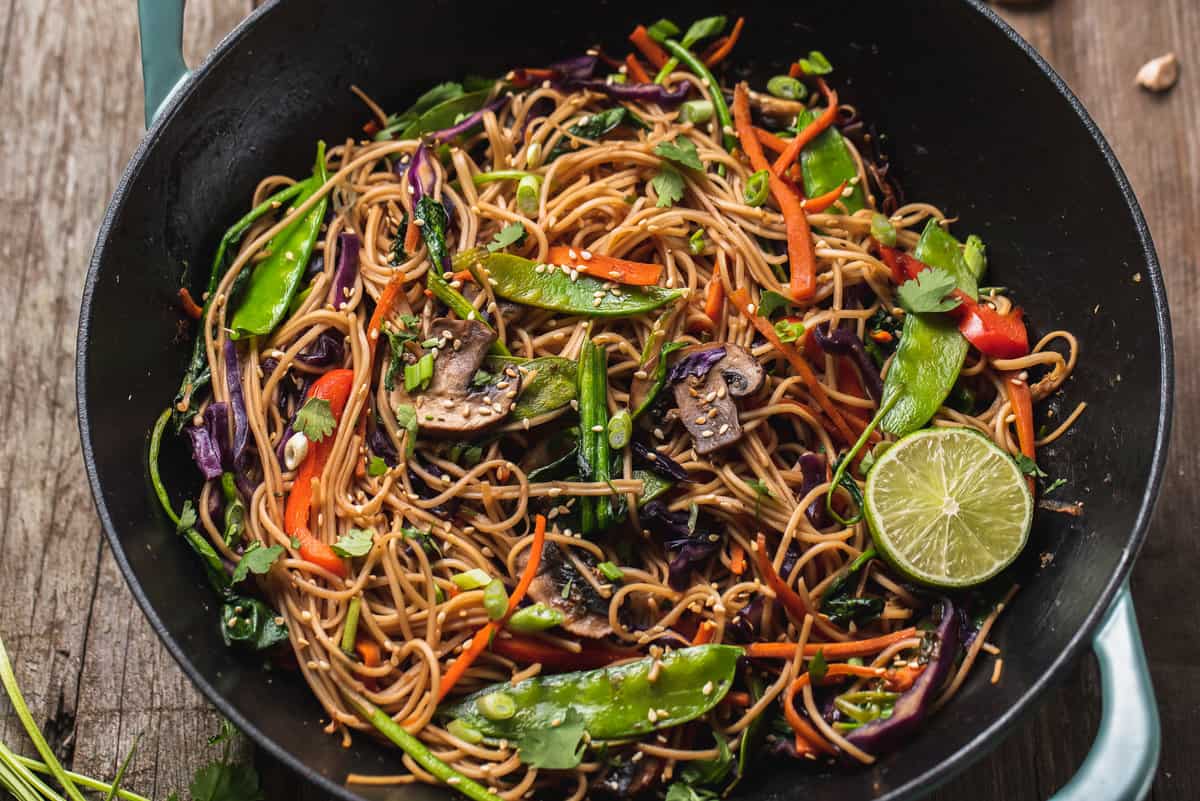 Yakisoba vs. Chow Mein. What's the difference?
Yakisoba and chow mein are both popular fried noodle recipes made with similar main ingredients, but they have a few key differences.
Yakisoba, or "fried noodles," is a popular Japanese street food that's made with stir-fried noodles, vegetables, and often meat or seafood. Despite its name, the noodles used in the classic dish are not actually soba noodles or buckwheat noodles, but rather wheat-based yakisoba noodles. It's finished with a sweet and savory yakisoba sauce made with a few simple ingredients, then tossed together until crispy!
Chow mein, on the other hand, is a popular noodle dish in Chinese cuisine that's typically made with stir-fried egg-based noodles, vegetables, and sometimes meat or seafood. It's also tossed in a flavorful, savory sauce, but can be made with a number of Chinese sauces for flavor variations.
Our version of this Japanese stir-fried noodle dish is of course vegan friendly, and therefore not 100% authentic, but don't mistake that to mean it's lacking in flavor. Even without the classic Worcestershire sauce and Oyster sauce, our vegan yakisoba recipe and homemade yakisoba sauce are just as delicious as the takeaway version you'd get at a Japanese restaurant.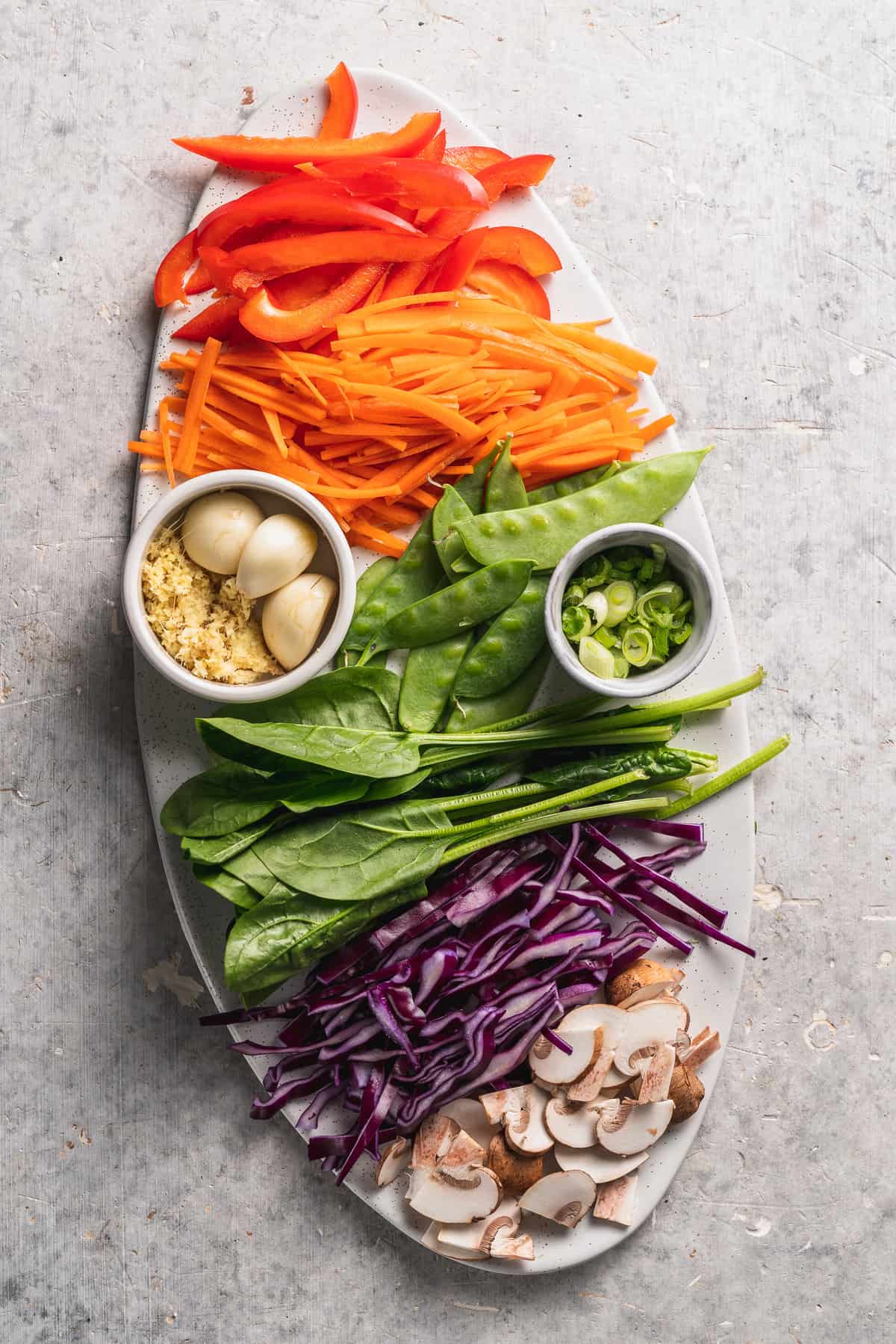 Ingredients You'll Need
Noodles: The classic choice for making yakisoba is "yakisoba noodles." They're wheat-based noodles and have a similar thickness and texture to ramen noodles, but are typically sold pre-cooked. If you have access to yakisoba noodles at your local Asian markets, definitely use them! We opted to make our vegetable yakisoba using Chukka Soba Japanese Noodles (Chinese-style noodles) because it's what we had on hand. Other noodles that will work in a pinch are ramen noodles, soba noodles, or spaghetti noodles like angel hair pasta.
Aromatics: A mix of fresh garlic, grated ginger, and sliced green onions add an aromatic flavor base to the noodles and start this dish off right.
Vegetables: We used a mix of shredded cabbage, cremini or shiitake mushrooms, sliced carrot, bell peppers, snow peas or snap peas, and baby spinach. Other vegetables that would pair well include broccoli florets, bean sprouts, and yellow onion.
Lime juice: Freshly squeezed lime is not a traditional ingredient in vegetable yakisoba noodles, but we love the way the flavor brightens up the dish and adds a tangy element.
For the vegan Yakisoba Sauce
Soy sauce: The main source of savory, umami flavor that adds depth and richness to the overall dish. If you are gluten-free, opt for tamari.
Maple syrup: Our choice of sweetener in the sauce. If needed, opt for a similar liquid sweetener such as agave.
Rice vinegar: Adds a tangy, acidic element to the sauce that balances the sweet and savory flavors.
Cornstarch: Used as a thickening agent in the yakisoba sauce that gives the noodles a glossy finish and coats them evenly.
Sriracha: Optional, but adds a kick of spice to the yakisoba sauce. If needed or preferred, opt for red chili flakes or chili oil to taste.
Equipment Needed
Large pot
Large wok or similar large pan
Tongs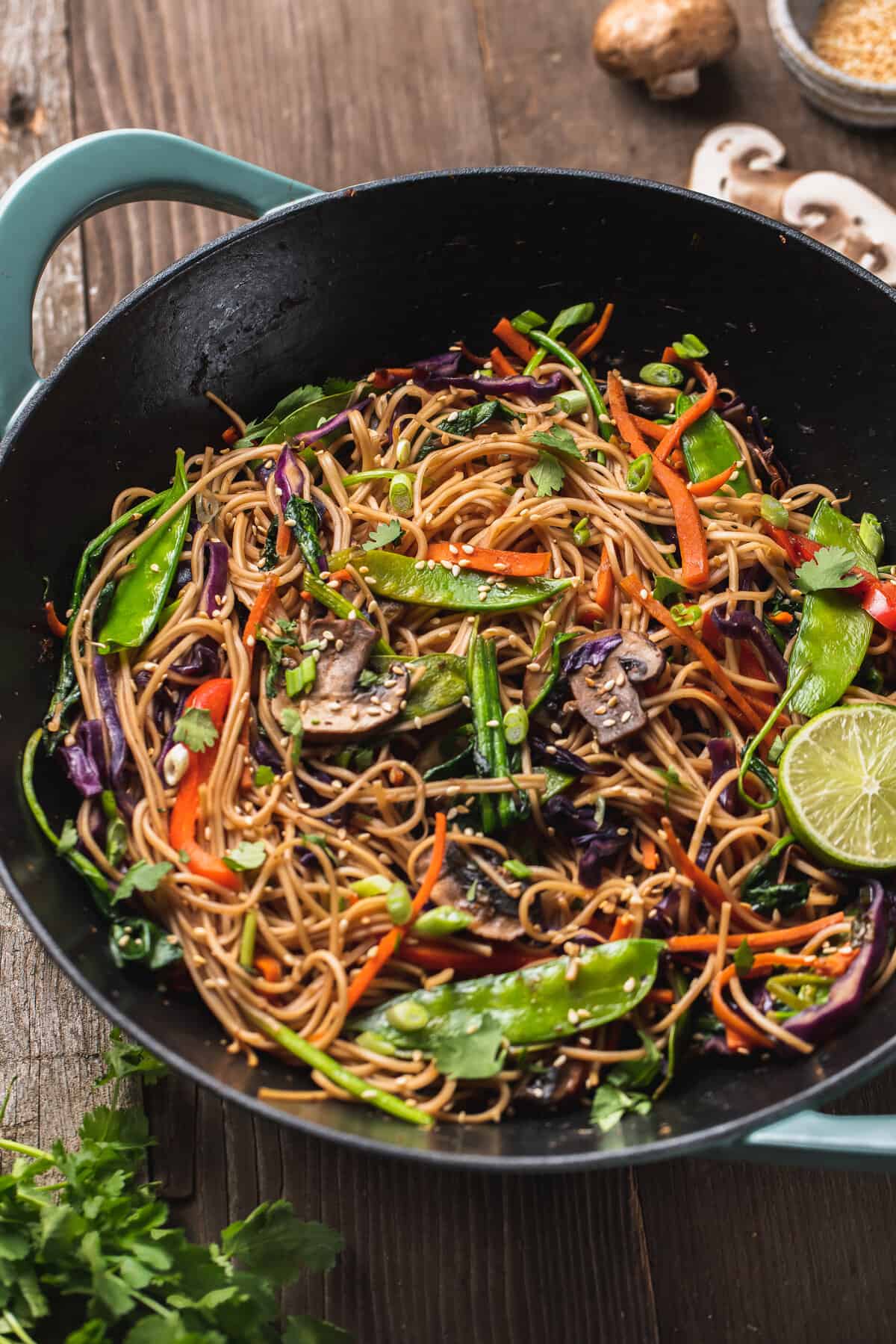 How to Make Vegetable Yakisoba
Make the Yakisoba sauce. In a small mixing bowl, add the tamari, water, maple syrup, toasted sesame oil, rice vinegar, cornstarch, and optional sriracha. Whisk well to combine until a smooth sauce forms. Set the yakisoba sauce aside.
Prepare the noodles. Cook the yakisoba noodles according to package directions, then once tender, drain and rinse under cold water. Add them back to the cooking pot and lightly toss in sesame oil to prevent the noodles from sticking together. Note: If you are using pre-cooked yakisoba stir fry noodles or fresh yakisoba noodles, you can skip this step!
Sauté the aromatics. Heat a large wok over medium heat. Once warm, add the cooking oil and heat through. Add the garlic, green onions, and ginger. Sauté, stirring often until fragrant, about 3 minutes.
Cook the vegetables. Add in the cabbage, mushrooms, carrots, and bell pepper. ​Cook for another 4 minutes, or until lightly tender.
Add the noodles. Once the vegetables are cooked, add in the spinach, snow peas, Yakisoba sauce, and noodles. Toss well until everything is combined.
"Fry" the noodles until the sauce thickens. Allow everything to cook for 3-4 minutes, stirring often, until the Yakisoba sauce thickens.
Serve. ​Remove the wok from the heat and squeeze in the lime juice to taste, if desired. Serve immediately while hot with garnish of choice. Enjoy!
Serving Suggestions
Vegetable yakisoba can be served as a complete dish on its own. Give it a try for a quick lunch or dinner any day of the week. Or, if you're looking for a few easy serving suggestions to round out the meal, you can't go wrong with one of these delicious Japanese side dishes:
Or, if you're looking to add protein to your vegetable yakisoba, check out these Japanese-inspired favorites:
Vegetarian Protein Options
tips for success
Don't overcook the noodles. ​When cooking the noodles according to package instructions, we recommend cooking them until they are just al dente because they will continue to cook when stir-frying. This will prevent them from overcooking and becoming too soft.
Adjust the sauce to taste. Don't be afraid to adjust the sauce ingredients to suit your personal taste buds. If you like a sweeter yakisoba sauce, increase the maple syrup. If you like a spicy sauce, increase the Sriracha or chili flakes.
Increase the heat. ​Once the aromatics have sautéed until fragrant, increase the heat to medium-high heat. Vegetable yakisoba is a stir-fry dish and cooking over a higher heat will help the noodles and veggies develop a nice char. More crispy bits = greater depth of flavor!
Choose the right noodles. If you can find yakisoba noodles, definitely use them! It will give you the best, most authentic experience. Or, chukka soba noodles or ramen noodles are you next best bet. If using ramen noodles, omit the included seasoning packets!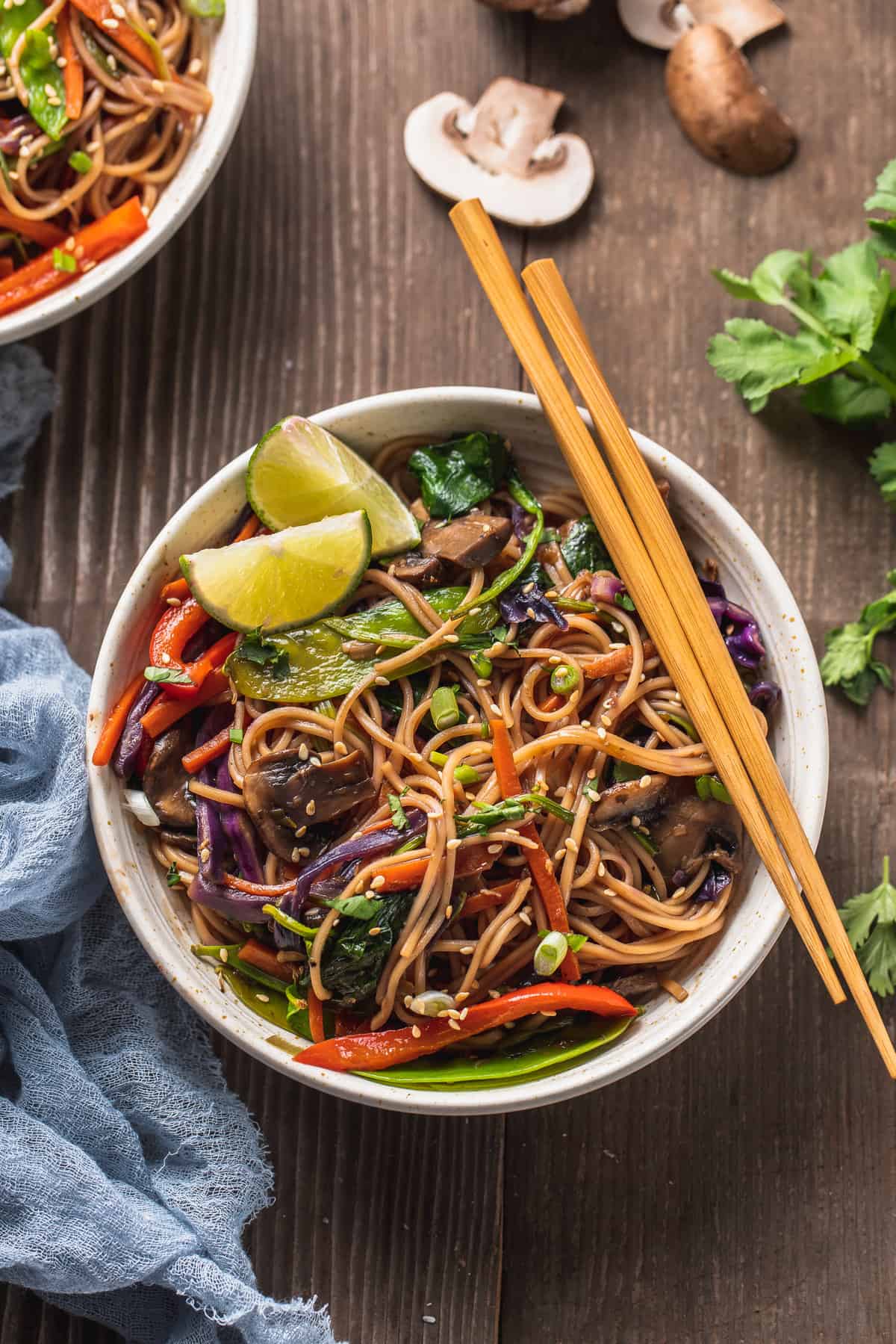 Recipe Faqs
Are yakisoba noodles vegan?
Yakisoba noodles are almost always naturally vegan because they are made from wheat flour and are egg-free. With that being said, it's always a good practice to read the ingredients list just in case!
​Is yakisoba gluten-free?
Traditional Yakisoba noodles are not gluten-free (they're made from wheat). If you are gluten-free, swap in your favorite gluten-free noodles. You may even be able to find yakisoba noodles made from gluten-free flour like rice flour or buckwheat.
Are udon noodles the same as yakisoba?
While both are wheat-based, udon noodles and yakisoba noodles are not the same. Udon noodles are significantly thicker and chewier, while yakisoba noodles are thin and delicate. If you'd like to try a variation of this Japanese dish, swap the Yakisoba noodles with udon noodles!

Storage Instructions
Leftover yakisoba will keep for 3-4 days in an airtight container in the fridge. Reheat leftovers in a wok on the stovetop or in the microwave until warmed through.
More Japanese-inspired Recipes You May Enjoy:
Make sure you tag us on Instagram @sweetsimplevegan and @consciouschris and hashtag #sweetsimplevegan if you recreate any of our recipes, we love to see your photos!
Print
Vegetable Yakisoba (Japanese Noodle Stir-Fry) Recipe
---
Author:

Total Time:

35 minutes

Yield:

5 servings
Description
This Vegetable Yakisoba is guaranteed to hit the spot! Stir-fried noodles, fresh vegetables, and a sweet and savory Yakisoba sauce tossed together until charred and crispy. All you need is a few fresh ingredients and 35 minutes to make this Japanese-inspired noodle dish.
---
6 oz

. dried noodles of choice (or

16 oz

. of fresh Yakisoba noodles)

1 tablespoon

cooking oil of choice

3

cloves garlic, finely minced

2 tablespoons

green onions sliced

1 tablespoon

freshly grated ginger

1/3 cup

shredded red cabbage

4 oz

. crimini mushrooms, sliced

1

medium carrot, thinly sliced

1

medium red bell pepper, thinly sliced

2

large handfuls fresh baby spinach

1/2 cup

snow peas

1

large lime
Stir Fry Sauce:
1/3 cup

tamari (or low sodium soy sauce if not gluten-free)

1/4 cup

water

3 tablespoon

pure maple syrup

1 tablespoon

toasted sesame oil

1 tablespoon

rice vinegar

2 teaspoons

cornstarch
Optional: 1/2 to 1 teaspoon sriracha
Garnish with
Cilantro, finely chopped
Toasted sesame seeds
---
Instructions
In a small bowl, whisk together all of the ingredients for the stir fry sauce until uniform. Set aside.
Prepare the noodles according to the package directions. Once the noodles are cooked, drain them, rinse under cold water, add them back into the cooking pot and toss them with about 1 teaspoon of sesame oil to prevent sticking.
In the meantime, set a a large wok over medium heat. Add in the cooking oil along with the garlic, green onions and ginger. Sauté, stirring often, for 3 minutes or until fragrant.
Next add in the cabbage, mushrooms, carrots, and bell pepper. Cook for an additional 4 minutes.
Once the vegetables have cooked, add in the spinach, snow peas, stir fry sauce and noodles. Mix until everything is well combined.
Allow everything to cook for 3-4 minutes more, stirring often, or until the sauce thickens.
Remove the wok from heat and toss the stir fry with the juice of 1/2 to 1 lime, or to taste. Serve with a garnish of cilantro and toasted sesame seeds. Enjoy!
Notes
You can use any fresh or dried noodles that you would like. We used dried Chukka Soba Japanese Noodles which are wheat based. You can also just use regular spaghetti noodles.
To make this gluten-free, use rice noodles or a gluten-free spaghetti noodle of your choice. There is a chance that gluten-free noodles can get a bit a mushy, so keep that in mind, and be sure not to over cook them.
If you are using fresh Yakisoba noodles, skip recipe step 2 and add the fresh noodles in during step 5.
Prep Time:

15 minutes

Cook Time:

20 minutes

Category:

Entree

Method:

Stovetop

Cuisine:

Vegan
Keywords: Entree, Stovetop, Vegan, Meal Prep, Stir Fry, Noodles, Vegetables, Lunch, Dinner, Yakisoba
Nutrition facts label provided by Nutri Fox.
Disclaimer: The nutritional information shown is an estimate provided by an online calculator. It should not be considered a substitute for a professional's advice. This page may contain affiliate links, which simply means that we earn a commission if you purchase through those links, but your price remains the same. Thank you for supporting Sweet Simple Vegan!