Champorado or Tsampurado is a popular Filipino breakfast traditionally made using sweet rice, tablea chocolate, and creamy milk. Enjoy this veganized comfort food hot or cold with an extra drizzle of vegan condensed milk for the perfect sweet treat!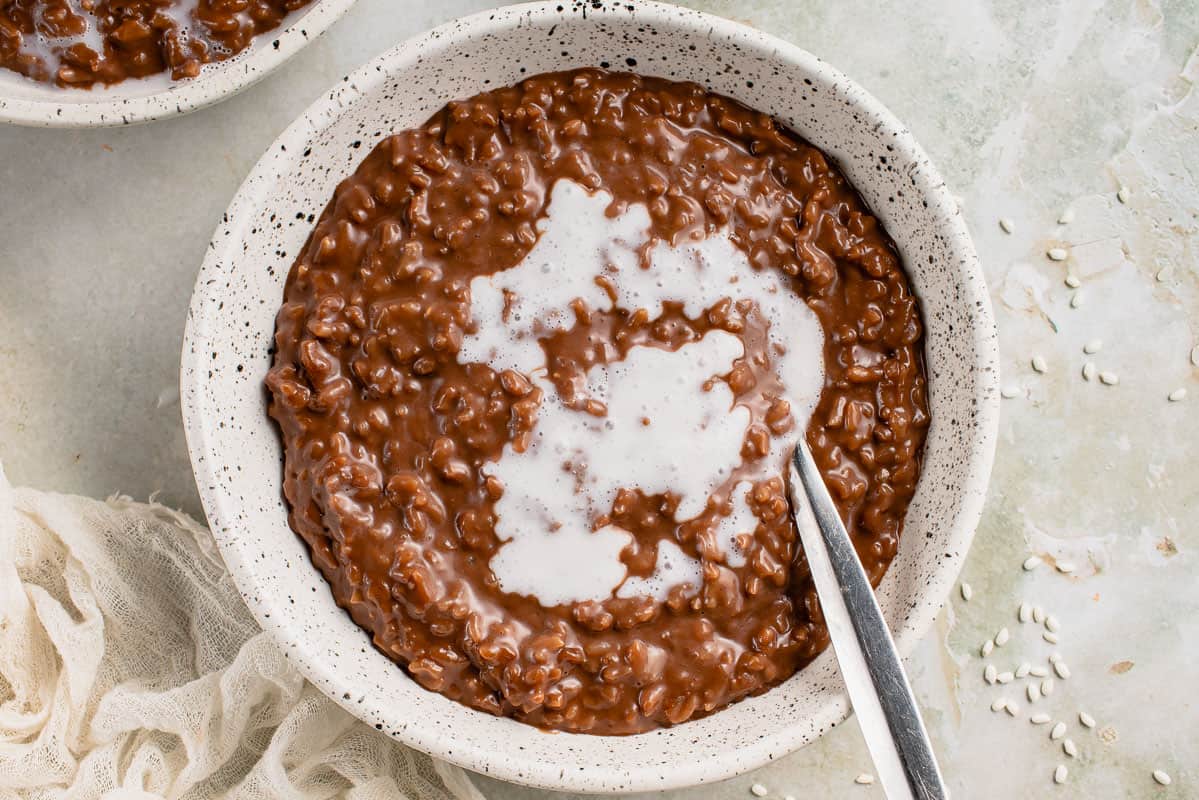 Origins of Champorado (Tsampurado)
History shows that Mexican galleon traders introduced the champurrado beverage to the Philippines during the Spanish colonial period. The original popular Mexican beverage is prepared with masa, milk, Mexican chocolate, and warm, sweet spices. Over time, the recipe was adapted to include Chinese influences, and the traditional masa was replaced with sticky rice.
Today, Filipino Champorado or tsampurado is a sweet chocolate rice porridge made with sticky rice and tablea, a form of pure cocoa. Most versions contain condensed milk, but we adapted the popular breakfast with non-dairy coconut milk to make it 100% vegan.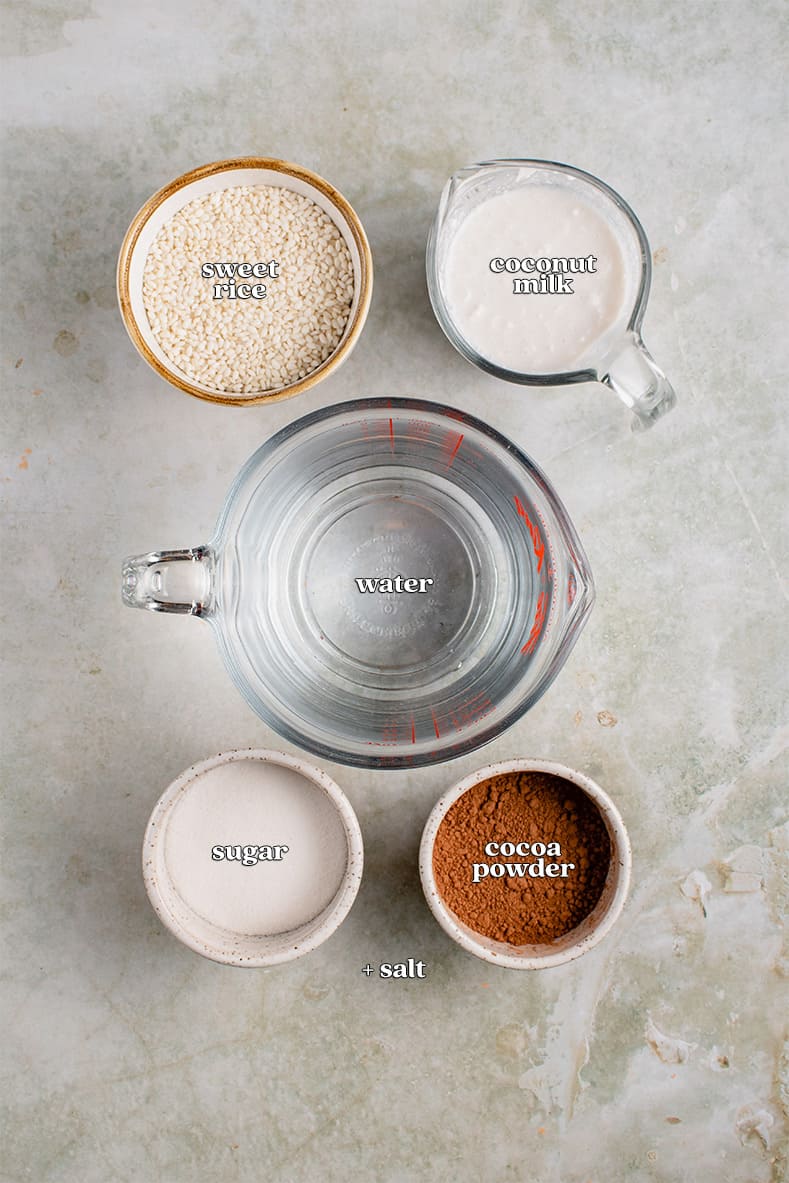 Ingredients You'll Need
Sweet rice: Also known as sticky rice, sweet rice is a type of white rice that becomes sticky when steamed or boiled. If you've made our Suman Malagkit (budbud), you might have some leftover sweet rice in your pantry.
Coconut milk: We highly recommend using full-fat canned coconut milk to make Champorado. It has a very similar richness and creaminess to condensed milk and will make your sweet breakfast treat as flavorful as possible.
Sugar: Since Champorado is typically made with unsweetened cocoa or tablea chocolate, we have to add sugar to make it sweet! To ensure your sugar is vegan-friendly, opt for certified organic granulated sugar.
Unsweetened cocoa powder: We used unsweetened cocoa powder because it is more widely available than tablea, however, if you can find tablea, use it! The unsweetened cocoa can be substituted with 3-4 pieces of tablea chocolate, depending on how chocolatey you prefer your champorado.
Salt: Optional, but a small pinch of sea salt helps to balance the sweetness.
Vegan Condensed Milk: Used as the final drizzling overtop. Nature's Charm is a popular brand that we also use to make our Avocado with Condensed Milk.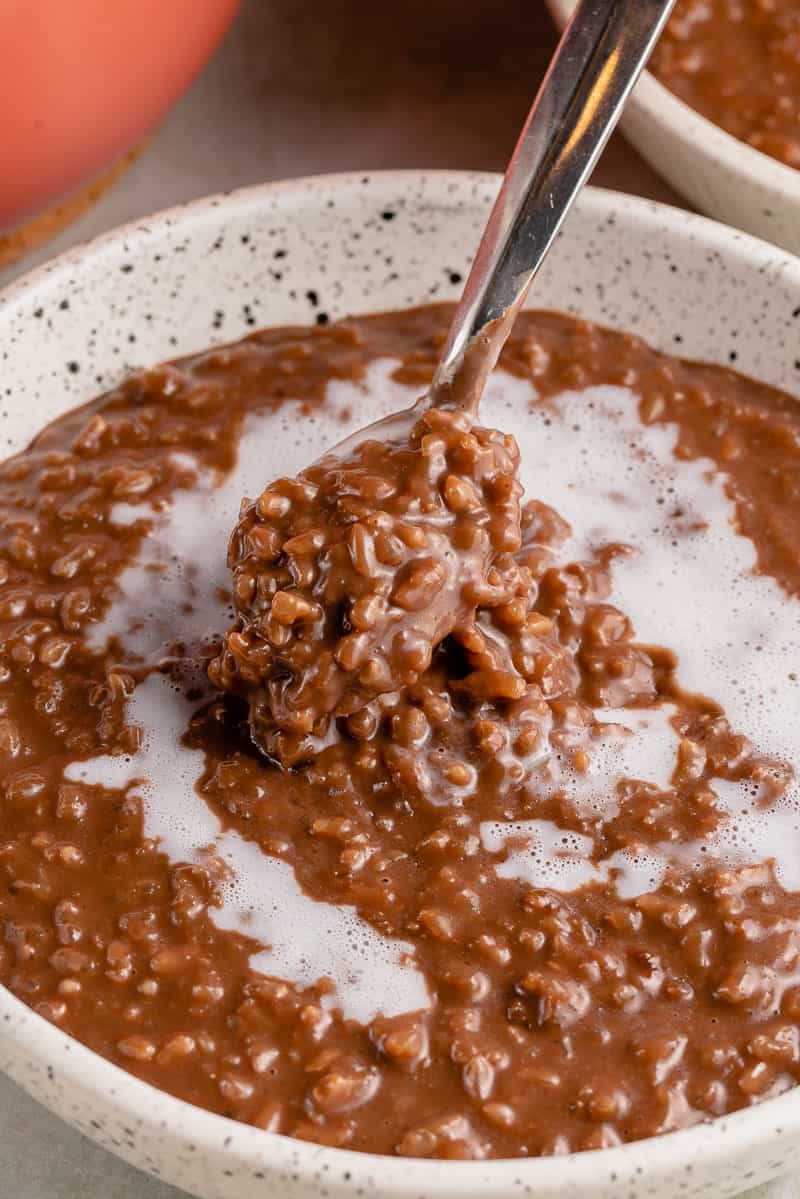 Equipment Needed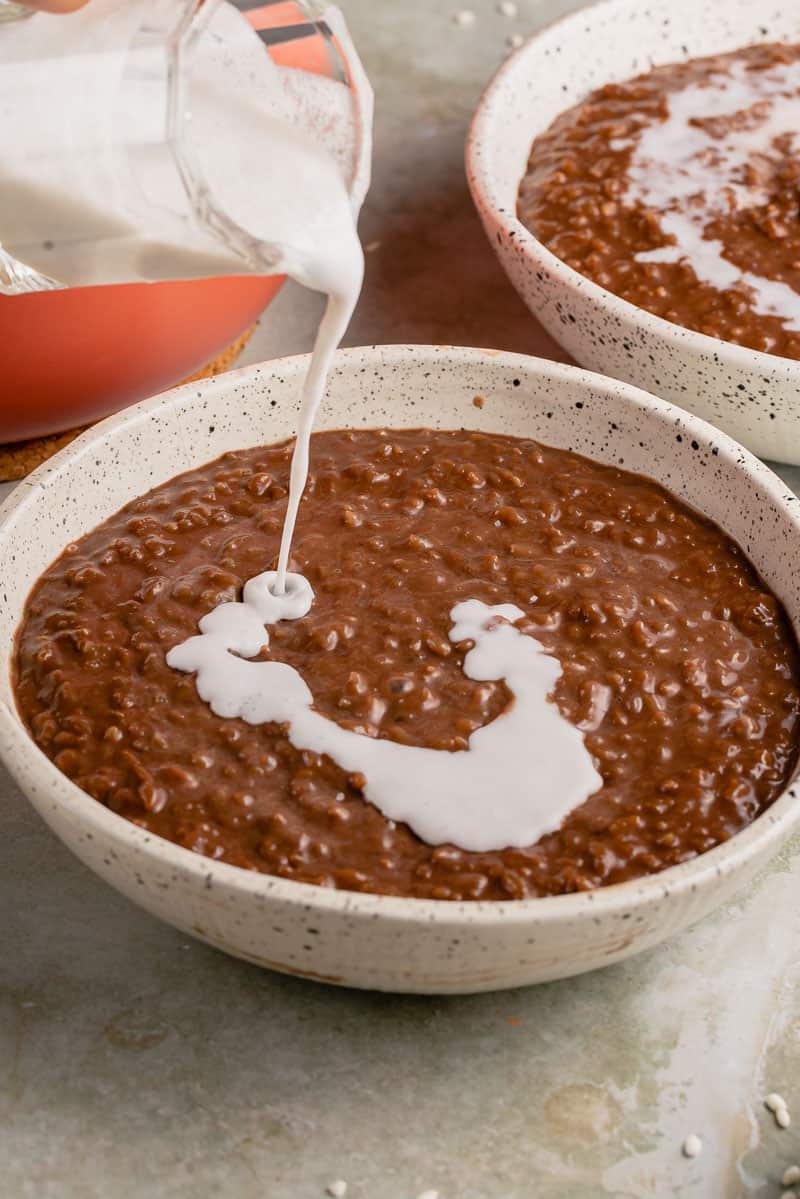 How to Make Filipino Champorado
Combine the sweet rice and water. In a pot over medium heat, combine the rice and water. Bring to a boil.
Cook, uncovered until fluffy. Once boiling, lower the heat and simmer the rice uncovered for about 15 minutes or until fluffy and almost cooked through.
Add cocoa, sugar, coconut milk, and salt. Stir to combine and cook for another 5 minutes or until thick and creamy.
Serve. Ladle the hot champorado into bowls and drizzle with additional coconut milk or vegan condensed milk. Enjoy immediately!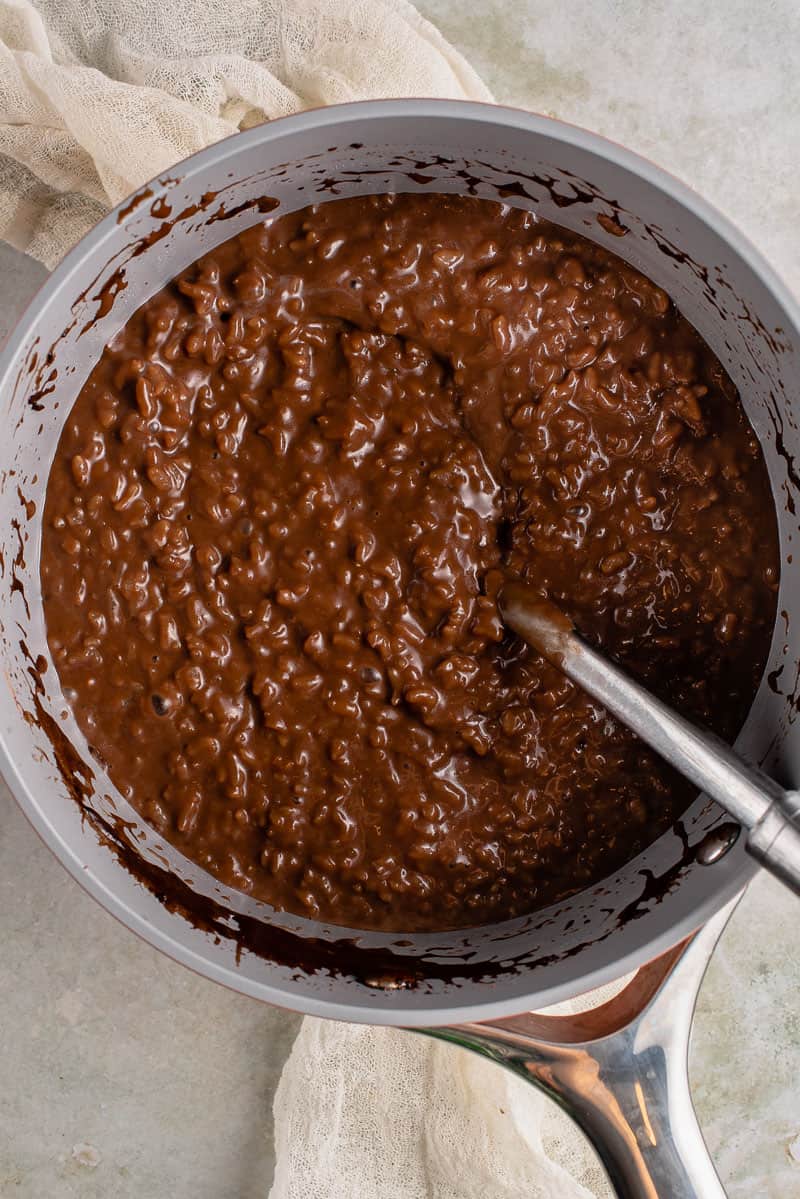 Serving Suggestions
We prefer to eat Champorado warm when it is its creamiest, but this indulgent treat can be served either hot or cold. Either way, serving with a drizzle of coconut or condensed milk is highly recommended for the best creamy breakfast or filling snack. Enjoy it on its own or with a side of bread like our Vegan Pandesal.
For more Filipino breakfast inspiration, check out our Vegan Tortang Talong, Filipino Scrambled Eggs, and Fluffy Ube Pandesal (Filipino Purple Yam Bread Rolls).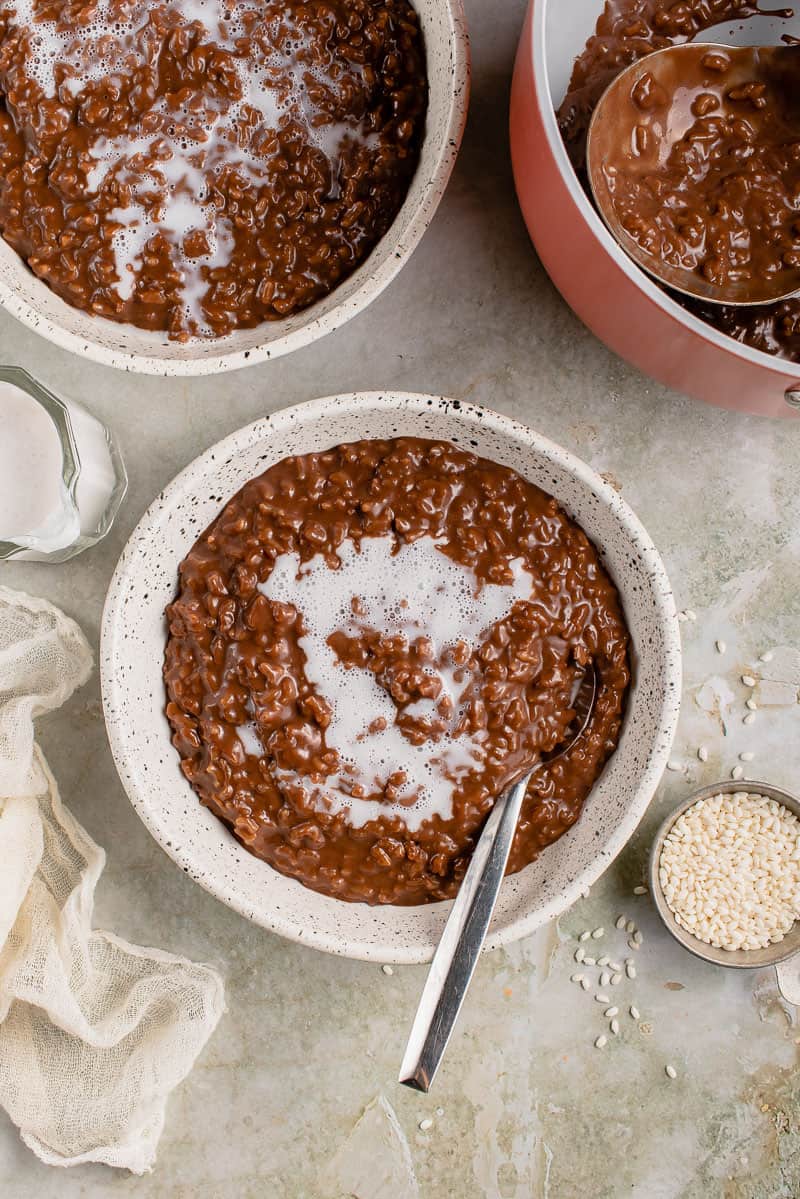 Storage Instructions
Champorado (Tsampurado) can be stored in the refrigerator for up to 3 days or in the freezer for up to 3 months. Before storing, allow the Champorado to cool completely to avoid excess condensation build-up or freezer burn.
This creamy breakfast is best reheated on the stovetop in a pot or saucepan or in a microwave-safe bowl. If desired, add additional coconut milk or water to help loosen up the Champorado and return it to its original thickness. Serve with another drizzle of coconut milk or condensed milk.
FAQs
What does Champorado taste like?
The texture of Champorado is similar to oatmeal porridge or rice pudding and tastes like creamy chocolate.
Can I make Champorado with regular rice?
If necessary, you can substitute short-grain rice for sweet rice. For similar results, do not rinse the excess starch off the regular rice before boiling. Sweet rice is extra high in starch which helps make it sticky and creamy!
Can I cook Champorado in the rice cooker?
We have personally not tried this method, but if you do and have good results, please let us know!
More Vegan Filipino Snacks You May Enjoy:
Print
Champorado (Tsampurado)
---
Author:

Total Time:

30 minutes

Yield:

About 6 servings

Diet:

Vegan
Description
Champorado or Tsampurado is a popular Filipino breakfast traditionally made using sweet rice, tablea chocolate, and creamy milk. Enjoy this veganized comfort food hot or cold with an extra drizzle of vegan condensed milk for the perfect sweet treat!
---
1 cup

sweet rice

4 cups

water

1 cup

coconut milk

1/2 cup

sugar

¼

to

1/3

cup unsweetened cocoa powder (depending on how chocolatey you want it)
Optional: a pinch of salt
Serve topped with more coconut milk, vegan condensed milk, or evaporated coconut milk
---
Instructions
Place the sweet rice in a medium pot and rinse until the water runs clean.
Bring the pot to the stove and add 4 cups of fresh water. Turn the heat to medium and bring it to a boil.
Lower the heat to a simmer and cook, uncovered, for about 15 minutes or until the rice is fluffy and almost cooked.
Add in the coconut milk, sugar, cocoa powder, and a pinch of salt. Stir until uniform and cook for another 5 minutes or until the porridge has thickened and the rice is cooked through.
Ladle into bowls, drizzle with more coconut milk or vegan condensed milk or vegan evaporated milk, and serve hot.
Prep Time:

10 minutes

Cook Time:

20 minutes

Category:

Breakfast, Dessert

Method:

Stovetop

Cuisine:

Filipino
Keywords: Filipino, chocolate, rice, dessert, breakfast, sweet, coconut milk
Disclaimer: This page may contain affiliate links, which simply means that we earn a commission if you purchase through those links, but your price remains the same. Thank you for supporting Sweet Simple Vegan!